MLB.com Columnist
Tracy Ringolsby
Hill proves to be worth the wait for Dodgers
Lefty gives rotation boost after delayed start to career in LA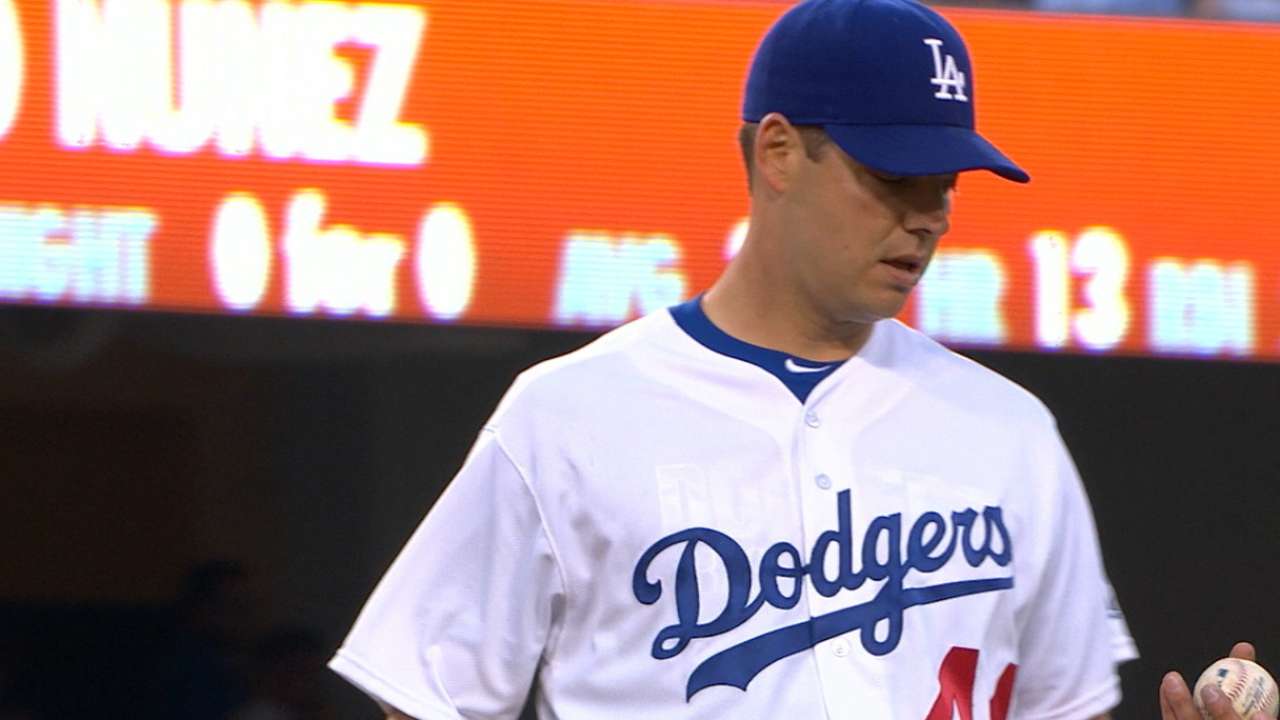 LOS ANGELES -- A year removed from the likes of David Price and Cole Hamels finding new homes at baseball's non-waiver Trade Deadline, contenders scrambled this year, hoping to get lucky in finding a veteran arm who could fill a stretch-run void.
By the time this year's non-waiver Trade Deadline of Aug. 1 passed, contending teams had taken a gamble on 11 available pitchers hoping to fill rotation voids. The Giants came up with Matt Moore, an All-Star with the Rays in 2013, and Drew Pomeranz, the Padres' All-Star rep this year, found himself joining the Red Sox.
Nothing underscored the nature of the market as much as the Dodgers giving up three prime prospects to acquire outfielder Josh Reddick and left-hander Rich Hill, both potential free agents at season's end, from the A's. And they did it knowing there was no definite timeline as to when the blister on Hill's left hand would subside enough for him to pitch.
Twenty-three days removed from his acquisition, 37 days since he last took the mound in a Major League game, and 47 days since he last faced a hitter in a game, Hill finally made that Dodgers debut on Wednesday night.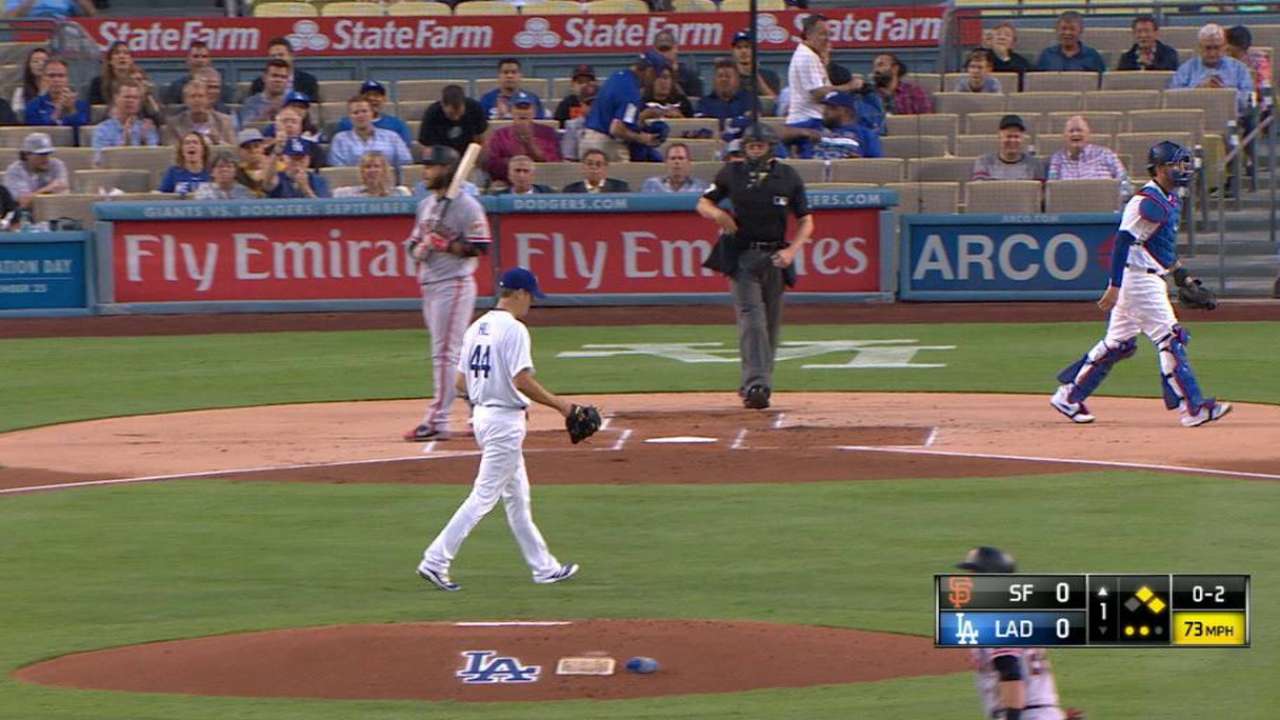 And nobody with the Dodgers was complaining.
Hill worked six innings in a 1-0 victory against the Giants in the second game of a three-game series between the two teams battling for the National League West title, putting Los Angeles three games up on San Francisco for the first time this season in what is easily the most impressive effort from any of those 11 starting pitchers who found new homes in the past month.
"This was the first time I had a chance to see him in person," said Dodgers manager Dave Roberts. "As much energy as was in the ballpark with the fans, Rich raised it another level. It was impressive."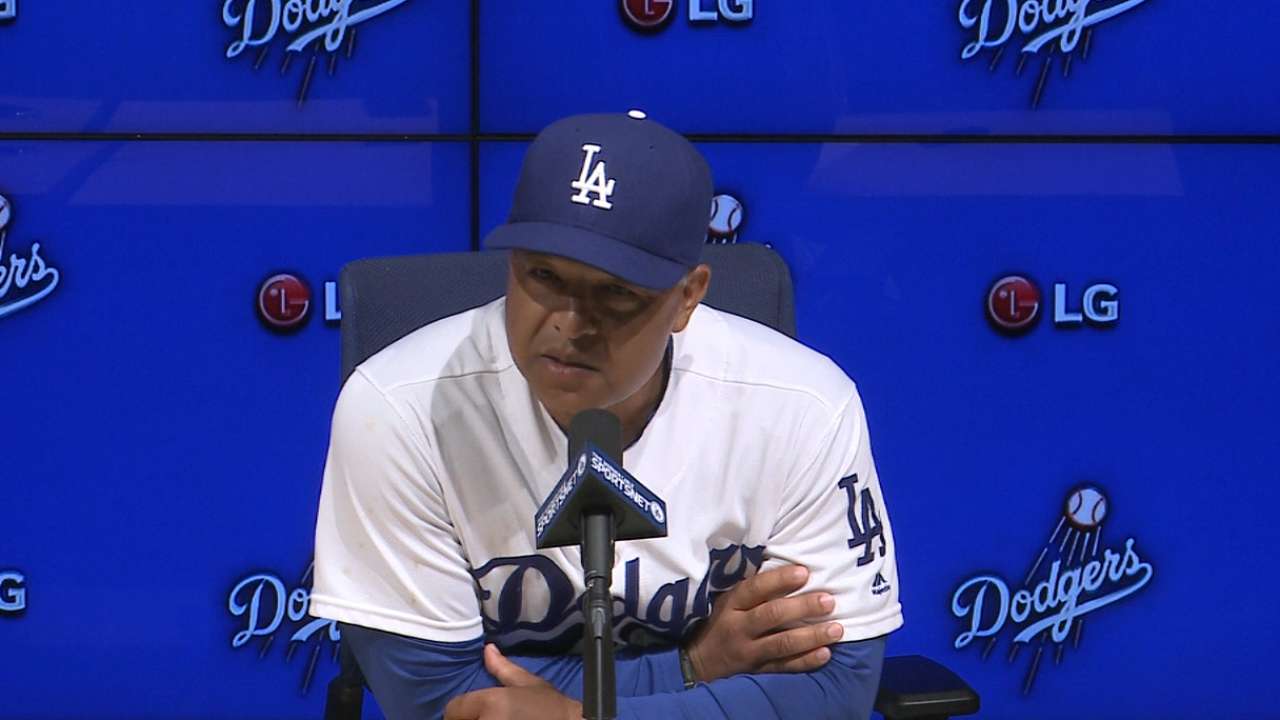 How impressive? Well, the 10 other starting pitchers dealt to contenders last month are a combined 9-13 in 41 starts, with a combined ERA of 5.12. Their teams have won only 20 of the 41.
The Giants are looking for Moore to change all of that and help them avoid being swept by the Dodgers when he starts the series finale on Thursday night. The left-hander, however, is 0-3 in his four starts with San Francisco so far, and he has a 4.70 ERA.
Take those 10 starters other than Hill and only three of them even have a winning record with their new team -- Ivan Nova, who is 3-0 in four starts for the Pirates; Bud Norris, 3-2 in seven starts with the Dodgers; and Lucas Harrell, who is 1-0 in four starts with the Rangers. Nova is the only one of the group who has made more than one start and has an ERA below 4.30.
At the other extreme, both Moore, and Andrew Cashner, dealt by the Padres to the Marlins, are both 0-3, and while he doesn't have a decision, Ariel Miranda has seen the Mariners lost all three of his starts since coming over from the Orioles.
And then there is Hill, who is now 10-3 this year after a combined record of 26-23 in his 11 previous seasons, and 11 of those wins came with the Cubs in 2007, the only season in which he pitched more than 100 innings.
"To get him through six innings after not having pitched in over six weeks was big," said Roberts. "He wasn't perfect, but he willed himself through six innings."
It's not like Hill struggled.
Sixty-three of Hill's 81 pitches were strikes. He went to a three-ball count just once, getting Angel Pagan to bounce back to the mound on a 3-2 pitch for the second out in the third inning, and giving up a two-out single to Hunter Pence on a 2-1 pitch in the first inning. And the only time the Giants even had a chance with a runner in scoring position against Hill was in the first inning when Buster Posey and Pence had two-out singles before Brandon Crawford struck out looking.
"Everything felt solid," Hill said. "My body felt good."
And the Dodgers have to be feeling pretty good, too. They have, after all, rallied in the past 49 games from an eight-game deficit to a three-game lead on the Giants in the NL West, and they feel like they plugged at least one hole in the rotation on Wednesday.
This is, after all, a team on which Hill's six innings marked only the 19th time in 49 games that the starter even got an out in the sixth inning. It is a team beset with injuries to the point that six starters are currently on the disabled list. It is a team on which Hill became the ninth pitcher to start a game this month.
It is an opportunity Hill welcomed.
Tracy Ringolsby is a columnist for MLB.com. This story was not subject to the approval of Major League Baseball or its clubs.