Harper unveils cap collection for charity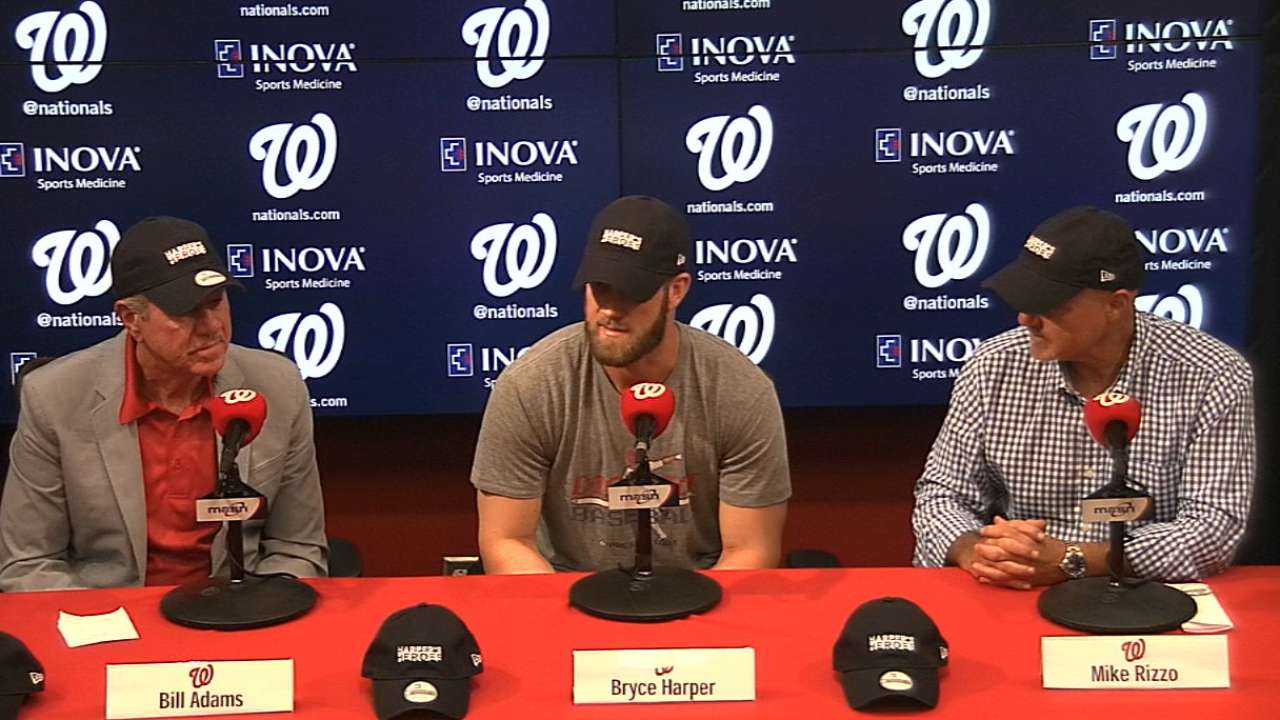 WASHINGTON -- When Nationals outfielder Bryce Harper traveled to New York in January to spend the day at the New Era Cap offices, he had two ideas in mind for the cap he would help design for his Harper's Heroes Foundation.
Harper created a traditional baseball cap, something people could wear at a game, the grocery store or in everyday life. Nationals manager Dusty Baker wore one to his pregame meeting with the media. Harper also wanted to create a ski cap, an item he regularly wears, but he also had a different idea in mind.
"Something that maybe they can wear in the playoffs," Harper said. "When I saw the finished product on both sides, I absolutely loved it. I couldn't have wanted any more, so I can't thank [New Era] enough."
Bryce Harper held Katie Ledecky's gold medals during her first pitch
Harper and New Era unveiled the limited-edition Harper's Heroes caps on Wednesday afternoon at Nationals Park. All proceeds from the caps will benefit the Leukemia & Lymphoma Society, a cause Harper said means a lot to him, as the diseases have struck Harper's friends and family.
"Being able to be a part of it and raise awareness and being able to put these hats out there for people to go out and buy and make some money to [fund] that research and hopefully find that cure, it's just something that I want to happen," Harper said. "I want every single kid to be able to follow their dream and do anything possible to make that dream come true."
Harper often uses his national spotlight to give back whenever he can. Including his Harper's Heroes Foundation, he is a regular at the Nationals Youth Baseball Academy. Earlier this summer, he granted his first wish in conjunction with the Make-A-Wish Foundation and ESPN. He uses his stature as one of the faces of baseball to encourage children to stay active and participate in charitable acts often.
"Growing up, I never wanted to do it for the camera or for the TVs or anything like that," Harper said. "This was all just for me just to bring the families in, just to see the smiles and being able to get them away from everyday life and struggles."
It's one of the reasons New Era was thrilled to work with Harper on this project.
"When we look at ambassadors for us and our company, we truly look not only for great players but great people, and certainly Bryce fits that mold very easily," said Bill Adams, New Era's vice president of U.S. sales. "As you can see, what he's involved in here, it's a tremendous cause. We're inspired by him and what he's doing."
Jamal Collier covers the Nationals for MLB.com. Follow him on Twitter at @jamalcollier. This story was not subject to the approval of Major League Baseball or its clubs.