Sore foot won't slow down Utley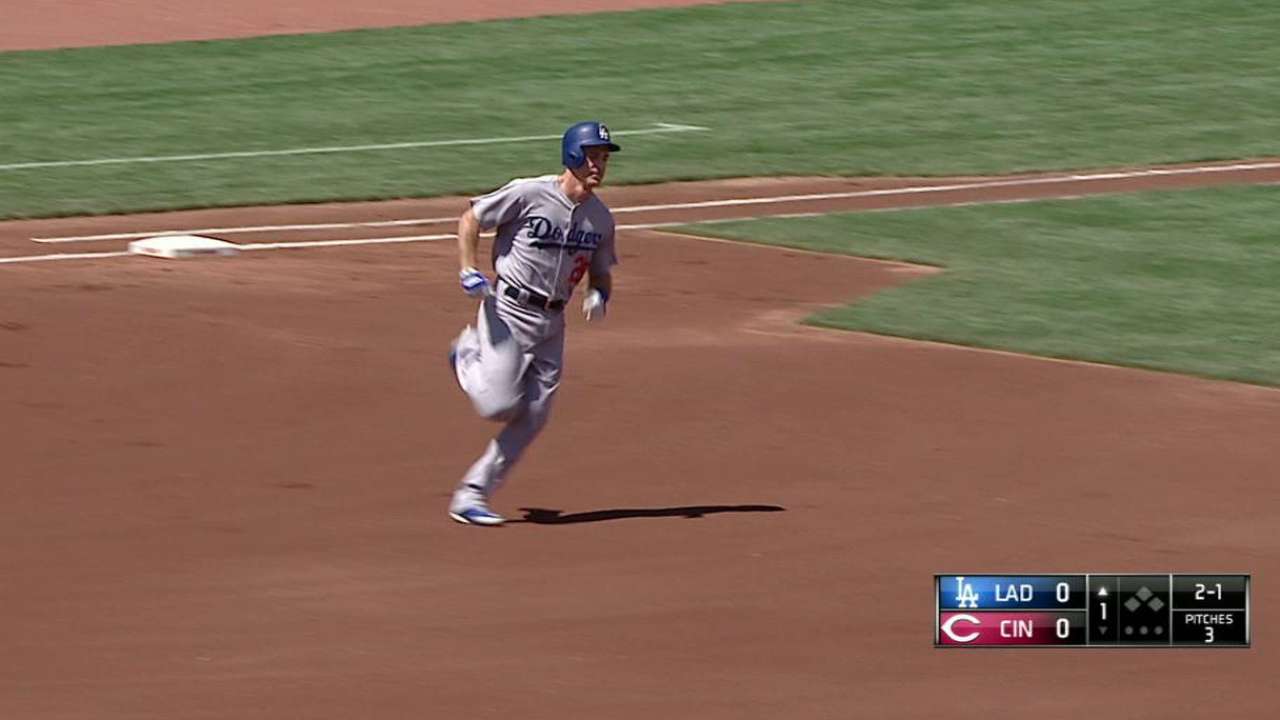 LOS ANGELES -- Foot soreness forced Dodgers second baseman Chase Utley to leave Tuesday night's 9-5 win over the Giants in the eighth inning, but he was back in the starting lineup Wednesday.
Utley has been working through foot maintenance for a month and was pulled Tuesday when the problem escalated into "something he couldn't really tolerate," per manager Dave Roberts. Utley came in as a pinch-hitter in the sixth inning and singled, then scored from first on a double by Andrew Toles. He stayed in the game and played second base for an inning before leaving.
Roberts said after the game that Utley was day to day, but still chose to start Utley Wednesday in his usual second base and leadoff spots against San Francisco right-hander Johnny Cueto. Days off could come for Utley in the near future though, as the Dodgers are scheduled to face left-handed starters in three of their final four games of the homestand.
"Talking to him [Wednesday], he was adamant about being in there and that he was good enough to play," Roberts said. "He's a regular, but I think that over the last week there's been certain days, whether on the plus side or trailing, I've tried to get guys out of games. Obviously with his age, Chase is in that category. But when it comes to helping us win games, Chase will be there."
Utley has hit at a .282/.325/.526 clip in the last four weeks, but will continue to receive days off, especially against southpaws, as he works through his age-37 season.
"This is kind of what I expected," Roberts said. "Seen him from the other side for many years and I knew that every time sets foot in batters box, he competes. To get that quality at-bat four or five times a game is important for an offense. The way he's performed is no surprise."
Worth noting
• Andre Ethier was in the Dodgers clubhouse before Wednesday's game and took batting practice on the field at Dodger Stadium. He has been facing live pitching in Arizona for at least two weeks, but said there is currently no plan in place for a rehab start. Roberts said Tuesday that the outfielder had recently turned a corner and feels more confident.
"They wanted to see me," Ethier said. "I think maybe they weren't believing the reports or something. Maybe they wanted to see it for their own eyes."
Either has been out since Spring Traing after needing surgery to repair a fractured right tibia.
• Rob Segedin was placed on the paternity list as a corresponding move for Wednesday starter Rich Hill's activation, but Roberts expects him to miss just one day and return Thursday. Robinson Marley Segedin was born late Tuesday night, just hours after his father hit a home run in Tuesday's 9-5 win.
"He was adamant he didn't want to miss any games and wife amazingly supported that," Roberts said. "Everything lined up. He was there for the birth and everything is great. To endure all that was going through his head, to go out and perform was pretty special. We talked, in his situation, he was saying all the right things, maybe to a fault, wanting to do everything for the team. But family takes priority. He knew that was the right thing."
Jack Baer is a reporter for MLB.com based in Los Angeles. This story was not subject to the approval of Major League Baseball or its clubs.