Gee's start heads south in Marlins' 3-run 6th
Right-hander cruises through 5 1/3 before yielding 4 straight singles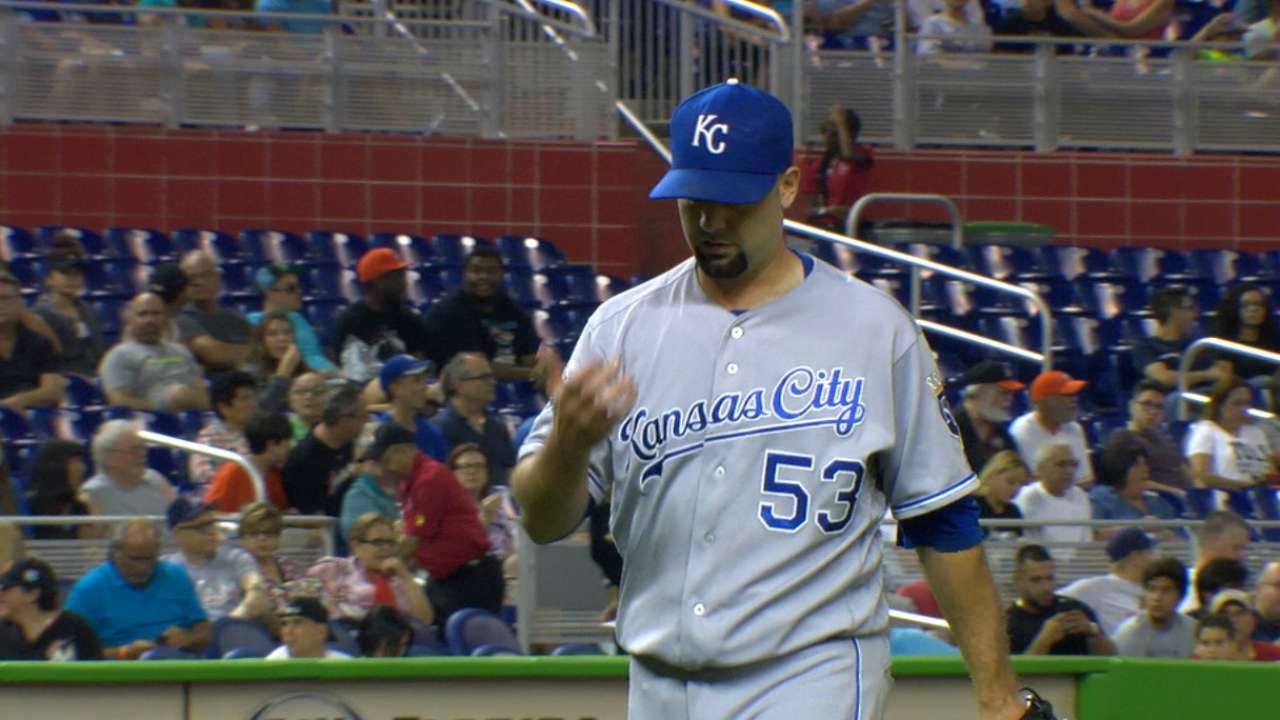 MIAMI -- Royals starter Dillon Gee was nearly flawless through 5 1/3 innings on Wednesday night before surrendering four consecutive hits that led to a decisive three-run sixth inning in a 3-0 loss to the Marlins that forced a rubber game on Thursday and ended the Royals' win streak at nine.
Gee, now 5-7 with a 4.55 ERA, retired the first eight batters he faced before yielding an infield single to Marlins starting pitcher Jose Fernandez. Gee set down the next eight in order before Fernandez logged his second hit of the night, and that's what marked the beginning of the end.
"We knew he could swing the bat a little bit," Gee said. "That [sixth-inning hit] might have been the hardest [hit] ball I gave up all night. The other ones just seemed like they were hitting it and falling where people weren't."
Dee Gordon and Martin Prado followed Fernandez with consecutive singles to load the bases. That's when Christian Yelich broke the scoreless tie with a two-run single to knock Gee from the game. Marcell Ozuna added a sacrifice fly off Peter Moylan for the third and final run -- all charged to Gee.
The Royals were shut out for the 10th time this season, while their nine-game win streak was the club's longest since a 10-game run on June 7-18 in 2014.
Gee allowed five hits overall while throwing 76 pitches, 50 for strikes. It was his sixth consecutive start of at least five innings and ninth in 11 starts.
Gee had a 51-start streak of going at least five innings from May 19, 2013, to May 3, 2015, with the Mets before coming to Kansas City. It was the longest active streak in the Majors until it was snapped in his first start off the 15-day DL in June.
And although it appeared as though he had run out of gas in the sixth, Gee said that simply wasn't the case.
"I felt fine," he said. "I don't think I was overpowering by any means, but I felt like I threw the ball fairly well. Just that sixth inning, they hit a few where people weren't.
"The fly ball by Yelich wasn't hit that great. It just was what it was, things were falling. They did a good job of just poking it out to the outfield."
Glenn Sattell is a contributor to MLB.com based in Miami. This story was not subject to the approval of Major League Baseball or its clubs.