Jose sets Marlins' single-season K mark
Ace breaks Dempster's 2000 record with 210th strikeout, reaches 213 before exiting after 7 IP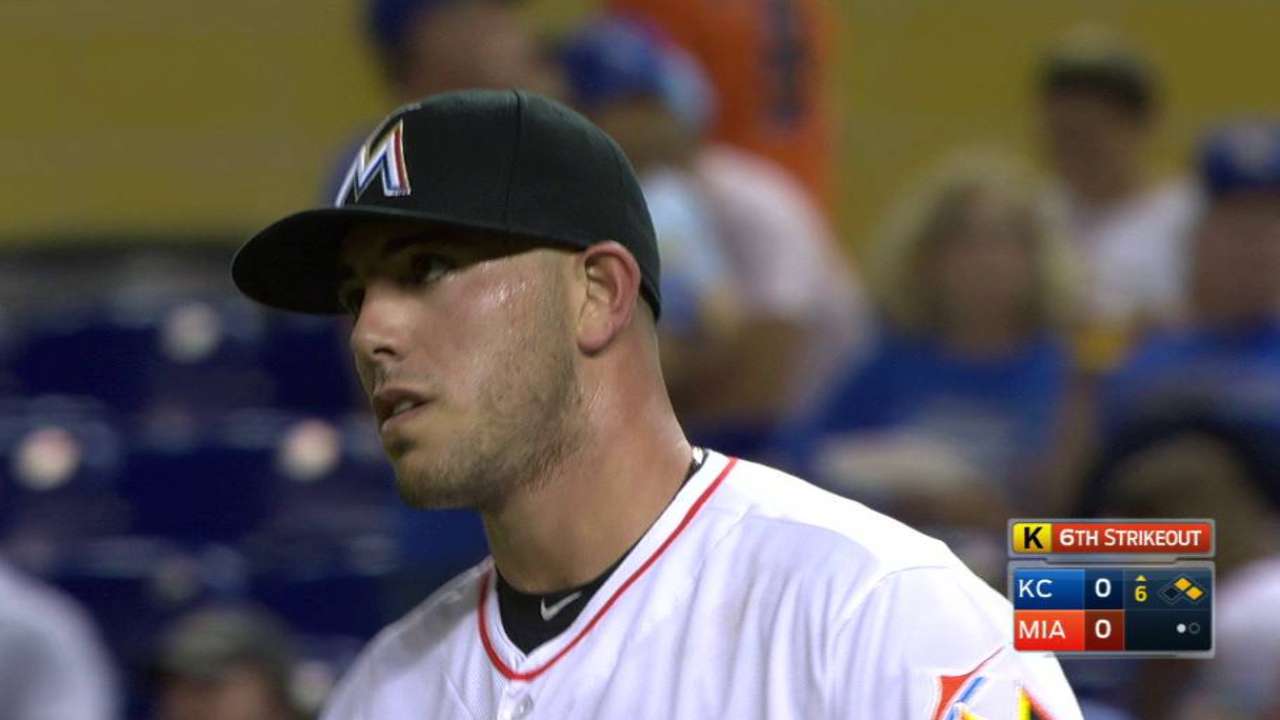 MIAMI -- Marlins ace Jose Fernandez, in his fourth big league season, is building upon his legacy in Miami. The two-time All-Star on Wednesday night broke the club's single-season strikeout mark that had stood almost 16 years in a 3-0 win over the Royals.
Fernandez, who struck out nine, became Miami's all-time single-season strikeout leader with 213, eclipsing Ryan Dempster's 209 in 2000. The record-breaker came against Alex Gordon, who went down swinging on an 85-mph curveball in the sixth.
"That's all fun, the strikeouts," Fernandez said. "But you've got to win ballgames to get to the playoffs. That's what we want as a team."
Fernandez (13-7, 2.91 ERA) turned in one of his finest efforts of the season, and it came against the defending World Series champs, who had their nine-game win streak snapped.
"Strikeouts are a big part of Jose," Marlins manager Don Mattingly said. "He's got a lot of swing and miss in his stuff. All year long, we've been preaching, 'You don't have to be all out. You don't have to strike everybody out.' We don't care if he strikes out, 12, 15 a game, if it's just not all wipeout sliders. There are times you need a strikeout. If you're striking guys out, we're not having to make a play."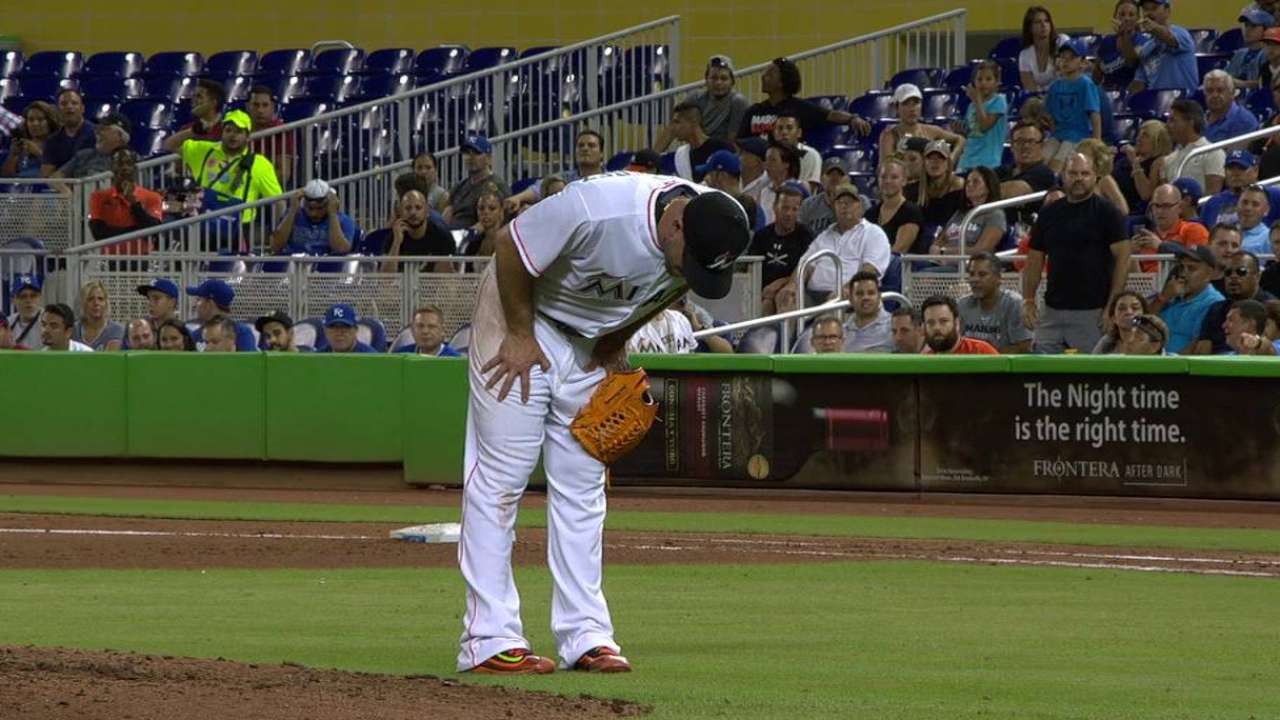 After striking out Christian Colon in the seventh inning, Fernandez favored his right leg and limped to the dugout due to cramping after logging seven strong innings at Marlins Park. Concerns of a potential injury were put to rest, because the 24-year-old was dealing with a cramp.
"I was cramping from the last five pitches," Fernandez said. "Sweating, sweating. I changed my uniform twice. I was cramping. The last one, when I finished the pitch, it stayed. I was like, 'Oh!'"
The night was going smoothly for Fernandez, who exited after 111 pitches, scattering six hits while walking two. Fernandez also had two hits in the game, and started Miami's three-run sixth inning.
"Being out there, getting on base, and help give my team a chance to win is nice," Fernandez said.
Fernandez is just the sixth Marlins pitcher to top 200, and he has done so in far fewer innings. His 210th strikeout came in 147 2/3 innings. Dempster's 209th came in 226 1/3 innings.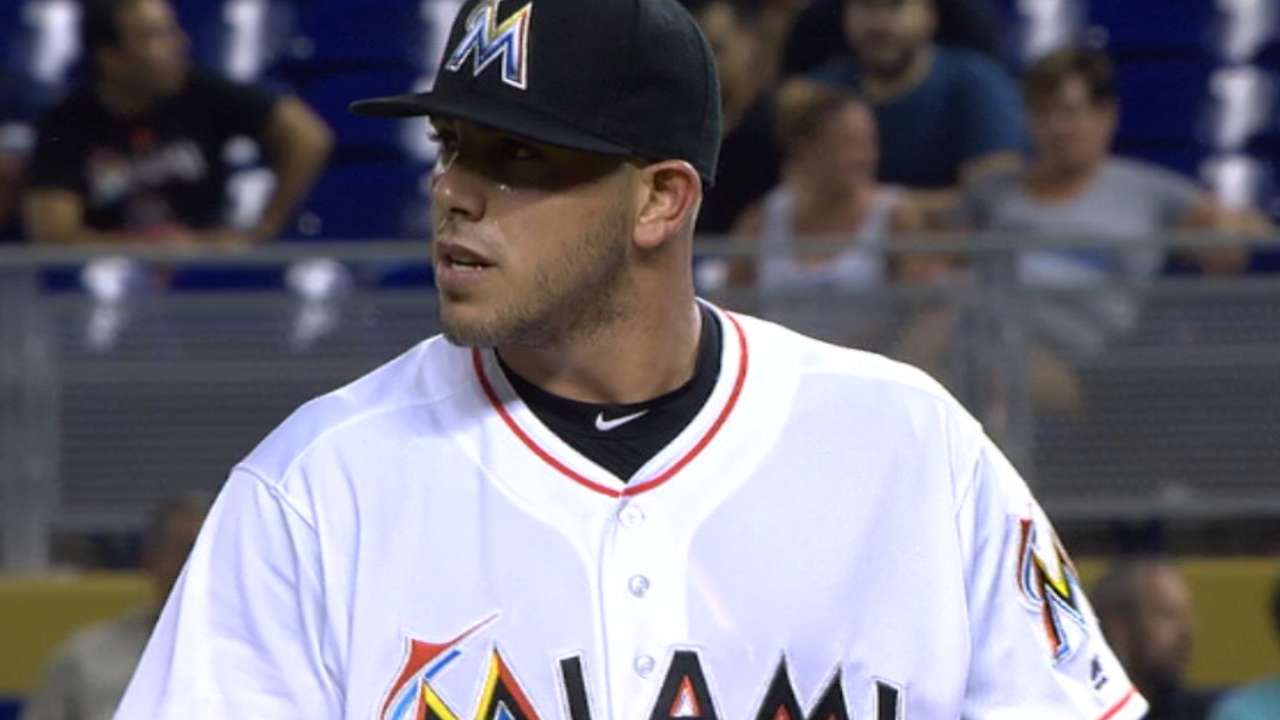 Fernandez matched Dempster in the fifth inning when he struck out Colon on an 85-mph curveball.
"First of all, I have to thank everyone that has done a little bit to get me back healthy," Fernandez said. "Without my teammates, it wouldn't be possible -- how much they teach me every day to get better."
Fernandez came into the game five K's shy of Dempster.
It didn't take long for the 24-year-old to chip closer to the record, as he fanned Paulo Orlando to lead off the game. That strikeout also was the 205th for Fernandez, which at the time, matched Kevin Brown (1997) for second most by a Marlin.
The strikeout has been a huge weapon for Fernandez all year.
The hard-throwing right-hander entered the game leading the Majors in strikeouts per nine innings, 12.9. And he opened the night shy of only Washington's Max Scherzer (217) for the most strikeouts in the big leagues.
Ranking among the MLB leaders is remarkable because Fernandez has thrown far fewer innings (141 2/3 coming into Wednesday) than Scherzer, who has 174. San Francisco's Madison Bumgarner is third in strikeouts with 202 in 180 2/3 innings.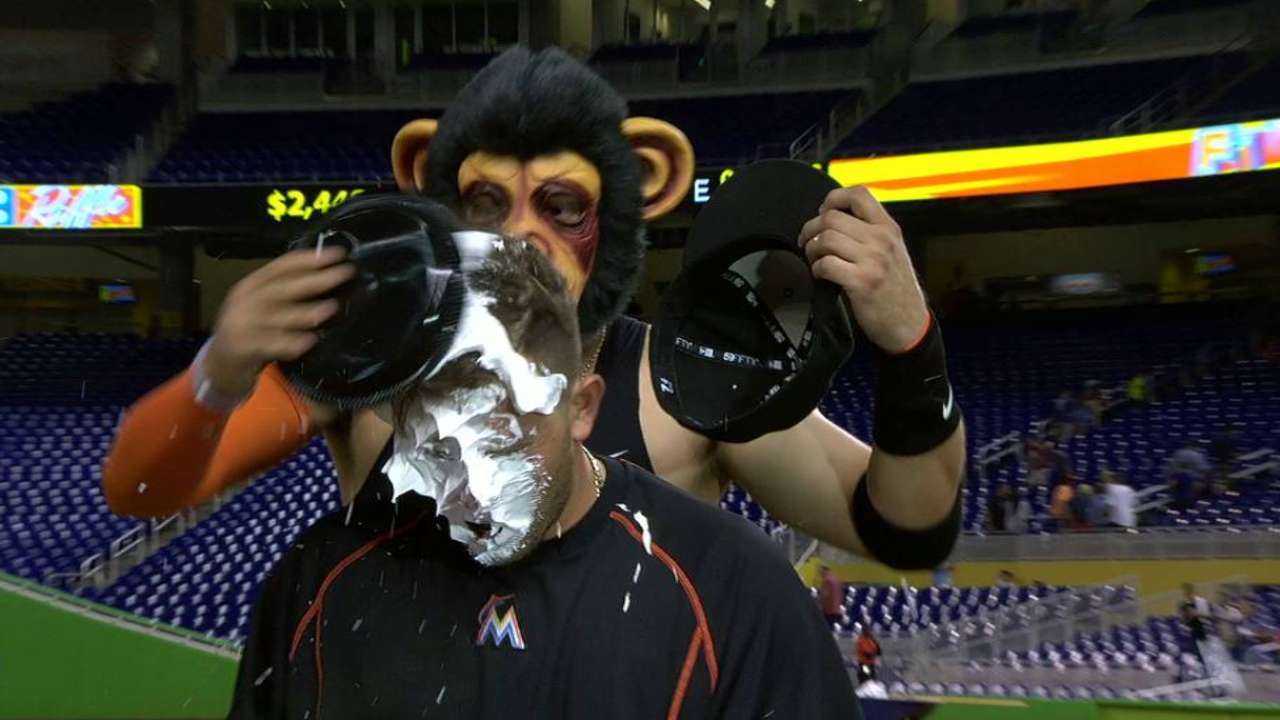 One reason Fernandez is lagging behind veterans like Scherzer and Bumgarner is because he is having his innings monitored two years removed from Tommy John surgery. This is his first full season since the procedure.
To stay around 180-190 innings in the regular season, Fernandez has been skipped twice this season. Recently, Fernandez went from Aug. 8-18 between outings.
The innings program was designed so Fernandez doesn't have to be shut down late in the season, or in the postseason, should Miami be among the qualifiers.
"The team's in the hunt, the players want to compete, and [shutting pitchers down] really puts them in a bad spot," Mattingly said of the innings program.
Joe Frisaro has covered the Marlins for MLB.com since 2002. He writes a blog, called The Fish Pond. Follow him on Twitter @JoeFrisaro and listen to his podcast. This story was not subject to the approval of Major League Baseball or its clubs.