Cards rookie Reyes soaking up big league experience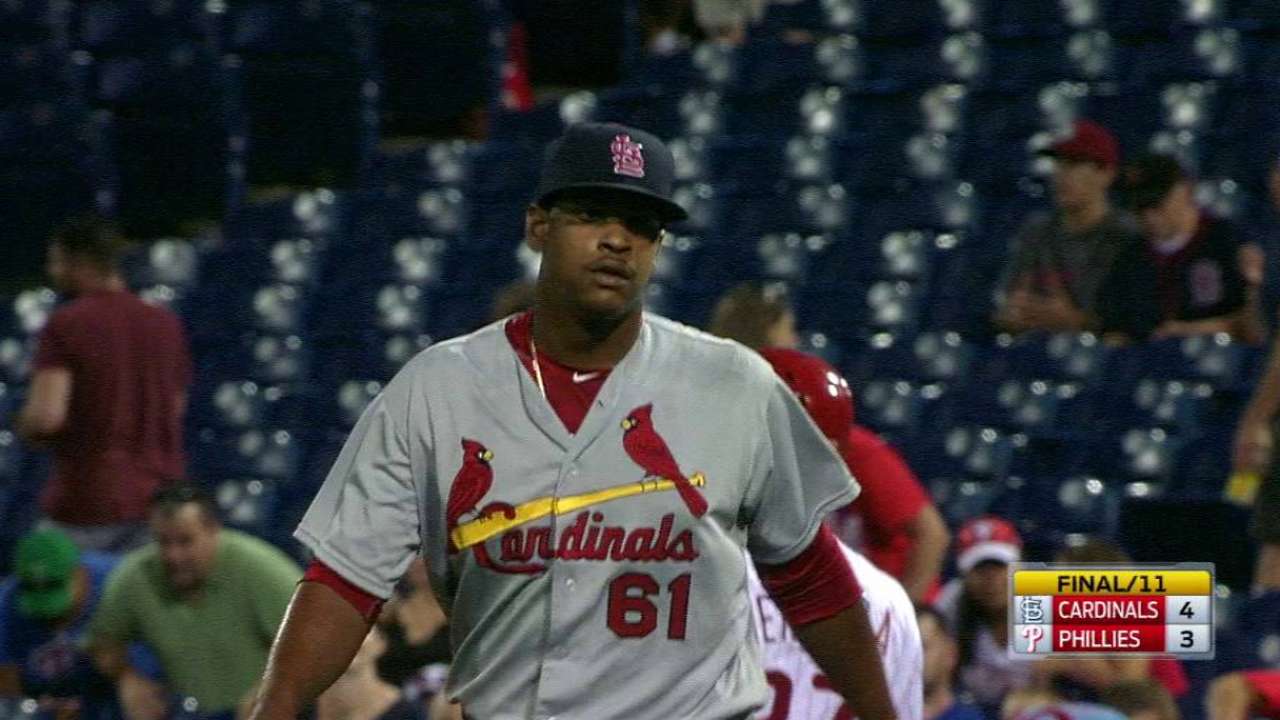 ST. LOUIS -- Cardinals reliever Alex Reyes has lived up to every expectation set for him so far in the Major Leagues. The 21-year-old has responded and executed his pitches in each situation that has been put before him since he was called up.
The right-hander opened his big league career with five scoreless appearances, totaling 9 1/3 innings and 13 strikeouts. Those early numbers would make it easy for any player to be overconfident. Not Reyes, who clearly still knows his place as a rookie.
"He's a kid who has a lot of hype coming with him," Cardinals manager Mike Matheny said of the Cards' top prospect, per MLBPipeline.com. "But he's not overwhelmed with that to the point of not remembering where he is in this game."
Matheny pointed to the Cardinals' flight home from Philadelphia to wrap up their recent road trip as an example. The team was preparing to leave when Reyes and fellow rookie Luke Weaver were the first to approach the plane on the tarmac as the rain poured down. The two looked at each other and decided to step aside under the plane's wing and let the veterans board first.
While Matheny characterized the act as "rare," Reyes was more nonchalant.
"It's just something that you do when you're a young guy," Reyes said. "You try and respect them as much as you can."
Reyes' level of reverence for his teammates is evident. He speaks with as many players as possible in the clubhouse and during batting practice, opening his ears to Jonathan Broxton and Adam Wainwright while shagging fly balls Wednesday.
"It's just any little tip I can get," Reyes said. "Those guys have a ton of experience and have been in the big leagues for a long time, so just anything they can help with. I'm just trying to get anything they possibly use, and use it out there on the mound."
All of Reyes' appearences so far have come out of the bullpen, but Matheny has said he eventually views him as a starter.
"Not to say if we get our back up against a wall and we need somebody, he'll be in the conversation [to start]," Matheny said. "It's nice to have the best of both worlds now where we're stretching him a little bit, keeping him to where he could pitch more than a couple innings."
Reyes hasn't gone longer than three innings in any outing to date, so until the Cardinals feel comfortable enough to give him the ball in a start, he will continue to soak in as much as he can.
"I hope he never loses that," Matheny said. "I think what you're seeing is him taking all that information in, in-game stuff and around here and figuring it out. ... I don't make him go sit in a room and say, 'You guys go talk shop.' That's him. That's taking initiative. That conscientiousness is one of those defining, separating qualities in baseball players as to whether they're good or great."
Nick Krueger is a reporter for MLB.com based in St. Louis. This story was not subject to the approval of Major League Baseball or its clubs.