Zimmermann ready to start rehab assignment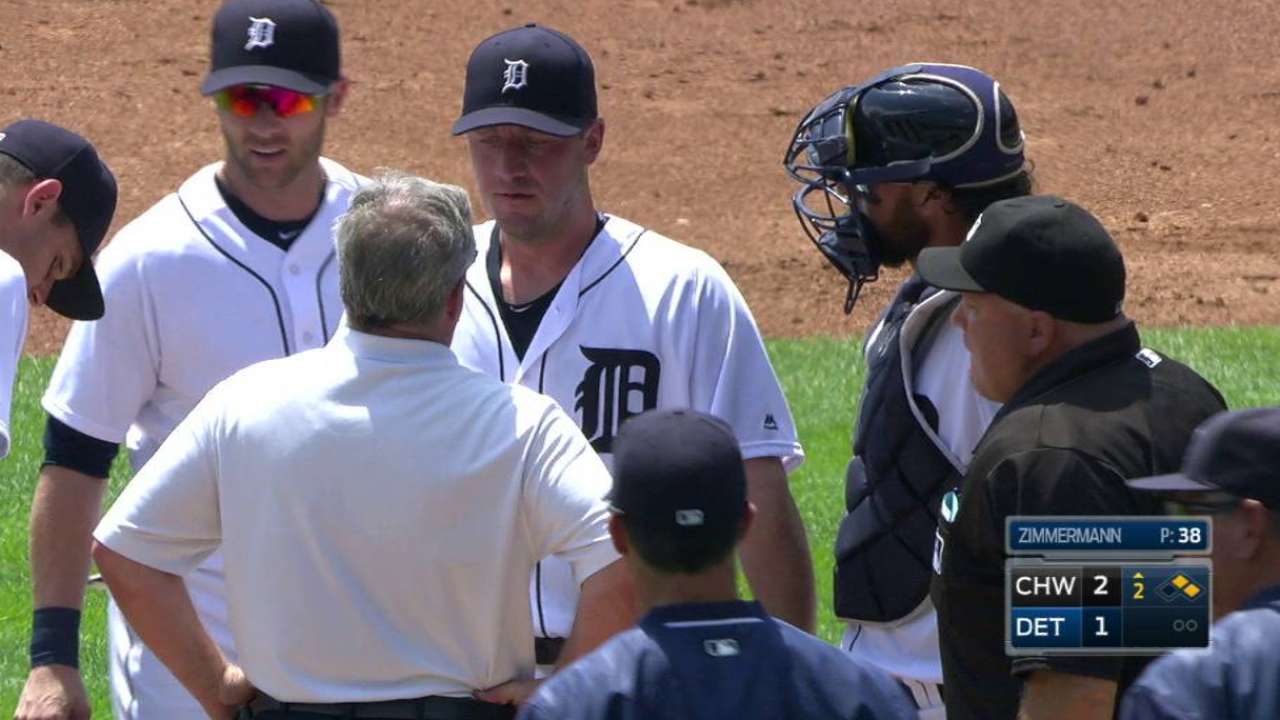 MINNEAPOLIS -- Right-hander Jordan Zimmermann completed a bullpen session before Wednesday's game without any issues and will begin his rehab assignment with Triple-A Toledo on Friday.
"I feel like I'm back to my normal self," Zimmermann said. "The arm speed feels like it's there, but the control's a little off right now. That's going to come with more pitches I throw. I'm happy where I'm at, and it feels like it's coming out there."
The Tigers are looking to get Zimmermann -- who completed a 30-pitch simulated game on Sunday -- three rehab starts with Toledo and hope to have him back in the rotation as early as Sept. 10.
Zimmermann, 30, was placed on the 15-day disabled list on Aug. 7 with tightness in his right lat, an aggravation of a neck injury that sent him to the DL earlier in the season.
He was 9-5 with a 4.44 ERA in 16 starts, but allowed six earned runs in 1 2/3 innings on Aug. 4 against the White Sox in his only start between the two DL stints.
"I rushed back the first time, and that did more hurt than help," Zimmermann said. "I tried to do things I probably shouldn't have done, and I had a little bit of a setback, I guess. I feel stronger and I feel healthier now than I was before, so I guess that's a step in the right direction. I'm trying to go slow but hurry up, so it's kind of like a double-edged sword."
Although Zimmermann's frustration with not playing has been palpable with the Tigers in the hunt for one of the American League's two Wild Card spots, he's looking forward to doing what he can for the cause once he's back on the mound in September.
"I'm just coming in and doing everything I can do," he said. "It [stinks] to sit on the bench, and you feel useless. I've basically been a cheerleader for two months now, and hopefully, I can come back and make September here and help this team."
Pelfrey completes simulated game
Right-hander Mike Pelfrey threw a successful 50-pitch simulated game on Wednesday as part of his rehab as he works to return from the strained lower back that sent him to the DL on Aug. 3.
"His command was a little rusty, but he looked fine," said manager Brad Ausmus. "The ball came over fine, and he didn't look like he was holding back."
Pelfrey was 4-9 with a 4.76 ERA in 22 appearances, including 21 starts, before he was placed on the DL.
Because Daniel Norris, Matt Boyd and Michael Fulmer have been so successful in the rotation, Pelfrey's eventual return might create a tough situation for the coaching staff, but Ausmus isn't planning to think about the situation until it actually arises.
"I'm not going to worry about it at all until we have to make a decision, because as we've seen this year, things seem to happen, so I'm not going to try and predict," Ausmus said. "We're just going to make a decision when we have to."
Do-Hyoung Park is a reporter for MLB.com based in Minneapolis and covered the Tigers on Wednesday. This story was not subject to the approval of Major League Baseball or its clubs.