Arenado thrills in HR race against Bryant
Young slugging third basemen engaged in back-and-forth battle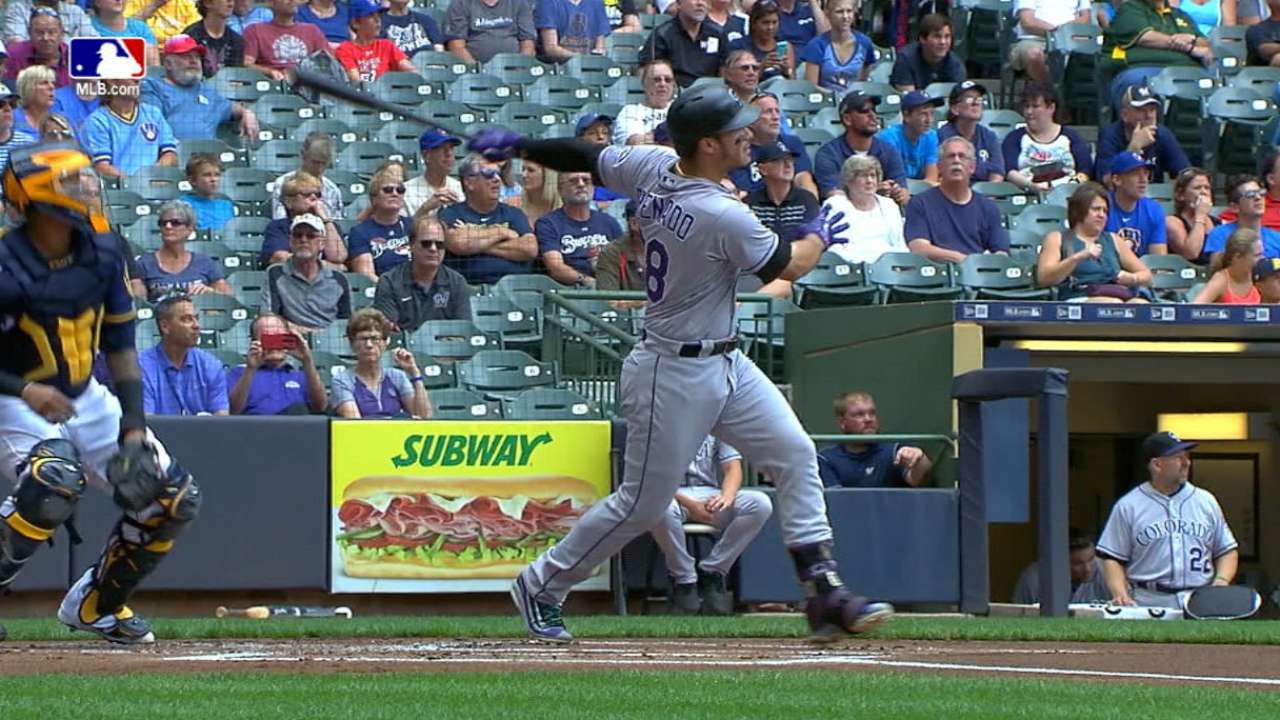 MILWAUKEE -- More than one month remains in the regular season, but the National League home run race between the Rockies' Nolan Arenado and Cubs' Kris Bryant gained steam over the past week.
The jockeying between the two slugging third basemen for sole possession of the league lead continued on Wednesday as Arenado hit his 34th homer of the season in a 7-1 loss to the Brewers, breaking a tie with Bryant. Ever since the Rockies and Cubs faced off over the weekend in Colorado, the lead has pinballed back-and-forth between the two players.
Arenado has four homers in his past four games; Bryant has slugged three in his past five. Going into the weekend, Arenado has one more homer than Bryant. With the way both he and Bryant have been launching homers recently, Arenado can't help but hear about the ongoing race.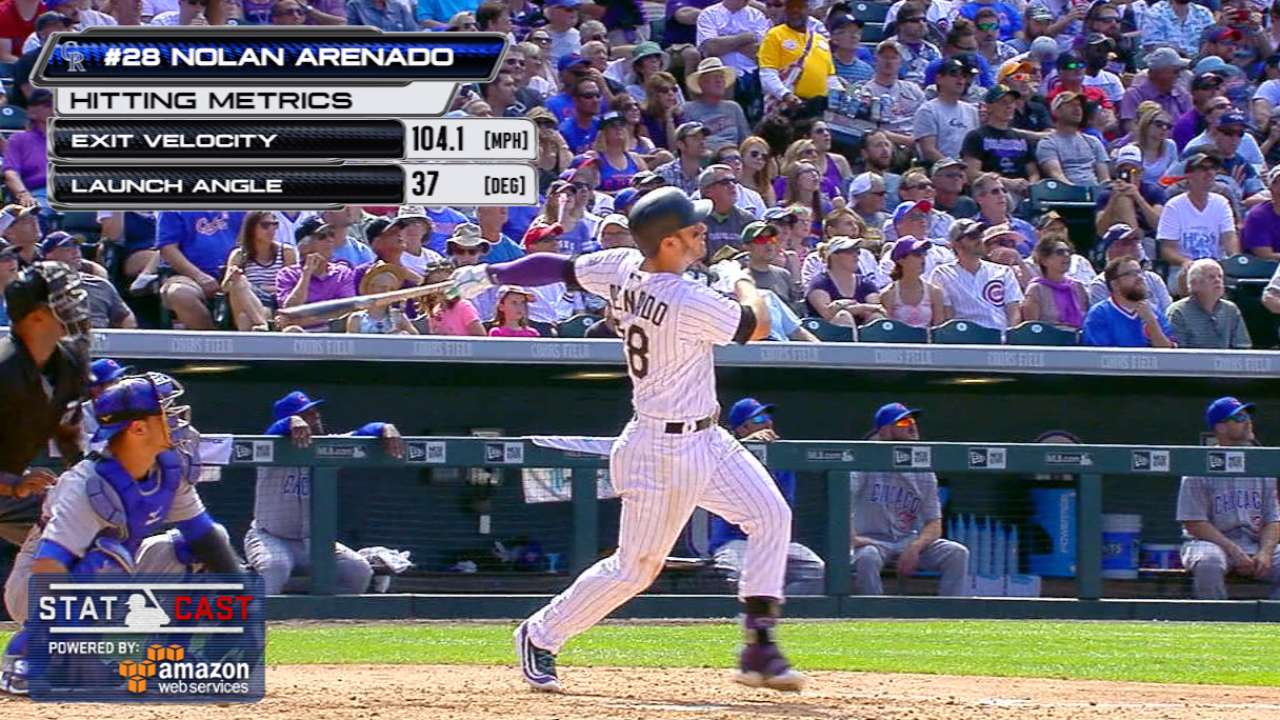 "I just hear it because my cousins let me know, my family and some friends let me know," Arenado said. "I try not to pay attention to it. It's cool. [Bryant] is an unbelievable player. He's having an unbelievable year on an unbelievable team."
Despite the Brewers sweeping the Rockies, Arenado did his part by going 6-for-12 with two homers and four RBIs. Unfortunately for Colorado, very little else happened offensively, as they scored just seven runs over the three games.
"It's nice to swing the bat well, but when you don't win, that's the ultimate goal, right?" Arenado said. "So I'm not going to say it doesn't mean anything, because I know I'll be able to sleep a little better knowing I'm swinging the bat like I know I can, but it's tough knowing we got swept like this."
The Rockies were able to get men on base, but they lacked the big inning that the Brewers seemed to get at the right time during the series. In all, Colorado left 29 men on base.
"We had some hits over the course of the series, but had a hard time putting together that big inning, putting a crooked number up there," Rockies manager Walt Weiss said. "With the exception of Nolan's three-run homer [on Tuesday], we weren't able to bunch the hits together and put together a big inning."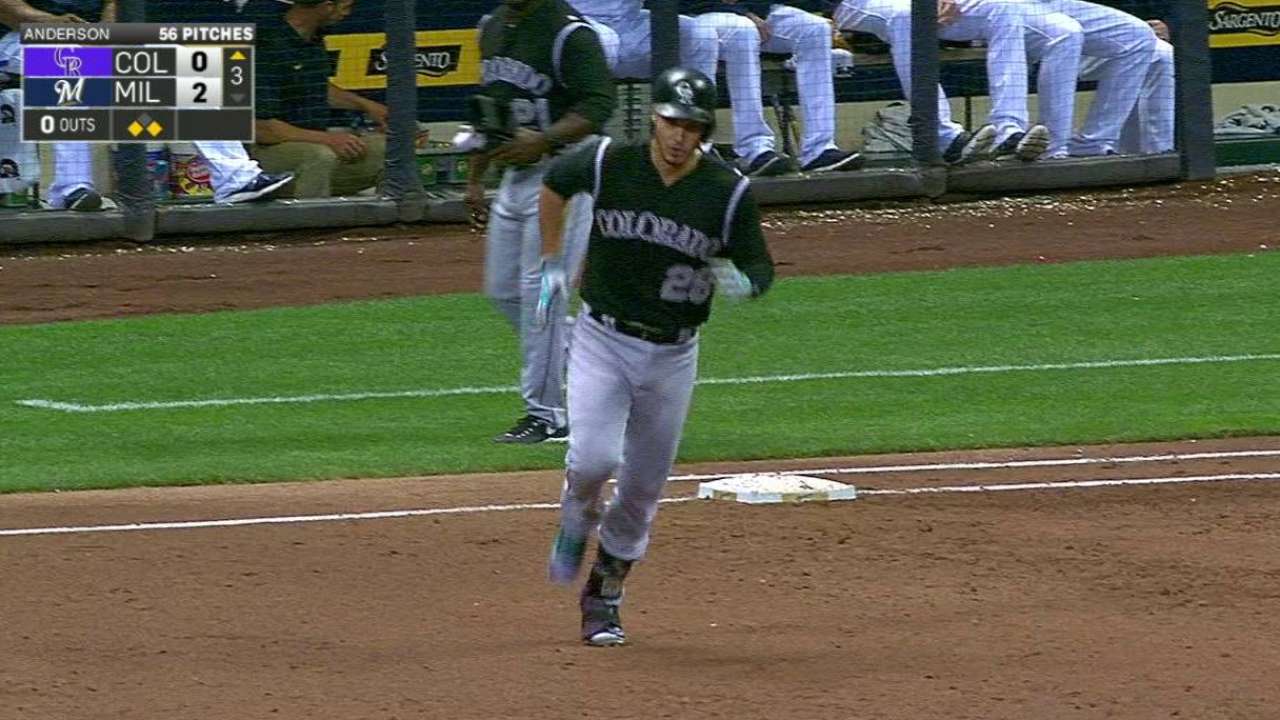 Bryant homered against the Rockies on Saturday to gain the league lead with 31, but Arenado hit two the next day to jump ahead with 32 blasts.
"Still a lot of time left, but we got to see both of them on the field at home the last homestand," Weiss said. "Two really, really exciting players. Two very talented young players."
On Monday, Bryant went deep against the Padres to tie Arenado. With a three-run jack on Tuesday for his 33rd homer, Arenado regained sole possession of the lead, but it was short-lived as Bryant hit one of his own later in the evening.
Bryant nearly tied Arenado again on Wednesday, roping a double 397 feet to center field.
The lead is Arenado's ... for now, at least.
Curt Hogg is a reporter for MLB.com based in Milwaukee. This story was not subject to the approval of Major League Baseball or its clubs.