MLB.com Columnist
Anthony Castrovince
MLB, MLBPA strengthening ties with Puerto Rico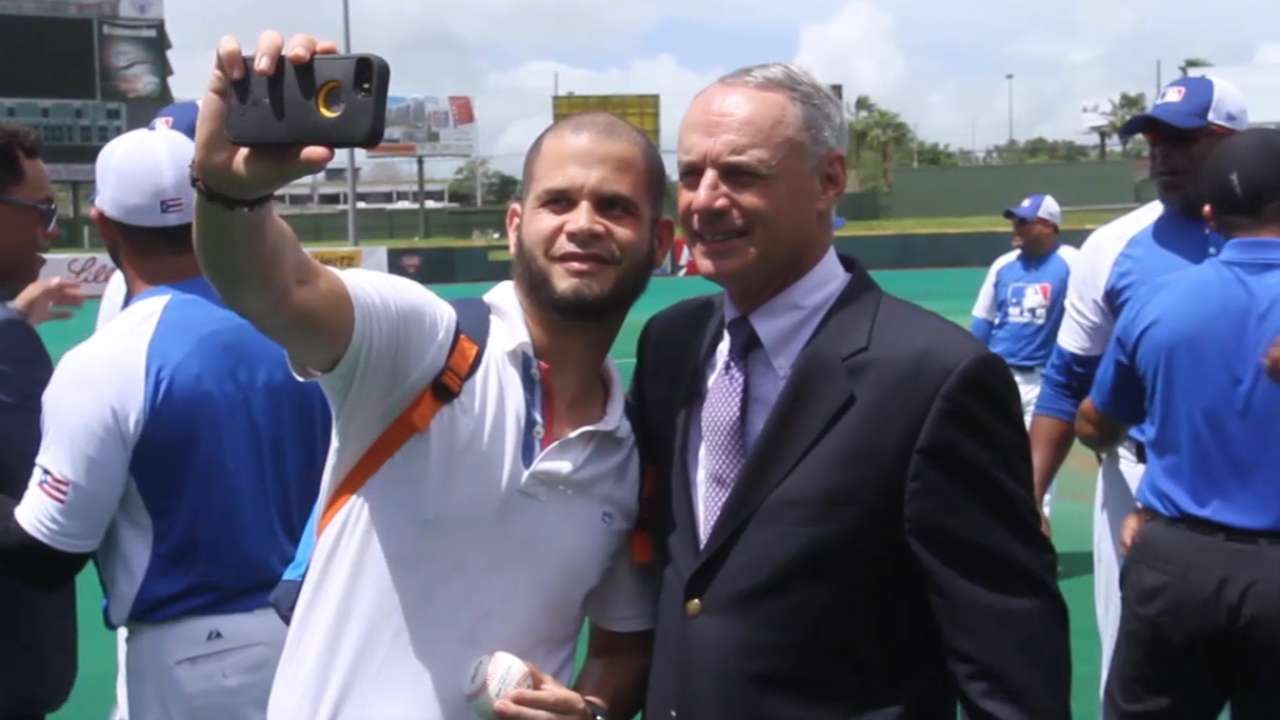 Maybe the next Francisco Lindor won't feel he has to leave Puerto Rico at an impressionable age.
That's the hope that arises out of Wednesday's announcement that Major League Baseball and the MLB Players Association have agreed to commit $5 million over the course of the next collective bargaining agreement to go toward the creation and support of baseball development programs on the Caribbean island.
"Puerto Rico's outstanding baseball tradition has produced great Major League players and fans of our game," Commissioner Rob Manfred said in a news release. "We look forward to returning to the island to play regular-season games and supporting initiatives that will allow Puerto Rican kids to play baseball."
As you've no doubt noticed, the next CBA (the current one expires Dec. 1) hasn't even been finalized. So to see this early accord between the owners and players speaks to the importance of the issue at hand.
We saw last year, with the emergence of American League Rookie of the YearAward winner Carlos Correa and runner-up Lindor, that Puerto Rico can still produce elite baseball talent. But the rate of that production has slowed considerably over the past two decades.
It's worth remembering that Lindor's family was once concerned enough about his ability to reach his true potential that they moved their son to the Orlando, Fla., area when he was 12 years old to put him in a better developmental position.
So this investment is an important one, both for an area that can again be a baseball hotbed and a sport that should leave no stone unturned in the search for top talent.
"Today's announcement provides us with an opportunity to honor Puerto Rico's long-standing commitment to the game in a way that will allow the sport to flourish there in the future," MLBPA executive director Tony Clark said. "Puerto Rico has played an important role throughout the history of our great game, and efforts to help expand the sport's popularity and participation there will benefit the entire baseball community."
Time was, All-Stars poured out of Puerto Rico. Following the lead of the great Roberto Clemente, whose life and legacy will be honored league-wide on Sept. 7, and Orlando Cepeda, the 1990s brought us the Alomar brothers, Roberto and Sandy Jr., Ivan Rodriguez, Edgar Martinez, Juan Gonzalez, Bernie Williams, Carlos Delgado, Ruben Sierra and Carlos Baerga, among others. The 1997 All-Star Game featured a record eight Puerto Rican players -- pleasantly disproportionate output for a 3,515-square-mile island. Alomar Jr. hit the go-ahead home run.
And then?
"We got stalled a little bit," Alomar Jr. said recently.
Guys like Carlos Beltran and Yadier Molina became all too few and far between. From that height of eight Puerto Rican representatives on the 1997 All-Star rosters, this year's Opening Day rosters featured a total of 13 Puerto Rican players.
There's no denying that MLB bears some responsibility for the shift. In 1990, the league began to include Puerto Rico in the MLB Draft.
"When it was an open market, there were more opportunities for teams to take a chance on a player," Alomar said. "You were able to sign an abundance of players form there, and you might hit on two or three of them."
That's how teams still operate in Venezuela and the Dominican Republic. They can sign players as young as 16, develop them in their academies and watch the cream rise to the top.
It's a different financial equation for Puerto Rican players subject to the Draft, because there are only so many slots and so much scouting bandwidth to assign to the island. Teams don't have their own academies, because what would be the point of developing a player who might just get plucked by another club?
Perhaps Correa himself was the game-changer, for an industry that needed a linchpin product of Puerto Rico and a region that seemed to be losing its appetite for the game. It was a sad moment when, in 2007, the Puerto Rican Winter League canceled an entire season because of financial problems related to attendance issues. But along comes this kid Correa, who graduated with honors from the Puerto Rico Baseball Academy and High School, was taken with the No. 1 overall pick in the 2012 Draft and has already hit 40 homers before his 22nd birthday.
"People wanted me to move," Correa said last fall, "because in the States, I would have a better chance to get drafted higher, because scouts would be watching me play all the time. I said no, because I wanted to be able to show everybody that when you're from Puerto Rico, you can do it as well. I wanted to show all the kids in Puerto Rico coming up behind me that you can do it."
When Correa and Lindor burst onto the scene last year, proud Puerto Ricans with an emotional attachment to baseball hoped it would create, as Alomar Jr. put it, a "ripple effect."
Wednesday's news, then, felt like the first small but welcomed wave.
Anthony Castrovince has been a reporter for MLB.com since 2004. Read his columns and follow him on Twitter at @Castrovince. This story was not subject to the approval of Major League Baseball or its clubs.