Phegley to begin rehab assignment on Saturday
Catcher, who underwent surgery on right knee in July, will DH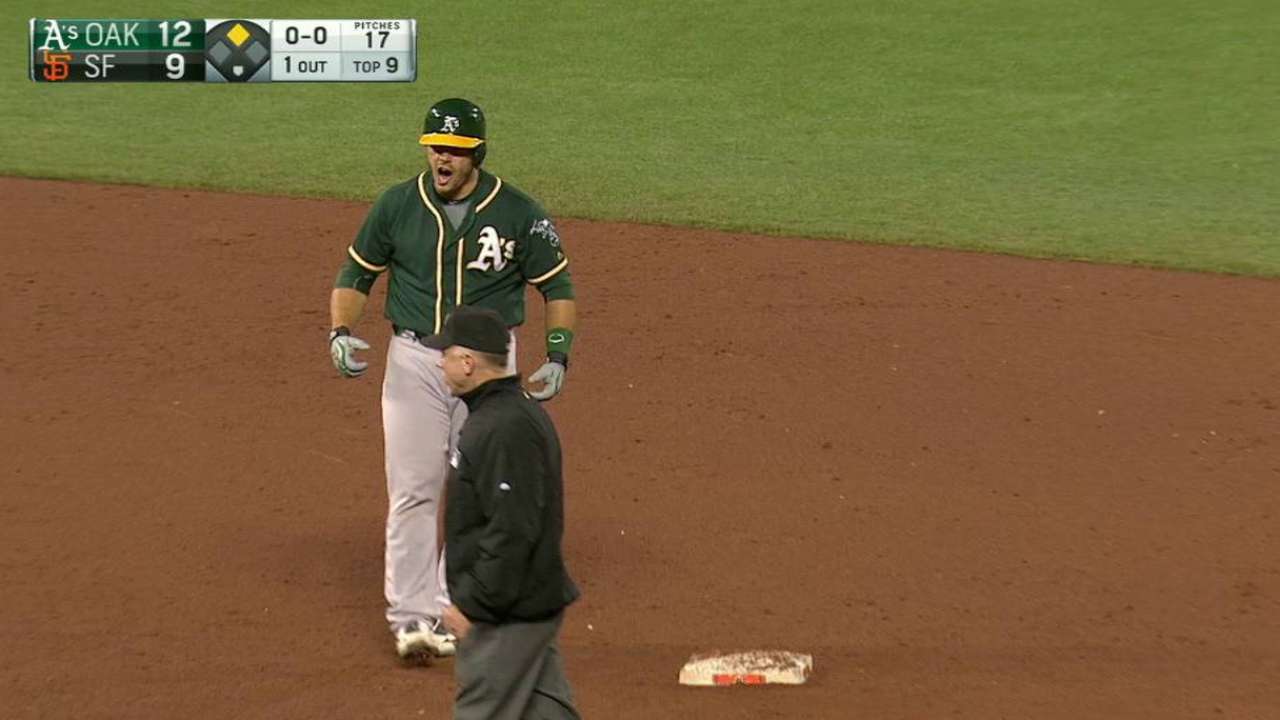 OAKLAND -- A's catcher Josh Phegley will begin a rehab assignment on Saturday with Triple-A Nashville, one of several injured members of the Oakland roster reaching a new step in their recovery process.
Phegley will serve as the designated hitter on Saturday and catch on Monday, according to A's manager Bob Melvin. He underwent surgery to remove a cyst in his right knee in early July, and after several weeks of recovery which included a brief setback this weekend after coming down with strep throat, will finally return to the field.
Phegley follows the path of reliever Sean Doolittle, who began a rehab assignment with Nashville on Monday and will make another rehab outing on Friday. The team has been cautious with Doolittle's return -- he's coming off left shoulder inflammation -- and Doolittle hasn't been happy with how the ball has felt coming out of his hand, necessitating at least one additional rehab assignment.
Doolittle has made four appearances in Triple-A, allowing one run in four innings while striking out six.
Hahn, Alvarez on track
The A's expected both Henderson Alvarez and Jesse Hahn to be cogs within their 2016 rotation this season. So far, neither has stayed healthy.
Alvarez is re-starting the rehab process on his ailing right shoulder for the third time -- he underwent shoulder surgery last July -- after two setbacks, and will take another step on Saturday, throwing an inning in the Arizona League. Alvarez felt strong after a 30-pitch bullpen session on Tuesday.
Melvin said he hopes to see Alvarez pitch this season. The possibility that comes in a relief role continues to increase.
Hahn, meanwhile, threw a bullpen session on Wednesday and will throw another on Saturday in Triple-A Nashville. If all goes well, he'll make a rehab start on Tuesday for Nashville, Melvin said. Hahn has been on the disabled list since Aug. 5 with right shoulder discomfort.
Lowrie's surgery date
Melvin said the A's expect Jed Lowrie to undergo surgery on Aug. 31 in a Houston-area hospital to repair ligament damage in his left foot and to remove a bunion. Lowrie was placed on the DL (retroactive to Aug. 4) with the bunion, which he played through for most of July. He will not return this season.
Mark Chiarelli is a reporter for MLB.com based in the Bay Area. This story was not subject to the approval of Major League Baseball or its clubs.