Maddon: Versatility on field helping Baez's bat
23-year-old has played all four infield positions this season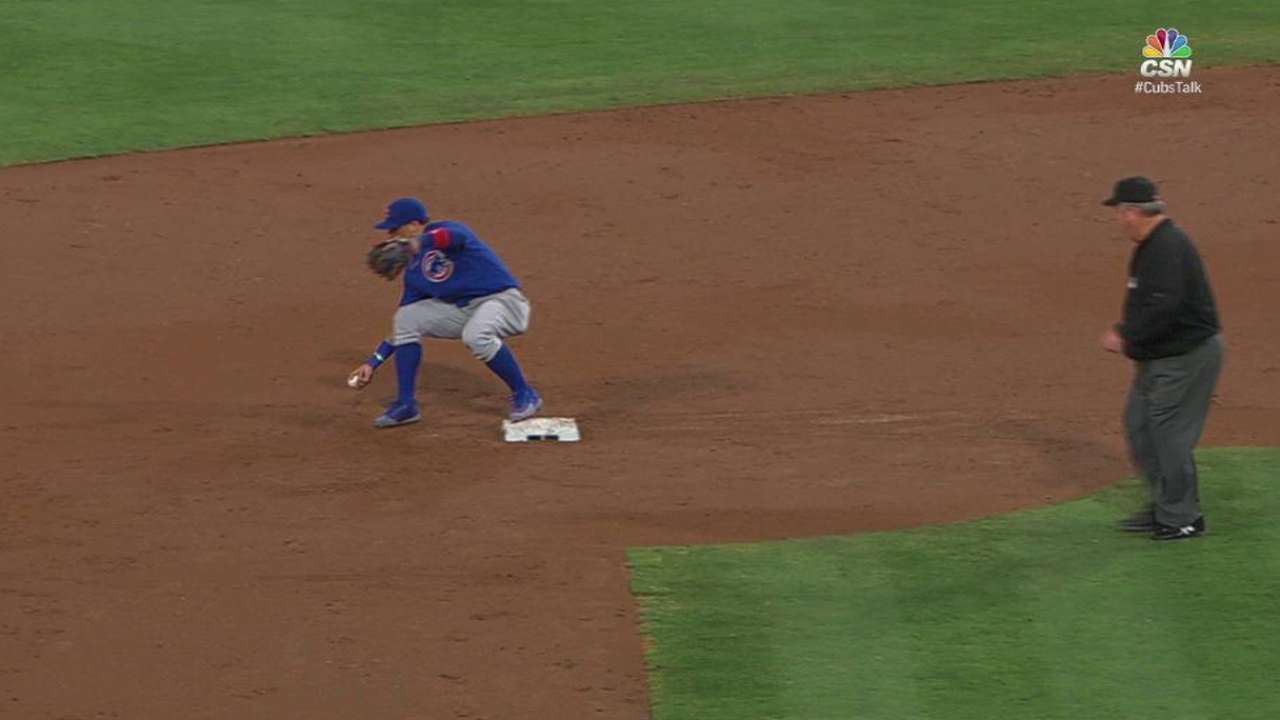 SAN DIEGO -- Javier Baez has played all four infield positions for the Cubs this season, and he has definitely shined at second base. Shouldn't he be settling down at one spot?
"It depends on how we morph as a group over the next couple of years," manager Joe Maddon said Wednesday. "I like the way it's working out."
That's because Baez not only has handled himself well defensively, but he has also improved offensively. He entered Wednesday's game batting .276, with a .333 batting average on balls in play.
"You're seeing a lot of progress," Maddon said of Baez. "Who knows if by playing sporadically, this is becoming a part of who he is as opposed to playing every day, getting caught in the trap of not hitting well, which sometimes affects the defense. He's an everyday player, no question."
But Baez won't be an everyday player right now. Maddon likes that Baez has to prepare to play second, short, third or even first, which gives him less time to think about his batting average.
"I believe playing more defense and playing different positions can help a young player become a better offensive player," Maddon said.
The goal now, the skipper said, is if Baez plays, put him at the spot where the ball is most likely going to be hit.
Worth noting
• So who's the Cubs' most valuable player? It depends on the day. Kris Bryant entered Wednesday tied for the National League lead in home runs with 33, and he is on a roll, going 8-for-22 through the first five games of the road trip. But Maddon doesn't pay attention to the NL MVP Award discussion.
"Individual awards, for me, take care of themselves," Maddon said. "If you're good, you'll be recognized."
• Prior to Tuesday's game, Maddon met with Golden State Warriors coach Steve Kerr.
"It's great to see a guy who has had that kind of success is kind of, like, that normal," Maddon said. "He's a really good fellow."
Among the topics was Warriors guard Steph Curry and how he can make the amazing three-point shots. Kerr told Maddon that Curry practices the impossible shots because then the difficult stuff becomes routine.
• Hector Rondon, on the disabled list with tightness in his right triceps, played catch on Wednesday. He could throw a bullpen session this weekend in Los Angeles. John Lackey, on the DL with a right shoulder strain, also was expected to throw on the side at Dodger Stadium. Rondon was expected to come off the DL on Sept. 1 as scheduled; Lackey could be activated at that time, as well.
Carrie Muskat has covered the Cubs since 1987, and for MLB.com since 2001. She writes a blog, Muskat Ramblings. You can follow her on Twitter @CarrieMuskat and listen to her podcast. This story was not subject to the approval of Major League Baseball or its clubs.