Handful of Padres set for Miami homecoming
Cosart, Hand among group to return during weekend series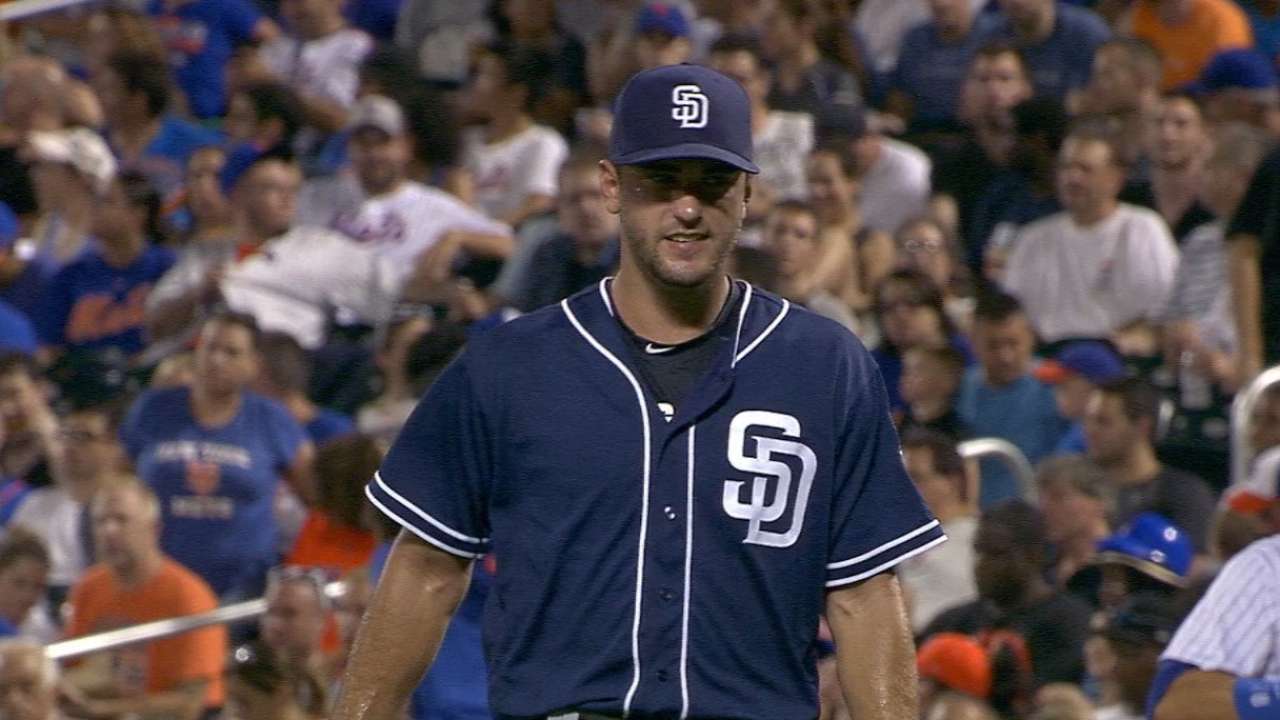 SAN DIEGO -- The Padres' upcoming weekend series in Miami doesn't just signify the start of a road trip. For a handful of players in San Diego's clubhouse, it's more like a homecoming.
Take Jarred Cosart, the starter for Game 1 of the three-game series, which begins Friday. He was acquired by the Padres just before the Aug. 1 non-waiver Trade Deadline, and he didn't have time to move out. He'll be saving room in his suitcase for some of the belongings that he had to leave behind in Miami last month.
"It'll probably be a little emotional," Cosart said. "I don't know yet how I'll feel. I'm trying to treat it as another start, just watching video, trying to study the hitters. I've seen a lot of them, but I haven't really studied them in depth. We'll see leading up to game time how the emotions feel."
Cosart isn't the only Padre who entered the season with Miami. Brad Hand, Edwin Jackson and Paul Clemens were also Marlins. So, too, was Carter Capps, who is still recovering from Tommy John surgery. Right-hander Colin Rea was a Marlin for one start, before he injured his elbow and returned to San Diego in another trade.
"It's crazy," said Hand, who has thrived with the Padres after being designated for assignment during the season's first week. "I was the first one to come over. Throughout the year, more and more guys just kept coming over. It was nice to get some familiar faces around here, and everybody that we got -- they're all good players."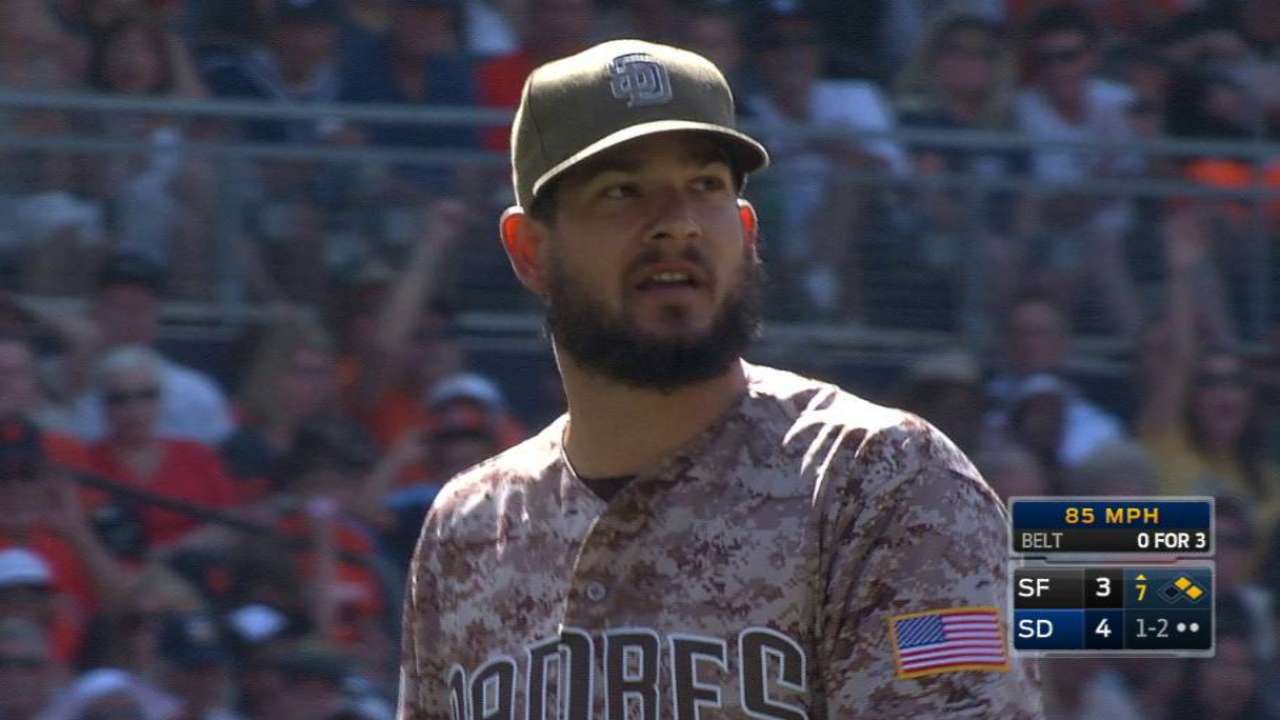 For Cosart, Friday will be his fifth start with the Padres this season -- more than he made during the first three months of the year with Miami.
The 26-year-old right-hander has seemingly found a groove lately, having tossed one-run ball in consecutive starts. He didn't exactly get that chance this year with the Marlins.
"It was a roller coaster -- a lot of highs, a lot of lows," Cosart said of his time with Miami. "For 2016, I got off to a rough start, and then I kind of felt like I got neglected a little bit. ... I feel like I'm in a better place now. I've already learned more in a month than I have anywhere that I've played."
The same holds true for Hand, who didn't get a chance with the Marlins out of spring. He's been arguably the Padres' most reliable pitcher this season, and entering play Wednesday, he owns a 1.48 ERA and a .157 batting average against since the start of July.
The Padres have cemented Hand as their seventh-inning guy over the past few months -- which serves in stark contrast to his ever-changing role in Miami. With the Marlins, he was a long man, a starter and a lefty specialist, never finding a set place on the pitching staff.
Hand credits part of his success to being firmly settled into one role with San Diego. He's struck out a career-high 80 hitters in just 67 2/3 innings this season -- after consecutive campaigns of 90-plus innings with fewer than 70 strikeouts.
"It'll be weird, going back to the stadium, playing there," Hand said. "I came up through the Minor Leagues with them. I got drafted by them. That's the only thing I ever really knew. It was definitely a change coming over here. I'm grateful for my time there, but I'm happy to be a Padre now."
AJ Cassavell covers the Padres for MLB.com. Follow him on Twitter @ajcassavell. This story was not subject to the approval of Major League Baseball or its clubs.