Tillman goes on 15-day DL; Orioles call up Wright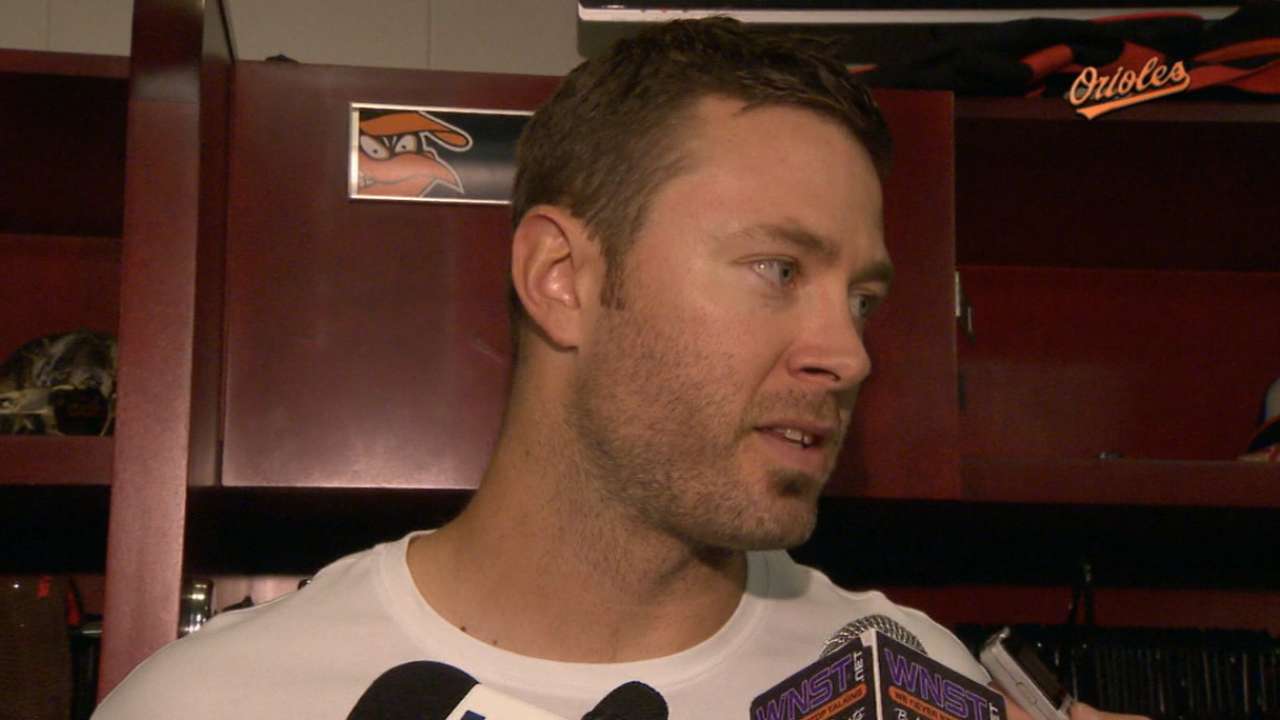 BALTIMORE -- The Orioles placed ace right-hander Chris Tillman on the disabled list with right shoulder bursitis on Wednesday and recalled righty Mike Wright from Triple-A Norfolk.
Wright will serve as the O's long reliever, with Ubaldo Jimenez (5-10, 6.94 ERA) taking Tillman's spot in the rotation on Thursday against the Nationals.
"It's never a good feeling when you have to take the spot of someone when someone gets hurt, especially Tilly, the way he was pitching," Jimenez said. "We really needed him to be out there, but it's part of the game."
Tillman has been dealing with shoulder pain for the past two weeks, and he experienced discomfort when throwing on Tuesday, his work day. The Orioles announced after Tuesday's 8-1 win over the Nationals that Tillman was headed to the DL. Tillman is eligible to come off the DL on Sept. 5, and the righty said he's optimistic that he'll be ready by that point.
"It's tough," Tillman said on Tuesday. "I don't like it, but it is what it is. It happened, and we've got to get better now. I think this is the best way to go about it, and we had talked about it a little. I'd rather feel better at the end of the season than fight it all year."
Wright, who began the season as a starter with the O's, was sent down to Norfolk on June 2. This is the third time he's been recalled since then, but he hasn't pitched in the Majors since July 8.
In 11 starts for the Tides this season, Wright is 3-3 with a 3.17 ERA.
"I felt really strong, really positive," Wright said of his Minor League starts. "Every outing, I felt like I was getting better."
Wright was scheduled to start for Norfolk on Thursday, so joined the O's fresh and available out of the 'pen. Wright has struggled for the Orioles this year, posting a 5.97 ERA over 69 1/3 innings spanning 14 outings (12 starts).
"This is a different role than he had before," manager Buck Showalter said. "He's here because he provided length and could fit the role we needed."
Worth nothing
• Showalter said that lefty T.J. McFarland, who has been on the DL since June 30 with left knee inflammation, is an option to be activated soon. McFarland has made four rehab appearances, but Showalter said he'd prefer to have McFarland work back-to-back days before the reliever rejoins the Orioles.
"Mac's probably an outing or two away, but we could if we had to," Showalter said. "His name came up [Tuesday] night."
• Outfielder Joey Rickard is going to see a doctor on Sept. 2 for his right thumb ligament injury. His thumb has been immobilized in a splint since he was placed on the DL on July 22.
Ryan Baillargeon is a reporter for MLB.com based in Baltimore. This story was not subject to the approval of Major League Baseball or its clubs.