Girardi, Yanks 'excited' by Torreyes' surge
Ellsbury sits out to rest foot; Judge impressing with patience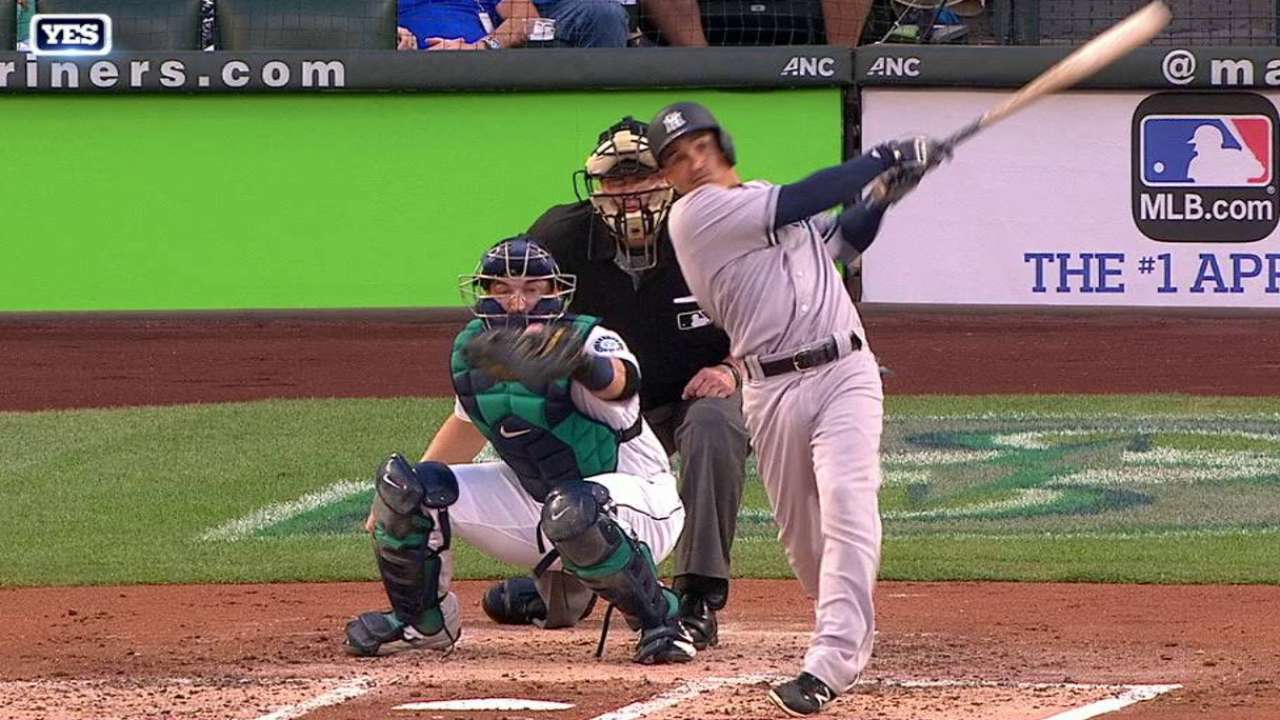 SEATTLE -- Gary Sanchez's hot start is grabbing the headlines. Aaron Judge's raw power has fans in the Bronx daydreaming. But those two young Yankees aren't the only ones opening eyes on this road trip.
Ronald Torreyes has been filling in at third base for banged-up Chase Headley, and he's been hitting and hitting and hitting some more. The 23-year-old rookie infielder -- all 5-foot-10 and 150 pounds of him -- went 3-for-4 with two doubles and an RBI in the Yankees' 5-1 win over the Mariners at Safeco Field on Tuesday night, and overall, he's got eight hits in his past 12 at-bats.
With the Yankees still technically in the pennant race while auditioning their strong crop of youngsters for future roles on the 25-man roster, the man they call "Toe" could make more of a footprint in this lineup if he keeps up his recent tear.
"He's just playing so well and swinging the bat so well, it's hard to ignore," Yankees manager Joe Girardi said. "If he continues to hit like this, I'm going to have to find ways to play him."
Torreyes, who was signed as an amateur free agent by the Cincinnati Reds in 2010, has been part of six other Major League organizations, but he still only had 96 Major League at-bats going into his start at third base on Wednesday. He's learning at the highest level now, and while there have been struggles, Torreyes has impressed his teammates with his work ethic, which is paying off this week in a big way.
"I think you can see how much they love Toe and what he means to the guys in that clubhouse and the way he goes about his business," Girardi said. "I think they are truly, truly happy for him, and they get excited for him. Toe's young. I think they get excited because he's young and what he's been doing."
One question that could continue to be asked is if Torreyes' slight frame will prevent him from ever achieving a 500-at-bat season or making him an everyday player in the big leagues. Girardi said he doesn't see why he can't be one.
"You could say he's not going to take the pounding because he's not carrying all the weight," Girardi said. "You can look at it a couple ways. There's a lot of guys that are short in stature, maybe a little bit thicker than him, that play every day and play at a high level."
Ellsbury rests sore foot
Center fielder Jacoby Ellsbury was given the day off Wednesday after fouling a ball off his right foot in Tuesday night's game. Ellsbury had hit a home run off Seattle starter Taijuan Walker and stayed in the game, but Girardi started Aaron Hicks in center on Wednesday as a precautionary measure.
"His foot was a little sore last night," Girardi said. "I was planning on giving him today off anyway, so it probably made it easier. I was concerned that I might have to pull him out of the game."
Faith in Judge
Judge gave the Yankees a tantalizing look at the future with home runs in his first two Major League games, but he's cooled off a bit in the past week. The 6-foot-7, 275-pound 24-year-old entered Wednesday's series finale against the Mariners with no hits in six at-bats in the two games in Seattle and was 1-for-his-past-14. Overall, he has 12 strikeouts in 32 big-league at-bats.
Girardi didn't seem to think it was a big deal, pointing out that Judge drove in an important run with a sacrifice fly in Tuesday night's win and that he likes what he sees from the big guy at the plate regardless of results.
"I think his at-bats have been good, so it's kind of what hitters go through," Girardi said. "I look at last night. I thought he was patient. When we needed him to drive in a run, he drove in a run. He drove in a couple of runs in Anaheim when we were there. He got a big base hit. So I think his at-bats are good. The hits will come.
"I watch his approach. I watch his patience. He's so strong that there's balls he misses that are probably going to be home runs, that sort of thing. I think he's going to handle it."
Doug Miller is a reporter for MLB.com. Follow him on Twitter @DougMillerMLB. This story was not subject to the approval of Major League Baseball or its clubs.