MLB.com Columnist
Jonathan Mayo
Top 10 prospects who could be September callups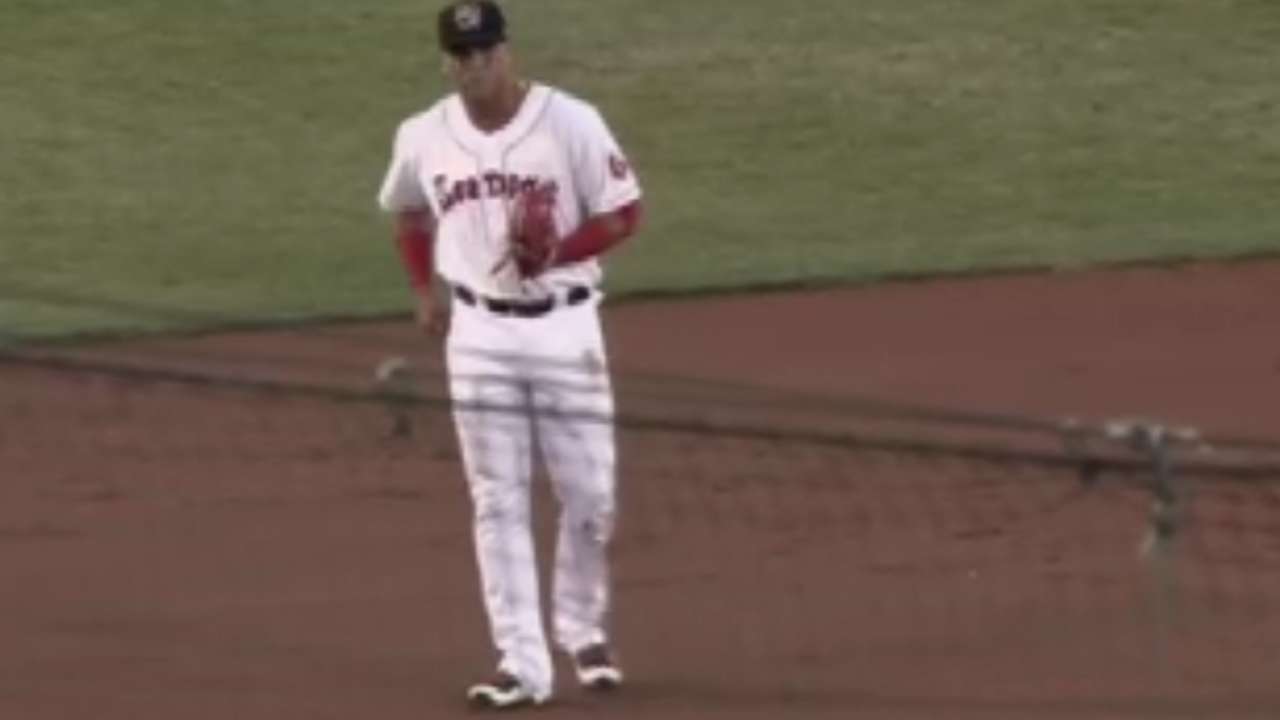 Last year was deemed by many to be the "Year of the Prospect," and for good reason, with elite talent like Kris Bryant, Carlos Correa, Francisco Lindor and Noah Syndergaard not just making it to the big leagues, but excelling. It seemed unlikely, if not impossible, for the 2016 rookie class to reach that very high bar.
It certainly has made an extremely valiant effort. Corey Seager seems to be a shoo-in for the National League Rookie of the Year Award, and he could even garner consideration for the NL Most Valuable Player Award. Michael Fulmer has been a revelation in Detroit to lead American League candidates. Five in the top 20 of MLBPipeline.com's preseason Top 100 Prospects list have graduated off of the list, while eight others in that top 20 have gotten big league time. Current No. 1 prospect Alex Bregman, No. 6 Andrew Benintendi, No. 8 Alex Reyes, No. 11, Orlando Arcia, No. 13 Jose Berrios and No. 17 David Dahl are all in the big leagues, though Benintendi just landed on the disabled list with a sprained knee.
Believe it or not, there is more to come. Here's a list of the top 10 prospects, some of whom have been up previously, who could get called up -- call it part probability, part wish list -- when Major League rosters expand on Sept. 1.
Yoan Moncada, 2B, Red Sox (No. 2 on Top 100)
He hasn't played above Double-A, though that didn't stop Boston from calling up Benintendi. If Moncada does get called up, he's not likely to play a whole lot. But with 44 steals on the year, he could be a valuable pinch-running asset for the Red Sox as they battle for the AL East title.
Lucas Giolito, RHP, Nationals (No. 4)
The big right-hander hasn't really shown what he can do in his three big league starts, but that's not a fair sample size. Giolito had thrown very well in his past two Triple-A starts and has allowed two or fewer earned runs in 16 of his 21 Minor League starts. That includes a one-inning start on Tuesday, as the Nats pulled him so he could be an option to take Stephen Strasburg's spot in the rotation on Saturday.
Tyler Glasnow, RHP, Pirates (No. 9)
Glasnow has two big league starts under his belt, and he has shown both his premium stuff and his trouble with command. A shoulder issue cost him a longer look, and he's currently on a rehab assignment (three walks and six strikeouts in three innings). The Pirates aren't likely to use Glasnow in a relief role, so the only way he will see mound time in September is if they need rotation help.
Joey Gallo, 3B/1B, Rangers (No. 12)
Gallo had 108 big league at-bats a year ago, but only 15 so far in 2016. He continues to show what he does best -- hit for power -- in Triple-A, with a .570 slugging percentage and 25 homers in 323 at-bats. Gallo does better with regular ABs, but his left-handed power off the bench could come in handy down the stretch for the Rangers.
Ozzie Albies, SS/2B, Braves (No. 15)
Dansby Swanson is up, so why not let his once and future double-play mate get his feet wet as well? Albies has moved over to second seamlessly and has hit .324/.397/.448 in 70 Double-A games. He's also only 19, but he is mature beyond his years and could handle the spotlight.
Lewis Brinson, OF, Brewers (No. 18)
Brinson just got back from a minor hamstring issue, hitting a home run in his first game back on Tuesday. Brinson and his 30-30 ability sure would be fun to watch in the big leagues, but it sounds like it's still TBD on whether the Brewers will call up the key to the Jonathan Lucroy deal. Part of it is because of the nice job Keon Broxton has done and part of it is likely because Brinson still needs some time (only 50 Triple-A ABs and a combined 74/19 K/BB ratio this season) to be ready.
Manuel Margot, OF, Padres (No. 30)
The center fielder is ready for a shot, with a .302/.350/.430 line to go along with 27 steals in Triple-A this season, and he's already on the 40-man roster. Yet neither he nor No. 46 prospect Hunter Renfroe (.308 with 28 home runs and 96 RBIs) were called upon when Jabari Blash went down with injury. There's a good chance neither will get called up until El Paso is done with its Pacific Coast League playoff run.
Jose De Leon, RHP, Dodgers (No. 37)
After starting slowly coming off of injury, De Leon has been lights out of late in Triple-A. In each of his past two starts, he went seven innings and struck out 10. In August, De Leon has struck out 32 and walked just two in 27 innings over four starts. Meanwhile, with an injury-beset rotation, Los Angeles has a 5.45 ERA in August. Sure, De Leon hasn't logged a ton of innings, but he could really help stabilize that pitching staff.
Josh Hader, LHP, Brewers (No. 38)
Hader just turned in his best outing in 12 Triple-A starts this year, striking out 12 over six innings of two-hit ball while walking just one. It would be great to see how his stuff plays at the highest level, but like with his teammate Brinson listed earlier, it may come down to opportunity. If there aren't innings available, the Brewers aren't likely to call the lefty up just for the sake of it.
Amir Garrett, LHP, Reds (No. 50)
It's youth movement time in Cincinnati, and the Reds have been giving several prospects a chance. Lefty Cody Reed got a long look before getting sent down on Aug. 15. Garrett should get a shot in September after holding Minor League hitters to a .184 combined average between Double- and Triple-A this season. He and outfielder Jesse Winker (No. 59) should get their first taste of big league life.
Jonathan Mayo is a reporter for MLBPipeline.com. Follow him on Twitter @JonathanMayo and Facebook, and listen to him on the weekly Pipeline Podcast. This story was not subject to the approval of Major League Baseball or its clubs.