Community field named after Wainwright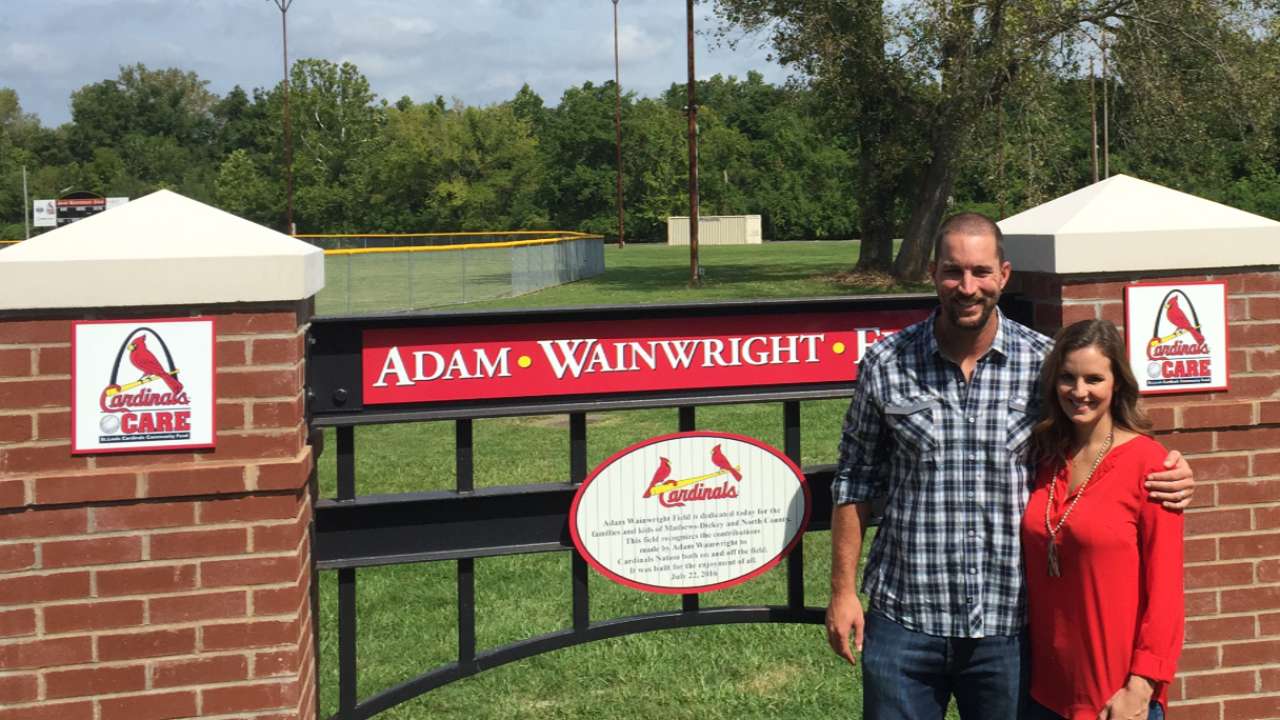 ST. LOUIS -- Adam Wainwright fondly recalled his childhood in Brunswick, Ga., where he and his teammates took part in an opening day parade before their Little League season began. After each game, he would race to get a snow cone.
Now children will play on a field that bears his name at Bob Russell Park in Bellefontaine Neighbors, Mo., a community located in north St. Louis County. The field was dedicated in a ceremony Wednesday morning. Wainwright's field is the 22nd dedicated by Cardinals Care since it began in 1997, and it was the first dedication since Tony La Russa Field in May 2015.
#CardsCare dedicates Adam Wainwright Field at Bob Russell Park with @UncleCharlie50 & many smiling kids today pic.twitter.com/uWVnFJZkKK

— St. Louis Cardinals (@Cardinals) August 24, 2016
"I'm hoping there are kids around this area that can remember those same things as they're getting older," Wainwright said. "It's about enriching the community. Everybody wants to see everybody grow, and I've been a part of this organization for long enough where it's our second home. We love being here, we love being Cardinals, we love the people here and we love the food here."
The Cardinals matched the grant donated by the Baseball Tomorrow Fund to help build the field with the Mathews-Dickey Boys & Girls Club. The Baseball Tomorrow Fund is a joint initiative between Major League Baseball and the Major League Baseball Players Association, which is designed to help promote the growth of youth baseball and softball.
"Adam wrote a check to make this happen, and I think that says a lot, because that's his hard-earned money," Cardinals team president Bill DeWitt III said. "He's obviously very accomplished and continues to be an important part of our team for over a decade. Off the field, he's just always looking for a way to give back. In the locker room, other players come to him for advice and support and council and leadership, so what else can you ask for? He has been a great member of this community."
Wainwright's other charitable endeavors include an appearance at Cardinals Care Winter Warm-Up each January and his annual Big League Impact Fantasy Football Draft, which will take place Friday at Busch Stadium.
"For us, it's the fact that he has always been around," DeWitt said. "He's a very consistent presence. Sometimes you can't control that with trades and other player movements, but he's such a fixture in our rotation and he's a fixture in St. Louis now. To see somebody move to town and really embrace it is what makes him so endearing to our fans."
Nick Krueger is a reporter for MLB.com based in St. Louis. This story was not subject to the approval of Major League Baseball or its clubs.