Top prospect Arcia adjusts mechanics at plate
Brewers shortstop busts out of 2-for-34 slump with clutch double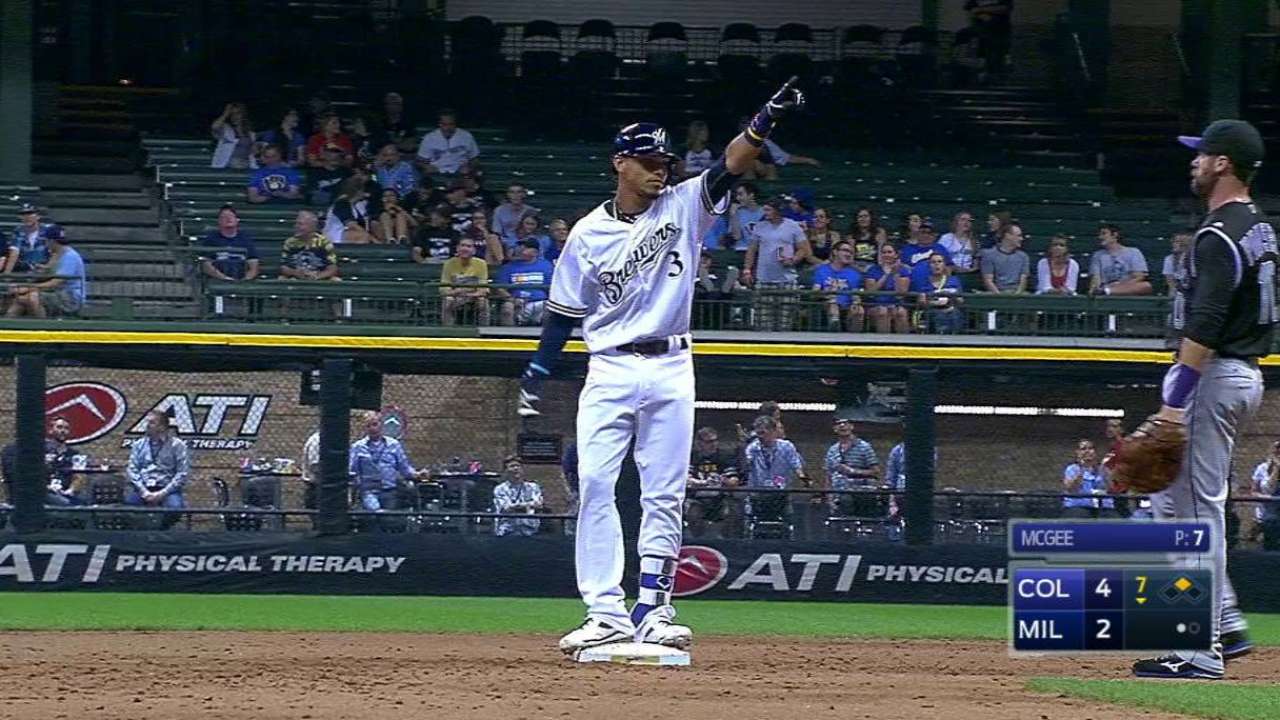 MILWAUKEE -- Before Orlando Arcia left the dugout to line the double that sparked the Brewers' winning rally over the Rockies on Tuesday, manager Craig Counsell reminded the rookie shortstop that this was one Major League pitcher -- Jake McGee -- he'd seen before. Arcia homered off McGee in Spring Training.
Arcia looked his skipper in the eye and winked.
"I was mentally ready when they told me I was coming up to hit," said Arcia, who entered that pinch-hit at-bat in a 2-for-34 slump. "I had a feeling what was coming."
"It's been rough, but I kind of found that I've been out front a little bit on my swing," Arcia said of his recent struggles. "I sat down and watched video a little bit with 'DC' [hitting coach Darnell Coles], and we worked on it in the cages. I felt like in that at-bat yesterday, I did better staying back and having a better at-bat.
"It feels a lot better. A couple of the other guys have told me I was out front a little bit. When I was able to put it to work, I felt it myself, too. After the double, I went back to first and told [coach Carlos] Subero I felt it, staying back. He said, 'Yeah, you did a lot better.'"
Arcia, No. 11 on MLBPipeline.com's Top 100 Prospects list, was back in the Brewers' starting lineup for Wednesday's series finale, a 7-1 win. He went 2-for-3, including a well-executed safety squeeze bunt in the sixth that went in the books as an RBI single and gave the Brewers a 3-1 lead. An inning earlier, Arcia walked, stole a base and scored the go-ahead run.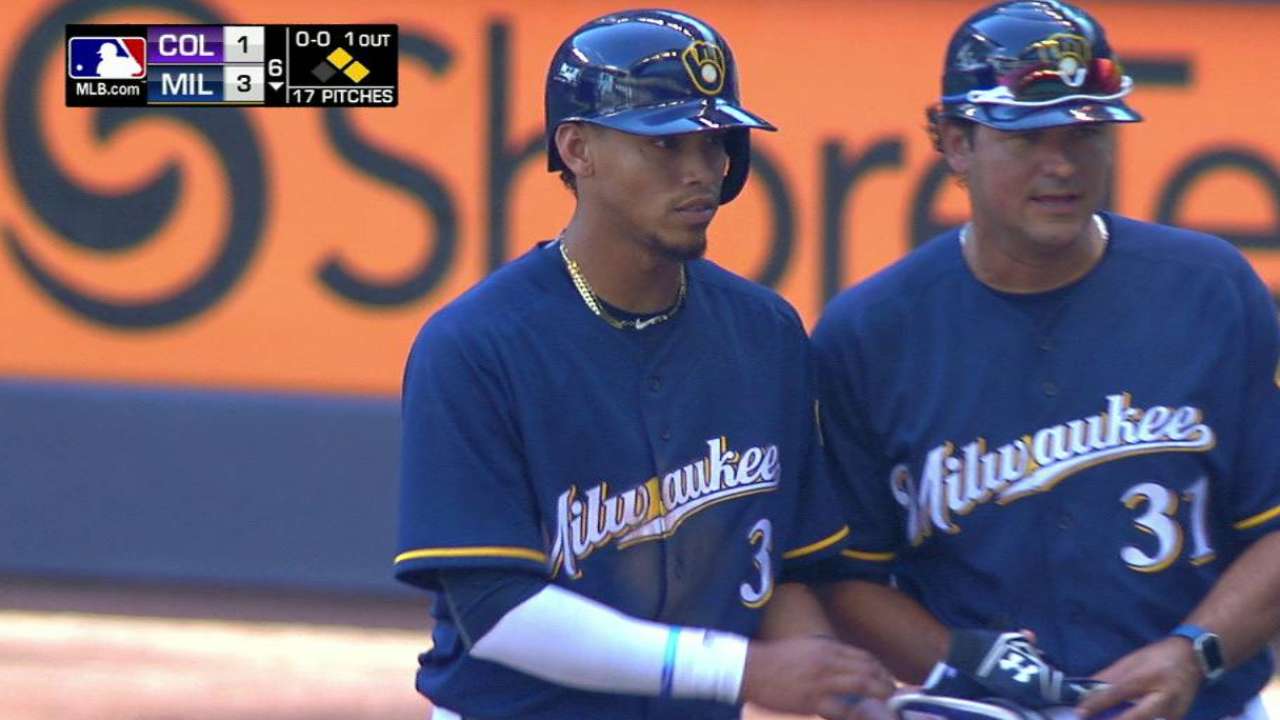 "We'll see over the long run [whether that boosts Arcia's confidence]," Counsell said. "But you need moments like that. You need that as a player. It was a big hit, and he was part of the win."
That Arcia's pinch-hit double was directed to right field stood out to Counsell. In his small sample -- he entered Wednesday with 71 at-bats -- most of his best contact has gone to the opposite field.
"It's been easy to see that that's been the case," Counsell said. "And that's what's also encouraging about this, is that ability is in there, and it's something he can be good at. That's a great foundation for a hitter. Not it's just got to become more consistent. We have to help him understand how good he can be at that.
"I mean, a guy over there in that dugout [Rockies second baseman DJ LeMahieu] had made a living doing that. He's great at hitting the ball hard over there consistently. You can lead the league in hitting doing that."
There will be other lessons along the way. And more familiar matchups like the one against McGee, as Arcia adapts to the jump from Triple-A pitching to the Majors.
"It's a lot different," Arcia said. "You're facing guys who are very good, who have a lot of experience in the big leagues and they know how to pitch. They know how to make adjustments, so you have to make your own adjustments and find a way to get better at-bats."
Adam McCalvy has covered the Brewers for MLB.com since 2001. Follow him on Twitter @AdamMcCalvy, like him on Facebook and listen to his podcast. This story was not subject to the approval of Major League Baseball or its clubs.