Rockies give Parra 1st career start at first base
Three players have started at position in three-game series under platoon system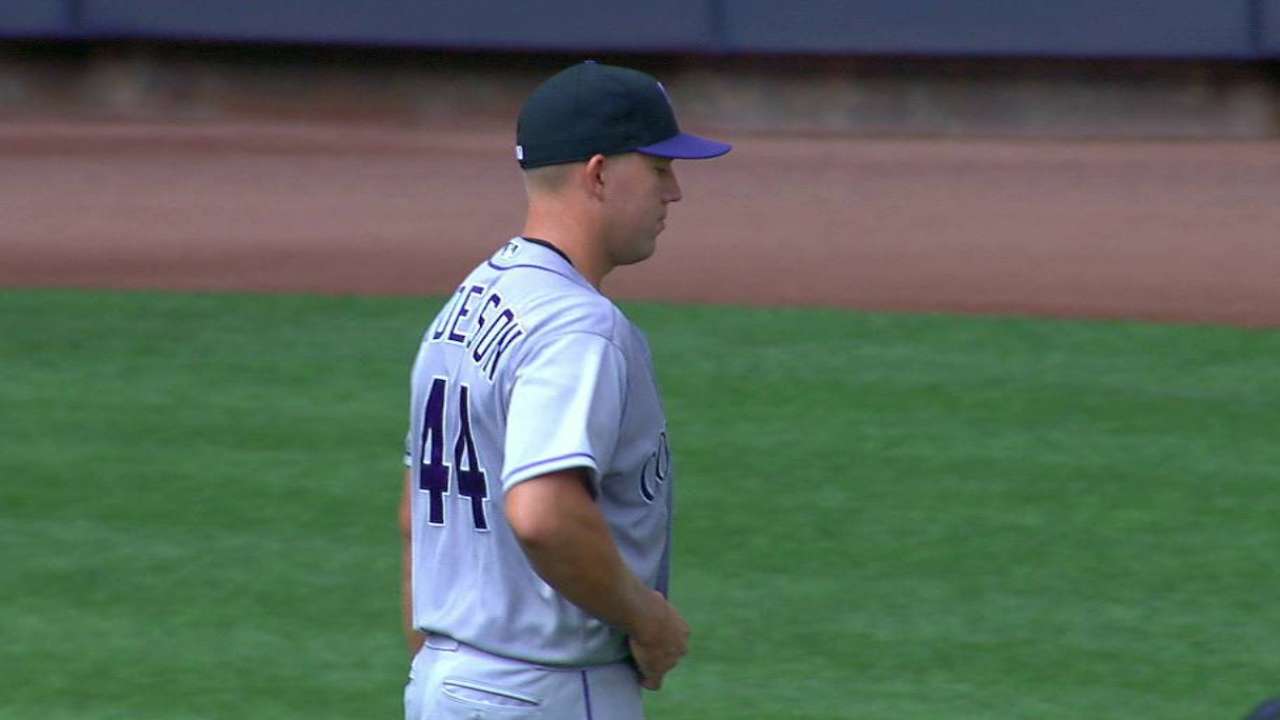 MILWAUKEE -- The Rockies' revolving door at first base continued to spin on Wednesday, as Gerardo Parra made his first career start at the position in Colorado's 7-1 loss to Milwaukee at Miller Park.
Since Mark Reynolds (left hand) went on the disabled list on Aug. 12, Colorado has mostly been using a platoon system at first, with Ben Paulsen against right-handers and Ryan Raburn against southpaws. As Reynolds is likely out for the season following surgery, the quest to solidify the position continued Wednesday, with Parra batting fifth in the lineup.
"When Reynolds went down, we've been kind of looking at different options, so it's been a bit of a revolving door over there," manager Walt Weiss said.
Parra, an outfielder his entire career to this point, became the third player to start at first in the three-game series. Paulsen went 0-for-3 on Monday and tallied a pinch-hit on Tuesday, when Raburn got the nod and went 2-for-4.
Parra tallied two singles at the plate and more than held his own at first, making a nice scoop on a low throw from third baseman Nolan Arenado to likely save a run in the fifth.
"We've been playing some guys at first base that don't play first base, so it's kind of weird," Arenado said. "But Parra's athletic, he's got good hands and he could probably play any position. I threw a little scooper, but if somebody is playing first base, I expect him to scoop that ball."
Part of Parra's regular routine is to field grounders from every infield position, though the Brewers did not hit any balls to him on Wednesday.
In a small sample size of 27 plate appearances since Reynolds went down, Paulsen has three hits (.115 average), no walks and nine strikeouts. Raburn is 4-for-17 with three walks.
"We're so left-handed that we've been running Raburn out there against lefties just to get another right-handed bat in the lineup," Weiss said.
With four players on the bench due to the Rockies employing an eight-man bullpen, the club has made do by taking advantage of positional versatility.
"It's a must for us, because we tend to carry that extra man in the bullpen all year, so our bench is a little short," Weiss said. "So we really stress that versatility. We have a versatile roster. We have a lot of moving parts, a lot of options."
Curt Hogg is a reporter for MLB.com based in Milwaukee. This story was not subject to the approval of Major League Baseball or its clubs.