Garcia undone by mechanical issues
Cards lefty allows six runs over four innings during loss to Mets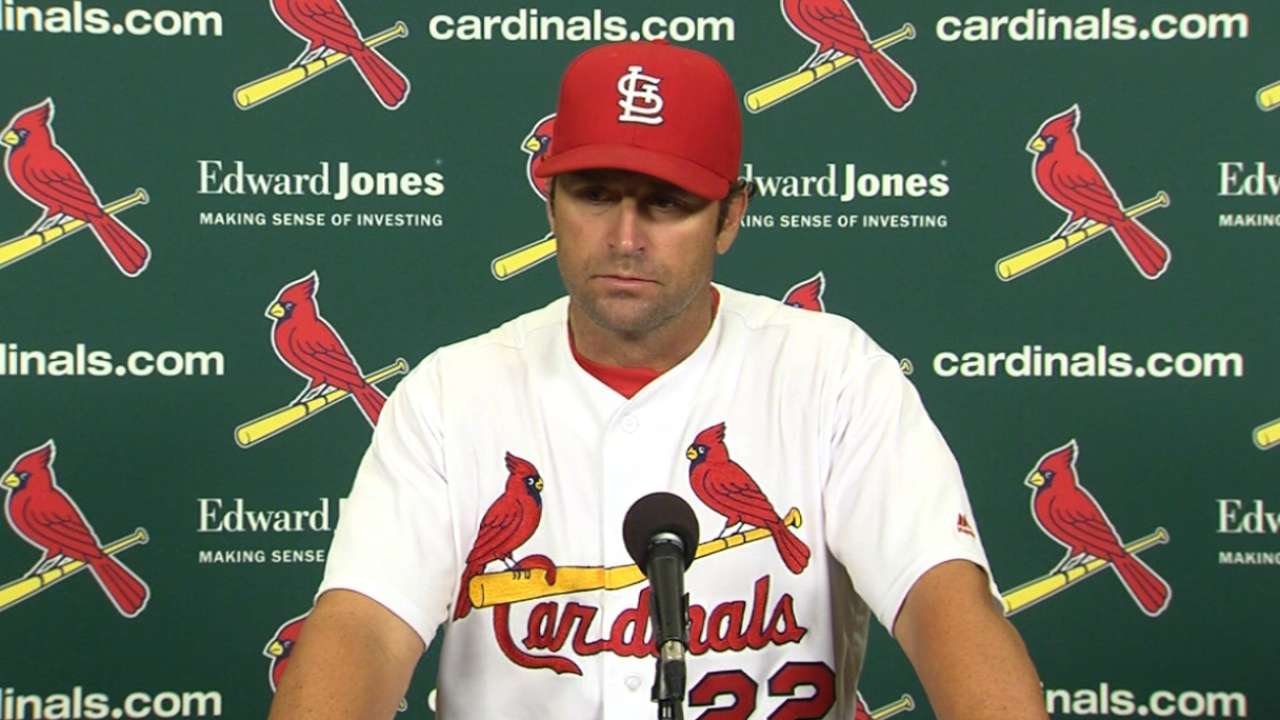 ST. LOUIS -- Jaime Garcia's mechanics betrayed him a few too many times on Tuesday, leading to a home result that looked quite different than what the Cardinals have become accustomed to seeing from their lone lefty starter.
Garcia never could settle in against the Mets, who took advantage of favorable counts and elevated pitches to race out to a quick lead en route to a 7-4 victory. They snapped Garcia's three-game winning streak in the process and snuck closer in a Wild Card race that now has three teams bunched within 3 1/2 games of the Cardinals.
"Today," Garcia said, "was just an overall struggle."
It started during warmups, when Garcia could feel something slightly awry with his mechanics. He tried not to dwell on it, though the mechanical missteps became an issue when they followed him into his start. With the front side of his body flying open as he finished his delivery, Garcia lacked the ability to create the downhill angle that can make his pitches so tough to time.
This time, though, he'd have no such deception.
A leadoff walk portended the tumultuous night ahead, and Wilmer Flores' three-run blast capped a fruitful first inning for the Mets. Then, after the Cardinals' offense scratched back to even the game, Garcia handed the lead right back by serving up a pair of two-out RBI hits in the second inning.
"The offense comes back and gives you three. We need a shutdown [inning] right there," manager Mike Matheny said. "The two runs, that takes a lot of wind out of your sails the second you go back out and they get a couple more. That was something that really was a momentum shift. Those shutdowns after a comeback are real important for us."
Never able to settle in, Garcia was done after the fourth inning. He tied his season high with six runs allowed and fell short of finishing at least five innings for the fourth time this year. His home ERA -- which had been more than two runs lower than his road mark -- rose to 3.66.
Once his evening ended, Garcia altered his postgame routine and carved out some time in the video room. Though he's one who typically avoids self-analysis through film work, Garcia believed there could be value on this night.
What he found reiterated what he felt.
"You might not have your best stuff or feeling 100 percent or whatever it is that day, and that's when you have to pay attention to the little things," Garcia said. "The easiest thing to do in this game is create bad habits. That's why you have to continue to work, fix what you need to fix and go out there next time and have to do a better job than I did."
Jenifer Langosch has covered the Cardinals for MLB.com since 2012, and previously covered the Pirates from 2007-11. Read her blog, follow her on Twitter, like her Facebook page and listen to her podcast. This story was not subject to the approval of Major League Baseball or its clubs.