Enjoying Braves tenure, Kemp comes through
Veteran outfielder's go-ahead two-run double first big hit with new club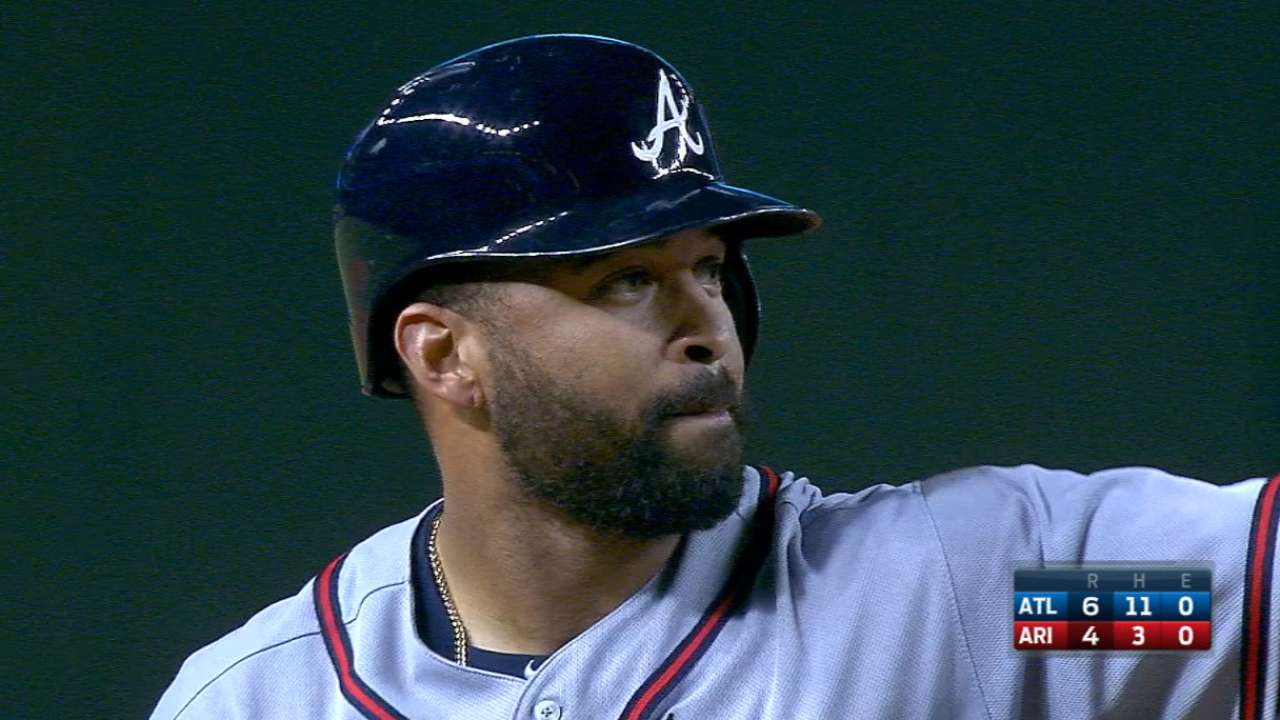 PHOENIX -- Matt Kemp might never again be the MVP-caliber player he was just a few years ago with the Dodgers, but as he continues to acquaint himself to a new environment, the veteran outfielder has allowed the Braves to remain confident they were wise to gamble on his remaining capabilities.
After the Braves stranded runners at a frustratingly alarming pace through the first seven innings at Chase Field on Tuesday night, Kemp delivered the decisive bases-clearing double with two outs in the eighth in a 7-4 win over the D-backs.
"Those are the situations you want to be in," Kemp said. "I'd rather hit with runners on base than with no runners on base. To get in those situations, they don't always work out the way you want, but that's one of the reasons we play baseball, that challenge to get those big hits and put your team on top."
On the way to winning for just the third time in their past 13 games, the Braves stranded eight runners through three innings and 10 through seven innings. Kemp had just four hits in his past 22 at-bats with runners in scoring position when he strolled to the plate with the bases loaded and two outs in the eighth.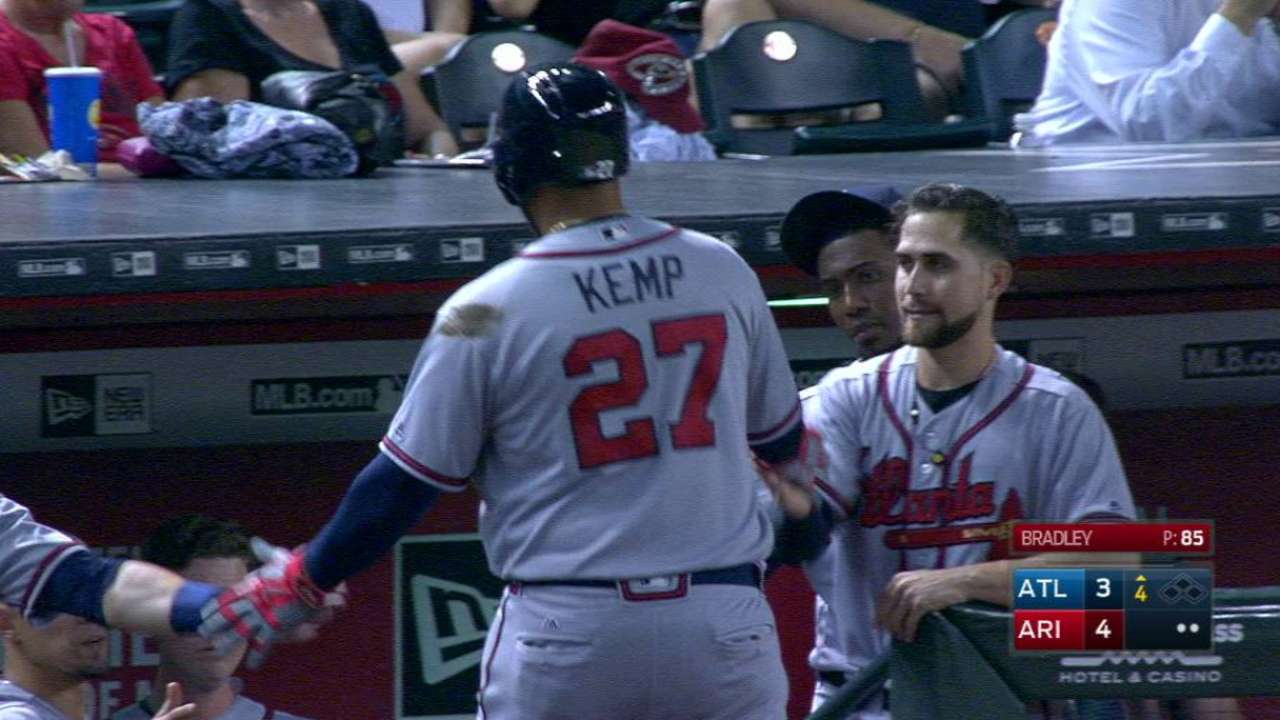 But none of this mattered when Kemp laced Jake Barrett's 1-1 fastball down the right-field line. The two-run double capped a productive evening for the outfielder, who has batted .269/.344/.436 over 21 games with the Braves.
"The situation doesn't seem to faze [Kemp]," Braves manager Brian Snitker said. "He's been there and done that. He's an RBI guy. That's an understatement to say that [hit] was huge."
Just 31 and in the midst of his seventh 20-homer season, Kemp finds himself constantly trying to quiet his doubters. The Padres' intense desire to rid themselves of Kemp's contract led them to send him to the Braves in exchange for Hector Olivera, who was released before playing a game in the organization.
The Braves did not want any part of Olivera after he returned from his domestic violence suspension and were willing to spend an additional $8.5 million over each of the next three years on Kemp, who has certainly proved he still has value as he has tallied 25 home runs and compiled a .776 OPS.
Kemp did not appreciate Atlanta general manager John Coppolella's choice to publicly address concerns about the outfielder's current weight earlier this week. But at the same time, he has repeatedly said he is looking forward to the chance to better himself while living out his childhood dream to play for the Braves.
"The guys here are good," Kemp said. "They treat me well. We're having as much fun here as we can in the situation we are in. We want to play good baseball and finish the season strong to go into next season. Where we are in the standings and the way we've been playing, we know we can play better."
Mark Bowman has covered the Braves for MLB.com since 2001. This story was not subject to the approval of Major League Baseball or its clubs.