Youth is served as A's roll past Tribe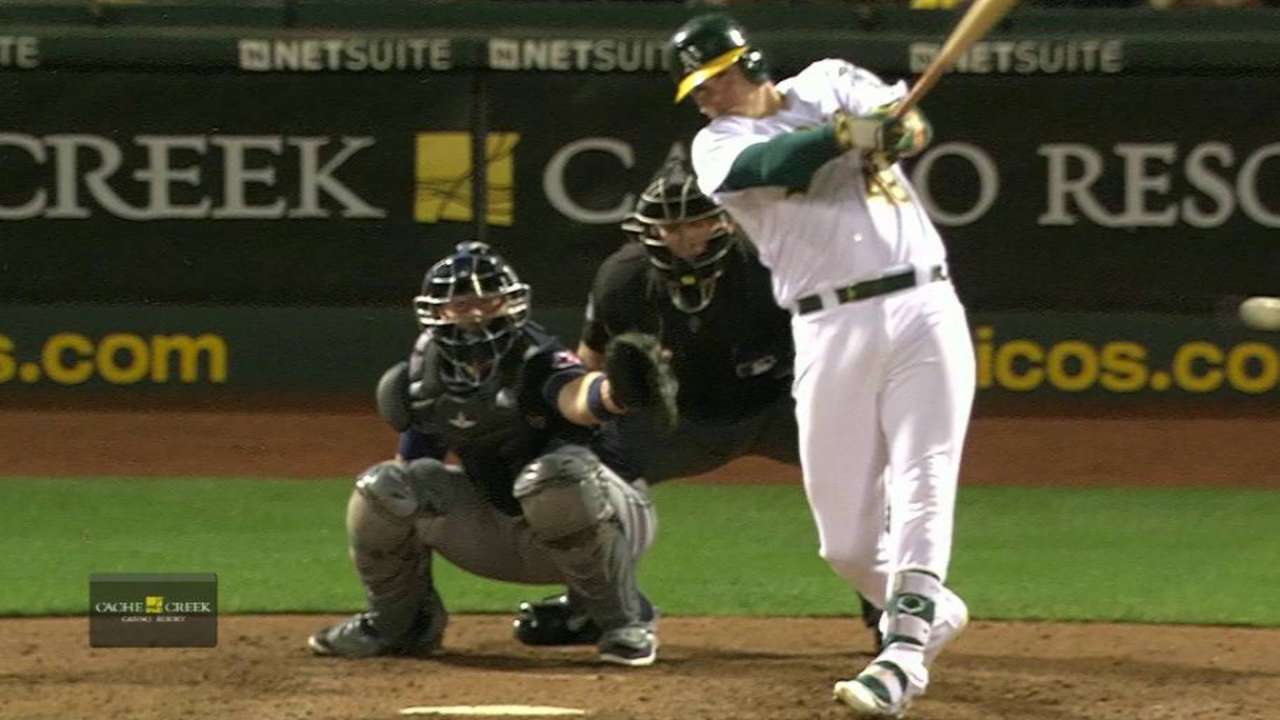 OAKLAND -- Five of the nine A's starters in Tuesday night's 9-1 win over the Indians began the season in the Minor Leagues, as did starting pitcher Sean Manaea, before an accelerated path to the Majors embedded him in Oakland.
That so many rookies appeared in conjunction on Aug. 23 speaks volumes to where the A's (54-72) are. But for those looking for something optimistic to latch onto, Tuesday was a good starting point.
Rookie third baseman Ryon Healy went 3-for-5 with two doubles and an RBI, extending his hitting streak to 10 games. Chad Pinder drove in his first career run in the third inning. Bruce Maxwell followed in the eighth, adding his first two career RBIs on a one-out double.
Even Jake Smolinski, playing in an everyday role for the first time at 27 years old, added a tremendous diving catch in center field in the seventh inning.
"It's a great group of guys here and a great group of guys coming up," Pinder said, "so I'm very excited to see what the future has."
Manaea teamed up with friend and former Minor League battery-mate Maxwell to allow one run over seven innings, striking out eight batters against an Indians team that is 26-13 against lefties.
For a rookie, Manaea's in a favorable position. He's caught by Stephen Vogt in most starts, a sturdy defender and deft handler of young pitchers. Maxwell spells Vogt occasionally, which is fine by Manaea, who estimates the rookie catcher caught him roughly 90 percent of the time in Double-A Midland last year.
"[Maxwell] is probably one of the best I've had playing-wise," Manaea told MLB.com earlier this month. "The way he catches the ball, his frame jobs are just really, really good. You get a lot of balls that should be balls called strikes because he frames it so well."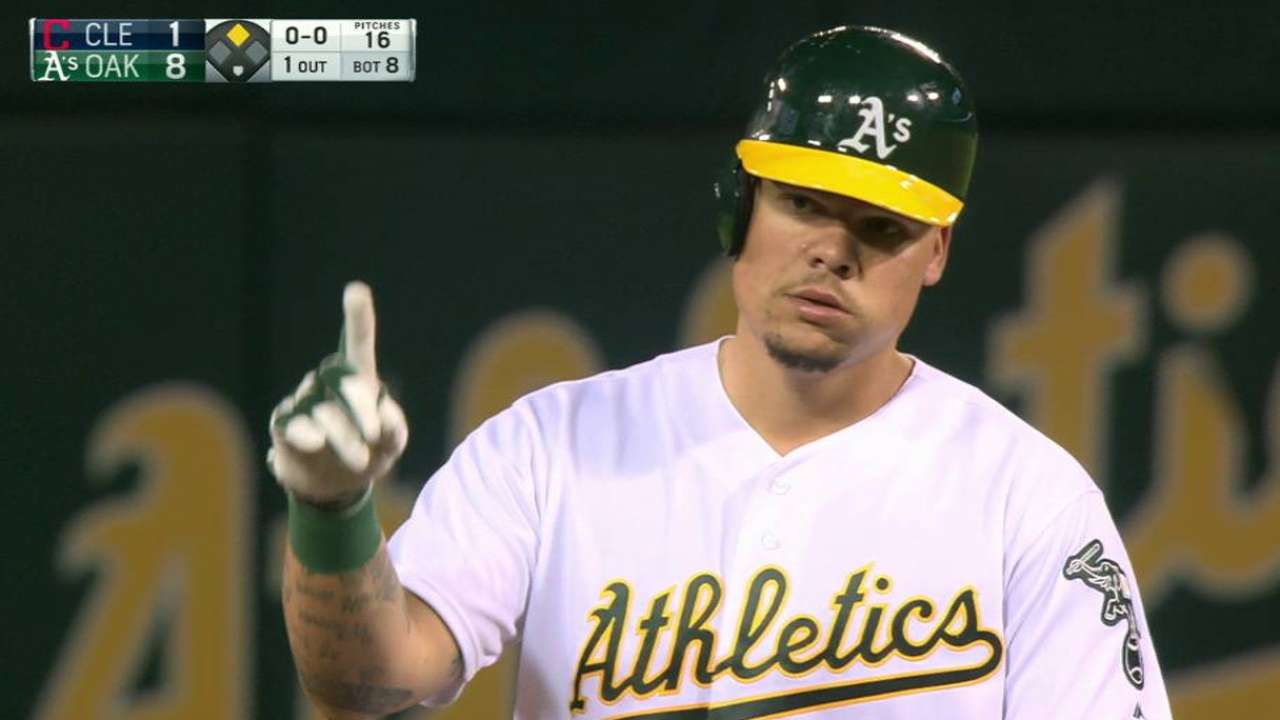 Their chemistry was evident Tuesday. Manaea never faced more than four batters in an inning, struck out four of the last six he faced, and allowed just a solo homer to Cleveland catcher Chris Gimenez.
"He's that quality of a pitcher," Healy said, "and he's going to continue to have that quality of a career. He's a lot of fun to play behind."
Healy's hitting .405 over his 10-game hitting streak after batting .194 through his first 11 games of August. Oakland manager Bob Melvin said he's seeing Healy working through the natural adjustments a rookie must make to Major League pitching.
"I'll tell you what, the video room's been used a lot more than I've ever used it in the past," Healy said. "This is a constant game of adjustments. [Hitting coach Darren Bush] said it to me perfectly, he said 'You have four coaches over there analyzing your swing top to bottom every series.' So I need to be doing the same making sure I'm just as prepared as they are."
A's youngsters will only have more opportunities with roster expansion closing in on Sept. 1. And based off how things have gone recently, the organization will be watching intently.
"I played with a lot of these guys last year in Midland," Manaea said. "Ever since then I knew this group that was coming up was gonna be special. I really believe that. We're all going to contribute. Today is just a little taste of what could happen in the future."
Mark Chiarelli is a reporter for MLB.com based in the Bay Area. This story was not subject to the approval of Major League Baseball or its clubs.