Friedrich likely to shift to 'pen as innings pile up
Padres starter tagged for 5 runs, 2 homers in loss to Cubs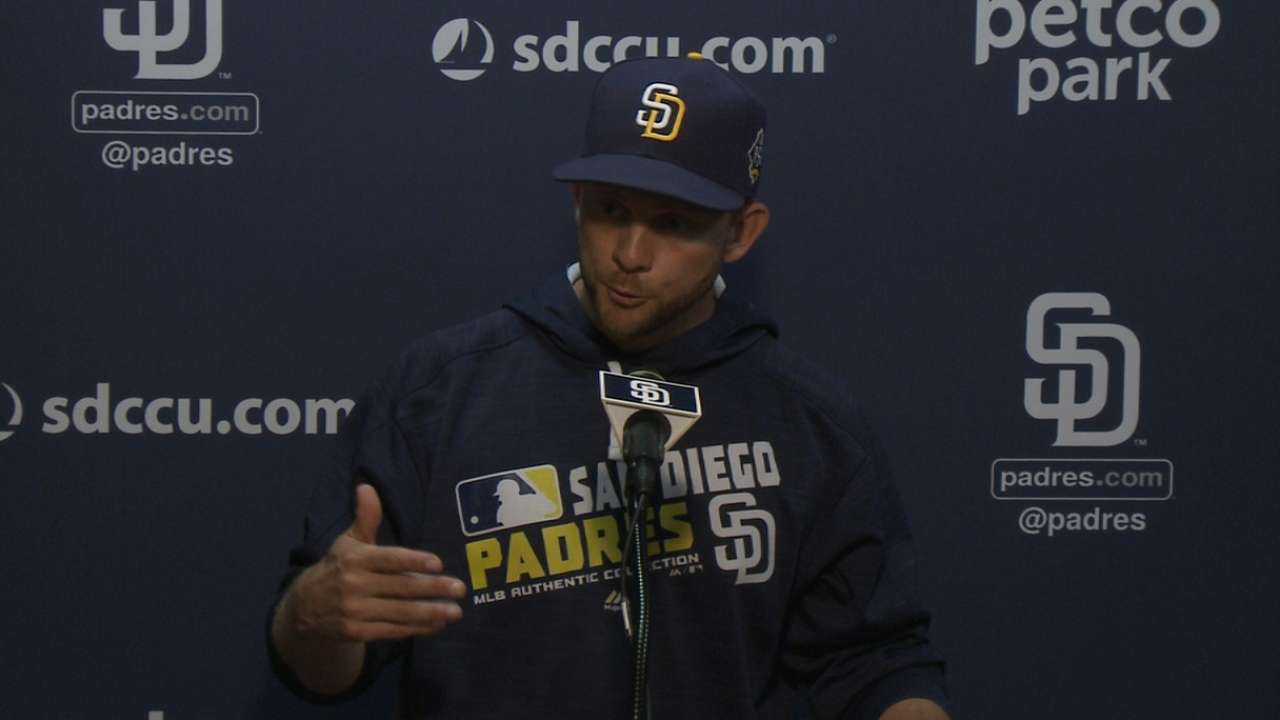 SAN DIEGO -- If, indeed, Christian Friedrich was making his final start of the season during Tuesday's 5-3 loss to the Cubs, it was a somewhat unceremonious end.
Friedrich allowed five runs over 5 1/3 innings, including home runs to Kris Bryant and Addison Russell, both on pitches he left up in the zone over the middle of the plate.
But his rocky outing on Tuesday shouldn't take away from the strides Friedrich has made in his return to the rotation.
"I couldn't be happier to land over here and to get back starting," Friedrich said. "I love going through a lineup, two, three times, maybe more, and using all four pitches, just getting ahead of guys. I'm very grateful for the opportunity they've given me, and I'm hopeful they'll keep me as a starter going forward."
A quick refresher on Friedrich's situation, and why the Padres are considering moving him to the 'pen for the rest of the year:
Friedrich came up as a starter in the Rockies' system, but he was moved to the bullpen in 2014. After he was released last offseason, the Padres signed him and began converting him back into a starting role.
Including his four Minor League outings, Friedrich has thrown 118 innings this season -- a number he's hit in the past, but not since 2011. In fact, his innings total is more than double his total from last season.
"The innings thing is a big concern of ours right now," said Padres manager Andy Green. "We're going to sit down and talk internally. Like we said before the game -- we'd talk after the game as a staff, get a feel for what we thought was best for him."
The Padres don't need to find an immediate replacement for Friedrich. They expanded to a six-man rotation two weeks ago, with the primary purpose of easing the burden on Friedrich's arm during a stretch without any off-days.
Now, they have two off-days in the next week and aren't likely to extend their six-man staff past the weekend.
"Obviously my health is a concern, and I understand where they're coming from," Friedrich said. "But it would be hard to swallow, not playing, knowing you're not hurt. So I'm just going to keep trying to convince them to keep letting me throw as long as I can."
It sounds as though Friedrich will at least get his wish to continue throwing. But he'd do so in a much different role.
"I think our plan would be to move him to the bullpen and be able to monitor his usage a little bit better," Green said.
It's been an up-and-down campaign for Friedrich as a starter. Through six outings, he boasted a 2.12 ERA and had showcased some of the best command on the staff. Then, in mid-June, he hit a snag, allowing at least three earned runs in his next seven starts.
Recently, Friedrich has found something of a middle ground between the two -- which is probably the most accurate barometer of the pitcher he is.
At times, he's shown the finesse that made him one of the club's more reliable starters early in the year. His perfectly placed knee-high curveball to fan Jason Heyward in the fifth was a prime example.
At other times, Friedrich has missed his spots -- and he simply doesn't possess the velocity necessary to make up for those mistakes. His high fastball to Bryant in the third was a prime example.
"It was supposed to be up to his hands, where he can't extend his arms," said catcher Christian Bethancourt. "The pitch just ran away."
Both Bethancourt and Green called Friedrich's night a "battle" on Tuesday. And it wasn't the first time that adjective has been applied after his starts.
Naturally, the left-hander simply wants to keep battling.
"As far as I know I'm making my next start," Friedrich said. "... Whether it's prepping the arm or mentally getting ready for the team we're going to face next, I'm just trying to keep focused on the day-to-day routine."
AJ Cassavell covers the Padres for MLB.com. Follow him on Twitter @ajcassavell. This story was not subject to the approval of Major League Baseball or its clubs.