Holland's 'tremendous' return goes unrewarded
Lefty allows 1 run over 6 innings, collects 1st MLB hit in loss to Reds
CINCINNATI -- Just about everything turned out great for Rangers pitcher Derek Holland on Tuesday night at Great American Ball Park. He was pitching in front of family and friends in his native state, he was quite effective in his first outing in two months and he had his first Major League hit.
All that was missing was a victory. That didn't happen as the Rangers went down for the third straight game in a 3-0 loss to the Reds.
The Rangers still couldn't help but be thrilled with what Holland showed in his first start since June 20 after recovering from inflammation in his left shoulder.
"Derek threw the ball extremely well," Rangers manager Jeff Banister said. "It was very nice to see him come out and pitch a tremendous game. Encouraging … I like what I saw. Arguably, it was as good of a start as he has had all year. I felt comfortable if we had given him some run support, he would have continued to pitch."
The Rangers had just three hits in six innings off Reds starter Dan Straily. Holland had one of them, a high chopper over first baseman Joey Votto's head in the fifth.
"The guys wore me out, saying the exit velocity was like 43 miles per hour," Holland said. "It's pretty special to get your first hit in your home state."
He also lost for the first time in Ohio. Holland, who is from Newark -- a couple of hours to the north, east of Columbus -- is 3-0 in four career starts in Cleveland. This was his first start in Cincinnati, and the one run was enough to hand him the loss.
"I didn't get the win, and that's what it comes down to," Holland said. "I'm still very encouraged. These guys did everything they could to get me back up and I wanted to show I was ready. I thought I did a good job executing my pitches."
He allowed four hits, walked one and struck out five before leaving for a pinch-hitter in the top of the seventh.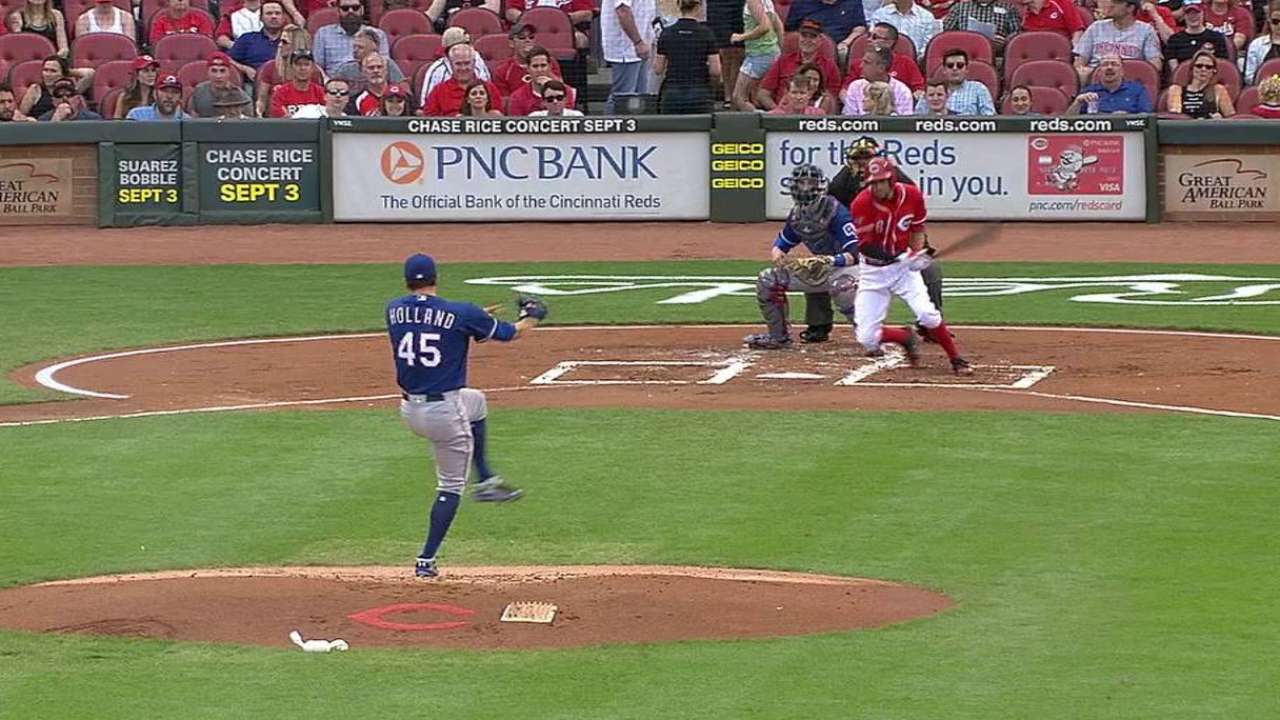 "The slider and the curve, he got some swings and misses on, and the changeup," Banister said. "He set everything up with the strikeability of his fastball. That opens up the two different breaking balls, and the changeup was good for him."
The walk came back to bite him. Tyler Holt, pinch-hitting for Straily in the sixth, drew a walk to lead off in a scoreless game. Billy Hamilton bunted him to second. Holland got Jose Peraza on a fly ball to center, but Votto came through with the big hit. After Holland just missed on a 2-2 pitch, Votto dropped a 3-2 slider into right field for the single that scored Holt.
All three runs scored by the Reds came after the runner reached on a walk.
"You walk a batter, you've got to make pitches to get out of it, and we weren't able to do that," Banister said.
T.R. Sullivan has covered the Rangers since 1989, and for MLB.com since 2006. Follow him on Twitter @Sullivan_Ranger and listen to his podcast. This story was not subject to the approval of Major League Baseball or its clubs.