MLB.com Columnist
Richard Justice
Red Sox making pitch for playoff run
In winning 10 of 12, Boston has put itself in position to win AL East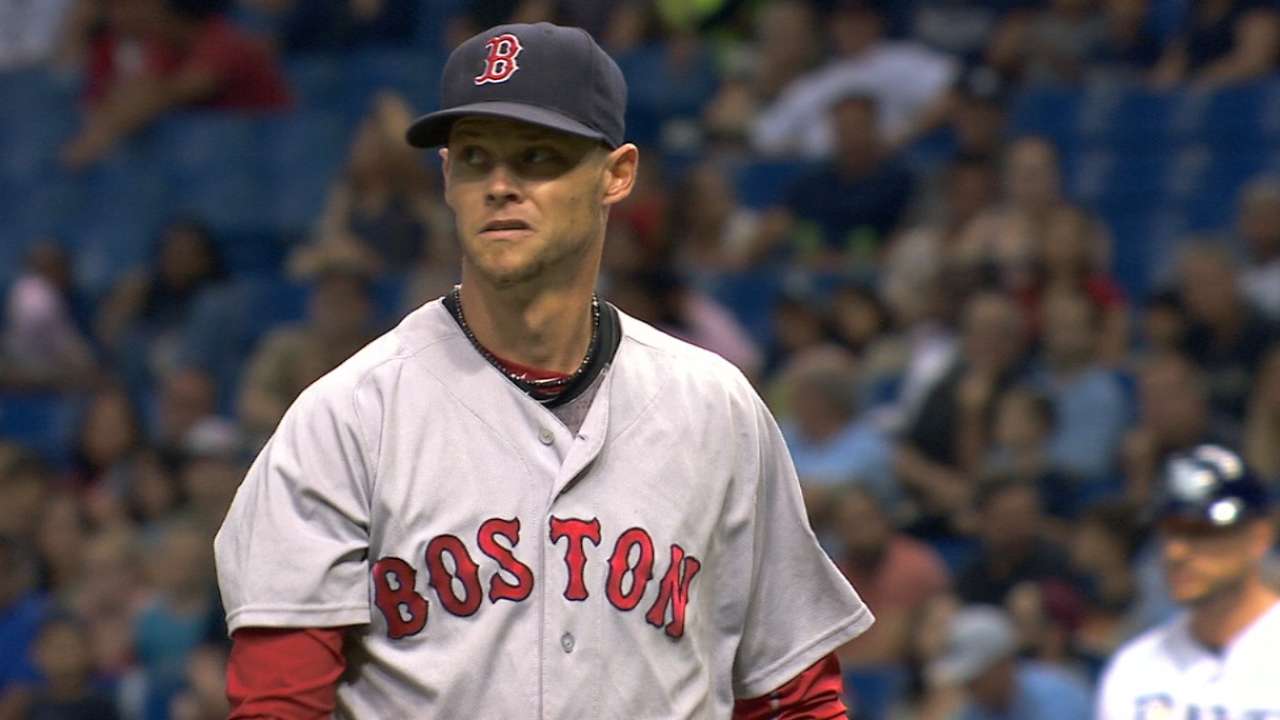 Maybe the Boston Red Sox really are going to send David Ortiz out in style. Trophies, tears, parades, etc. That scenario doesn't even feel like all that much of a stretch given how well they are playing these days.
On Wednesday, the Red Sox will be trying to win for the 11th time in 13 games when they hand the ball to right-hander Rick Porcello at Tropicana Field against the Rays. Porcello has been the No. 1 guy in a rotation that suddenly looks like one of baseball's deepest.
In the past two weeks, Boston starters are 8-1 with a 2.66 ERA. Only the Royals and Cubs have been better. If this were almost any other division, it would be tempting to see the Red Sox methodically taking control. But even after winning 10 of 12, they find themselves in a three-team cluster separated by two games in the American League East.
At 71-54, Toronto and Boston are tied for first place with Baltimore (69-56) two games out. Since July 17, the three teams have not been separated by more than three games.
The Red Sox and Blue Jays will finish the regular season with three games against one another at Fenway Park, and there's no reason to think it'll be settled before then.
Red Sox optimism is growing. Their veterans, especially Ortiz (.321, 29 homers, 98 RBIs), are performing at a high level. Their young guys have been tremendous, especially outfielder Mookie Betts (.313, 28 homers, 89 RBIs), who has positioned himself squarely in the AL Most Valuable Player Award discussion.
Rookie outfielder Andrew Benintendi has been a nice second-half addition. In 20 games, he's hitting .323, and his leap over the left-field wall to bring a Steven Souza Jr. home run back into the park on Monday might end up being the best defensive play of the season.
Speaking of defense, Betts made a highlight-reel play himself on Tuesday when he threw out Tampa Bay center fielder Kevin Kiermaier at third base in the eighth inning.
And there's catcher Sandy Leon. The 27-year-old began this season in Pawtucket with a career .184 batting average in 129 Major League at-bats. Leon was summoned to Boston in June, and when manager John Farrell gave him his first start, he responded with four hits.
Leon got another in his second start and three more in his third. In 48 games, he's hitting .375 and is another reason the Red Sox are leading the Majors in runs. They've averaged 6.3 during the 10-2 run.
Back to the pitching. Porcello's 17 victories are tied with Toronto's J.A. Happ for the Major League lead. While Texas' Cole Hamels may be the favorite to win the AL Cy Young Award, Porcello has pitched his way squarely into the conversation.
The Red Sox won again on Tuesday, beating the Rays, 2-1, behind another solid performance from Clay Buchholz. Yes, that Clay Buchholz.
How many players have had such a roller-coaster ride of a career? During 10 seasons in New England, Buchholz has been penciled in as the staff ace a time or two and written off more than that.
Now, thanks to some help from Red Sox director of pitching development Brian Bannister, Buchholz has discovered an old arm slot and gotten some once-familiar results. He allowed the Rays one run in 6 1/3 innings and struck out nine for his second straight solid start.
Boston scored two runs off Tampa Bay starter Chris Archer in the third inning, and Buchholz -- mixing a nice assortment of curves, cutters and changeups -- nursed it into the seventh inning.
In his past eight appearances -- three starts, five relief outings -- the 32-year-old right-hander has a 1.96 ERA and could end up being invaluable down the stretch as Farrell sorts out his bullpen.
Buchholz turned in a quality start on Tuesday, a day after David Price pitched eight shutout innings to continue a nice second-half renaissance. In 10 starts since early July, Price has a 2.86 ERA with 14 walks and 59 strikeouts in 69 1/3 innings.
The Red Sox's rotation is about to get even deeper. Two starters, Eduardo Rodriguez and Steven Wright, appear close to returning from the disabled list. In addition, reliever Koji Uehara, on the DL since July 18, could return before the end of the regular season.
Boston is playing its best baseball at a time when the schedule has been brutal. Last week, the Red Sox played in four cities in a five-day stretch. They beat the Indians in Cleveland, then won twice in Baltimore before splitting a weekend four-game series in Detroit.
Farrell said his players embraced the challenge of the schedule, adding: "They've bonded even closer as we get deeper into the season."
But it begins with pitching.
"We've had a solid month," Farrell said.
Price surely was speaking for an entire clubhouse on Monday when he said, "I still don't think we've played our best baseball yet, so we're in real good position."
Richard Justice is a columnist for MLB.com. Read his blog, Justice4U. This story was not subject to the approval of Major League Baseball or its clubs.