Ruggiano's HR longest by Met in Statcast era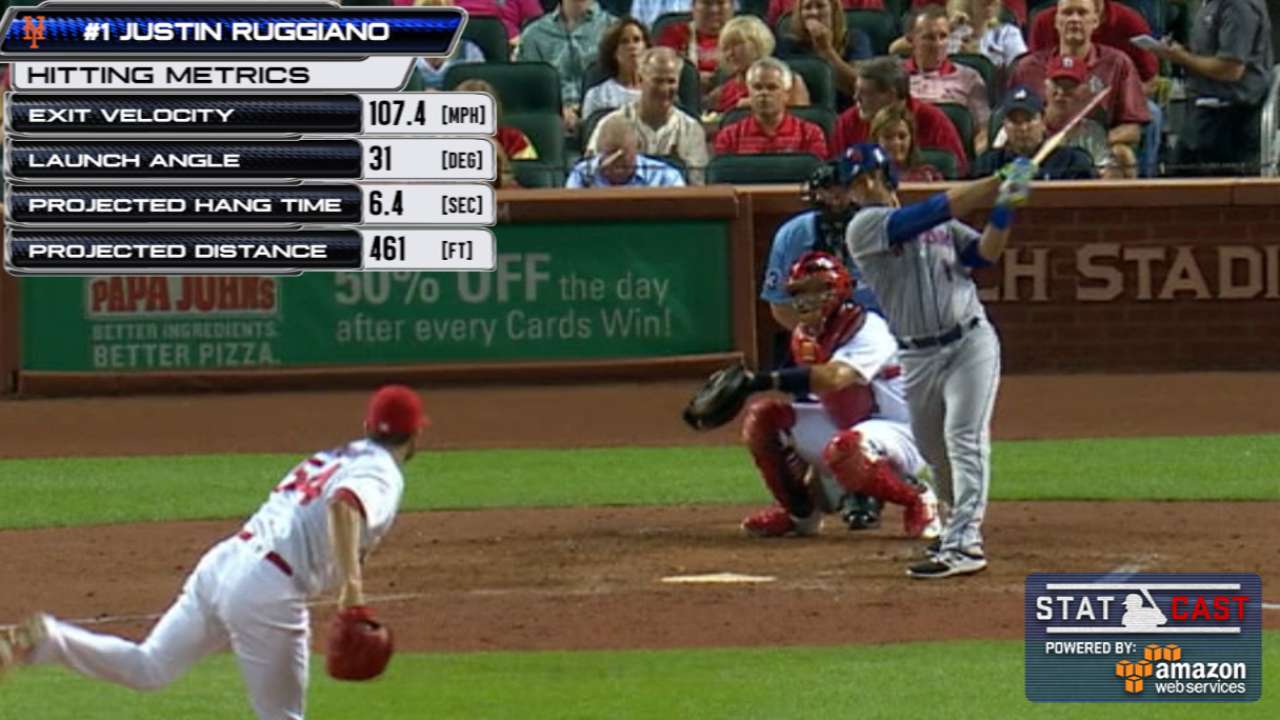 ST. LOUIS -- It's a trivia question worthy of any bar or break room: Which Met hit the longest home run since Statcast™ began keeping track at the start of the 2015 season?
Few would think of Justin Ruggiano, who stamped his place in franchise history with a projected 461-foot blast in the fourth inning of Tuesday's 7-4 win against the Cardinals. But with that homer, Ruggiano passed Yoenis Cespedes, whose 457-foot homer on Saturday was briefly the Mets' longest. Ruggiano's blast is also tied with Pedro Alvarez for the longest hit at Busch Stadium in the Statcast™ era. Alvarez's homer came in 2015, making Ruggiano's the longest at the ballpark this year.
Ruggiano's home run off Jaime Garcia is one of 35 in the big leagues this season to travel at least 461 feet. (Everyone is still chasing Miami's Giancarlo Stanton, whose 504-foot homer on Aug. 6 remains baseball's gold standard.) But it is the first by a Met to clear that distance since the start of 2015.
Ruggiano, of course, hasn't been a Met for long. The outfielder signed with the Mets in late July, playing in three games before landing on the disabled list. Since he returned on Thursday, starting regularly against left-handed pitchers, he's homered twice in three games.
Anthony DiComo has covered the Mets for MLB.com since 2008. Follow him on Twitter @AnthonyDiComo and Facebook, and listen to his podcast. This story was not subject to the approval of Major League Baseball or its clubs.