Cishek regains form following stint on DL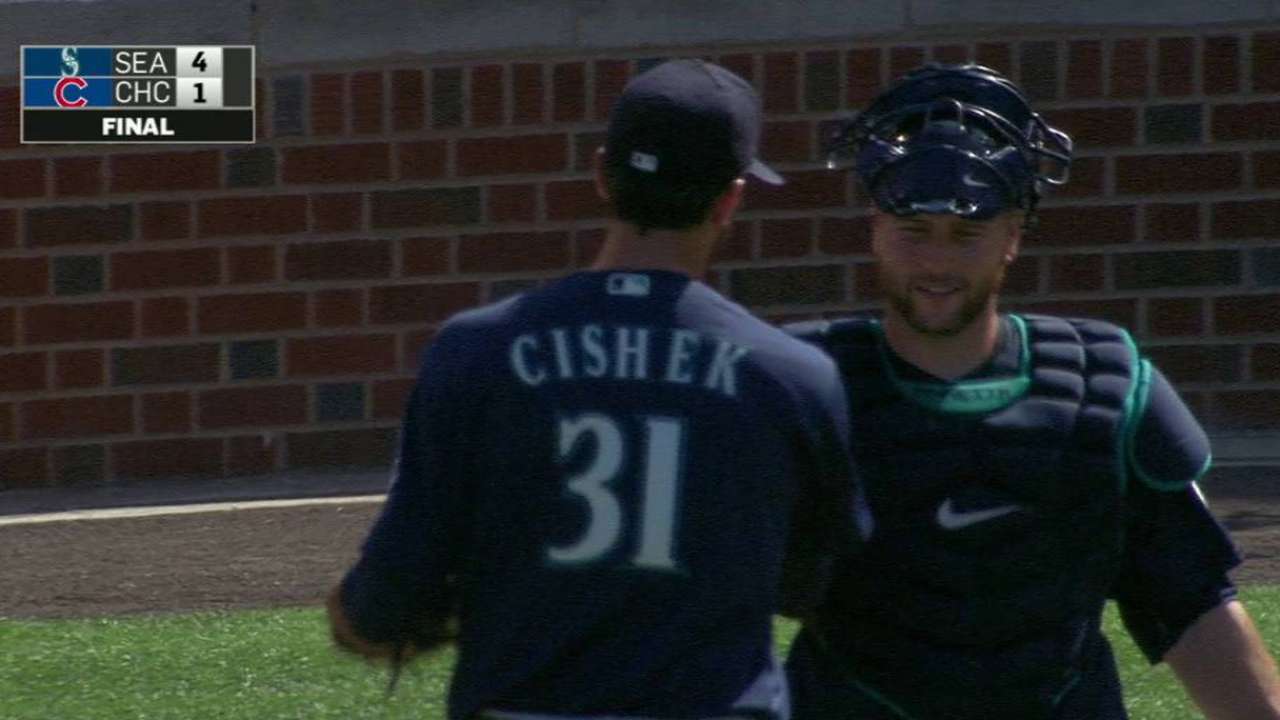 SEATTLE -- Safeco Field's lights don't dim and music doesn't blast every time Steve Cishek enters the game anymore. The win isn't on the line every time he jogs out from the bullpen. But since the former closer came off the 15-day disabled list, he has looked as good as ever.
"It's just nice to have some power in my legs," Cishek said. "That's the biggest difference, is being able to get my foot down and drive the ball."
Since the Mariners activated him from DL on Friday (left hip labrum tear), Cishek hasn't allowed a hit, let alone a run. He made three consecutive appearances Saturday, Sunday and Monday for a total of 2 1/3 dominant innings.
"He can really get down into his legs and load and really drive the ball to me," catcher Mike Zunino said. "It's nice. And when he can do that, you can definitely tell there's a huge difference."
Cishek passed on the closer job to rookie Edwin Diaz days before landing on the DL, retroactive to Aug. 2. Cishek blew his sixth save on July 31, a 7-6 loss to the Cubs, and then earned the loss the next day, a 2-1 heartbreaker to the Red Sox. His fastball especially had lost some of its zip as he tried to generate all his power from his arm. His solution? Throw more sliders. But that only worked for so long.
"You can see that in the Cubs series," Cishek said. "After I pitched to them the first day and got through it, the second day they were just sitting on the slider."
With his team suffering from his performances, Cishek knew it was time to deal with the pain he had been pitching through for weeks. An MRI revealed the small tear in his hip.
After rest and a cortisone shot, Cishek looked like a different pitcher in his first outing back. The Mariners had an 8-2 lead against the Brewers and Cishek came in for the ninth inning. He struck out the first two batters he faced and got the third to ground out.
"Just to be able to be sharp through that," Cishek said, "gives you the state of mind like, 'Hey, I feel like my old self again. I can do this.'"
He has been on a roll since.
Maddie Lee is a reporter for MLB.com based in Seattle and covered the Mariners on Tuesday. This story was not subject to the approval of Major League Baseball or its clubs.