Lackey expects to return from DL soon after eligible
Cubs starter rehabbing right shoulder strain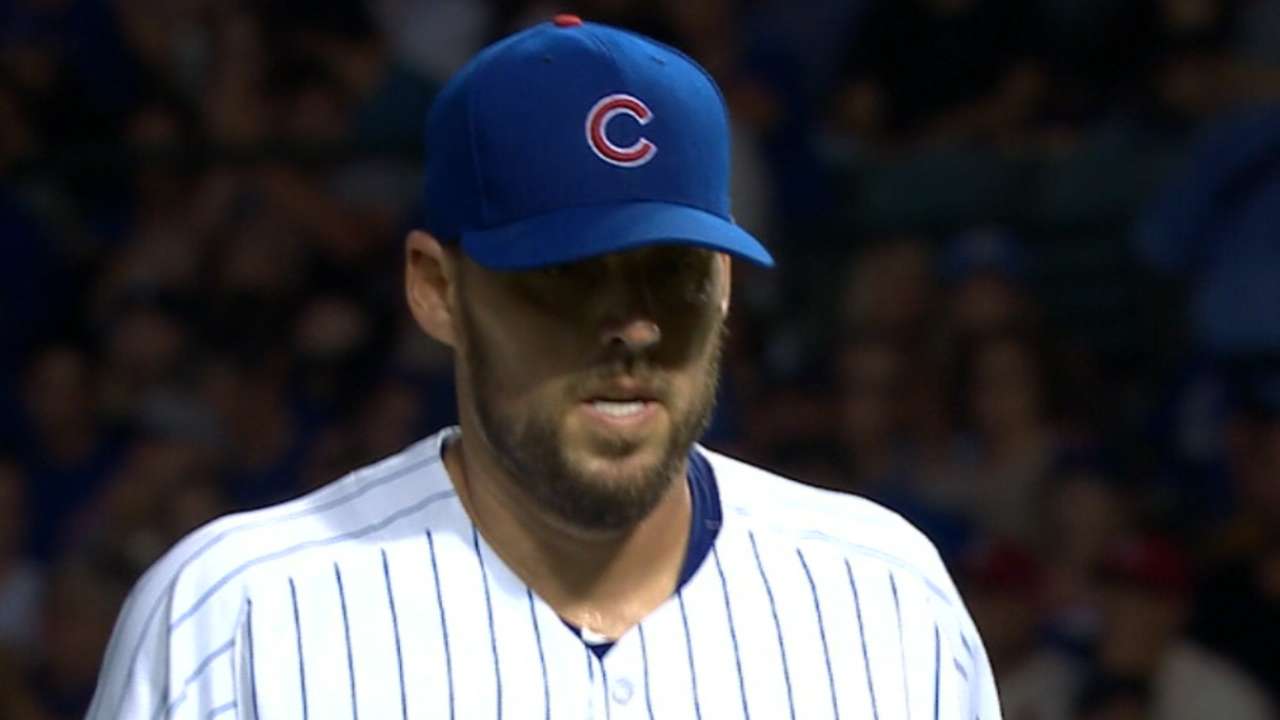 SAN DIEGO -- John Lackey played catch on Tuesday for the first time since he was placed on the disabled list Aug. 15, and if he continues to make progress, the Cubs right-hander will throw a bullpen session this weekend in Los Angeles. Lackey, rehabbing a right shoulder strain, did not expect to be sidelined too long after the Aug. 30 date when he's eligible to be activated.
"It felt good," Lackey said. "We'll see how it goes [Wednesday]. I don't anticipate anything. It felt pretty normal today. Hopefully, we'll keep moving forward."
Asked if there was some discomfort, Lackey shrugged.
"There's been some discomfort for about 13 years," he said. "You don't throw a couple thousand innings and not have some discomfort."
Cubs manager Joe Maddon said the weekend bullpen session will give the Cubs a better feel of how long Lackey needs.
"I don't think it will take him a long time to get back," Maddon said. "We'll see if he's able to do the side piece. If he's able to do it without too much discomfort, his start won't be too far to follow that."
Lackey agreed.
"As long as it feels OK, I'll be able to ramp up pretty quick," he said.
As for the other Cubs pitchers on the DL, Joe Smith, sidelined with a left hamstring strain, threw a bullpen session on Tuesday and also was making progress. Hector Rondon, out since Aug. 17 with a right triceps strain, played catch on Tuesday and said he felt good.
Worth noting
• Maddon met pregame with Warriors coach Steve Kerr, and hoped to get some insight into what it takes to build an NBA champion.
"When you have individual talent like that, like we do, you don't want to get in the way too often," Maddon said before the meeting. "I don't want to get in the way at all. I'm curious to meet him."
• Major League Baseball announced the playoff schedule, and although Maddon doesn't want to talk playoffs now, he did point out a major contradiction.
"The most important games are played in the worst weather," Maddon said. "I don't know if that's ever going to change and we'll see a neutral site. Baseball is meant to be played well and meant to be played in good weather."
Did he have any suggestions?
"Of course I do, but I'd only get in trouble," he said.
• Eloy Jimenez was named the Midwest League's Most Valuable Player, Prospect of the Year and an end-of-the-season All-Star, the league announced Tuesday. The awards were determined by the 16 Midwest League managers. Jimenez, 19, entered play on Tuesday leading the league in doubles, slugging percentage, OPS and RBIs, and was second in extra-base hits and total bases, and third in batting average. He is ranked No. 2 on MLBPipeline.com's list of top 30 Cubs prospects.
South Bend pitcher Preston Morrison and manager Jimmy Gonzalez also were named to the Midwest League's end-of-the-season All-Star team.
Carrie Muskat has covered the Cubs since 1987, and for MLB.com since 2001. She writes a blog, Muskat Ramblings. You can follow her on Twitter @CarrieMuskat and listen to her podcast. This story was not subject to the approval of Major League Baseball or its clubs.