Scuffling Vizcaino feeling 'rusty' since return
Roughed up twice in past week, former Braves closer trying to regain form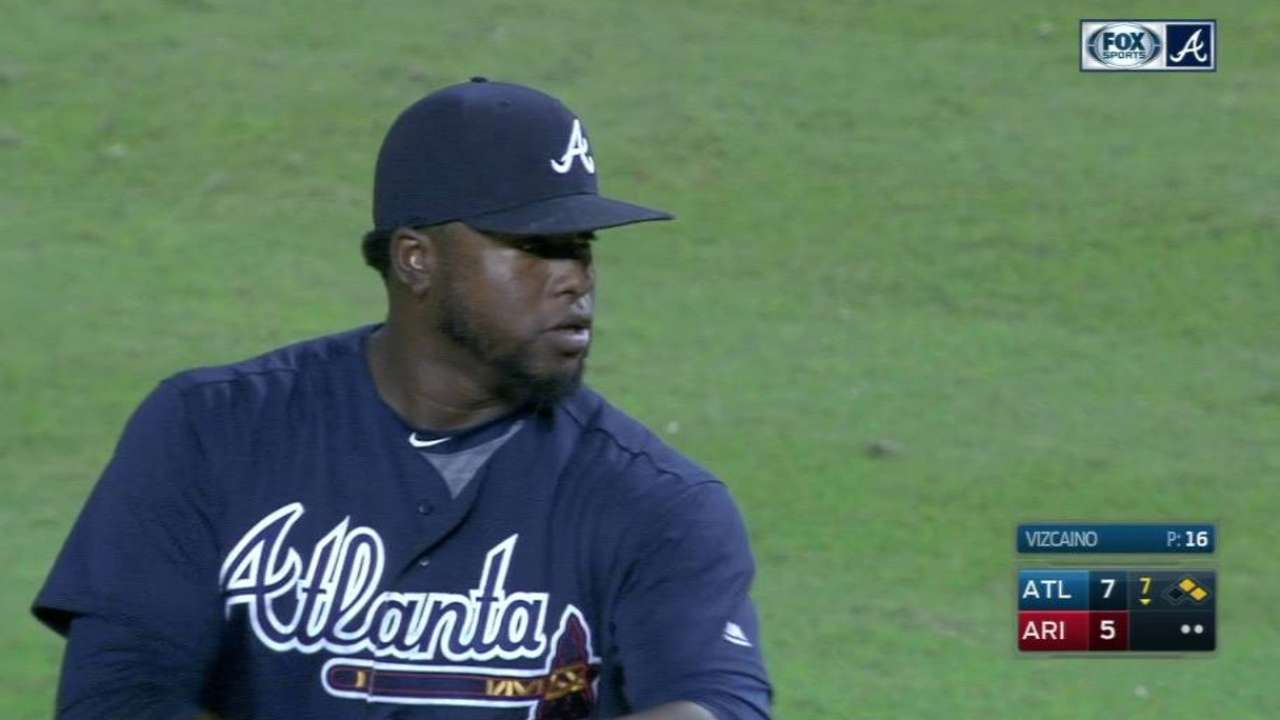 PHOENIX -- Arodys Vizcaino entered June as a dependable closer who was being considered a possible candidate to represent the Braves at the All-Star Game. But as the season's final month approaches, Vizcaino has made it difficult to even consider him a reliable middle-relief option.
While blowing a three-run seventh inning lead during Monday night's 9-8 loss to the D-backs, Vizcaino surrendered four runs for the second time in three appearances since returning from a month-long stint on the disabled list. It would be easy to simply blame his struggles on rust if he had not started to decline as June elapsed.
"I feel a little rusty," Vizcaino said Tuesday afternoon. "I had a few rehab appearances, but it's not the same as pitching up here. I'm just trying to adjust, improve and get back to where I was."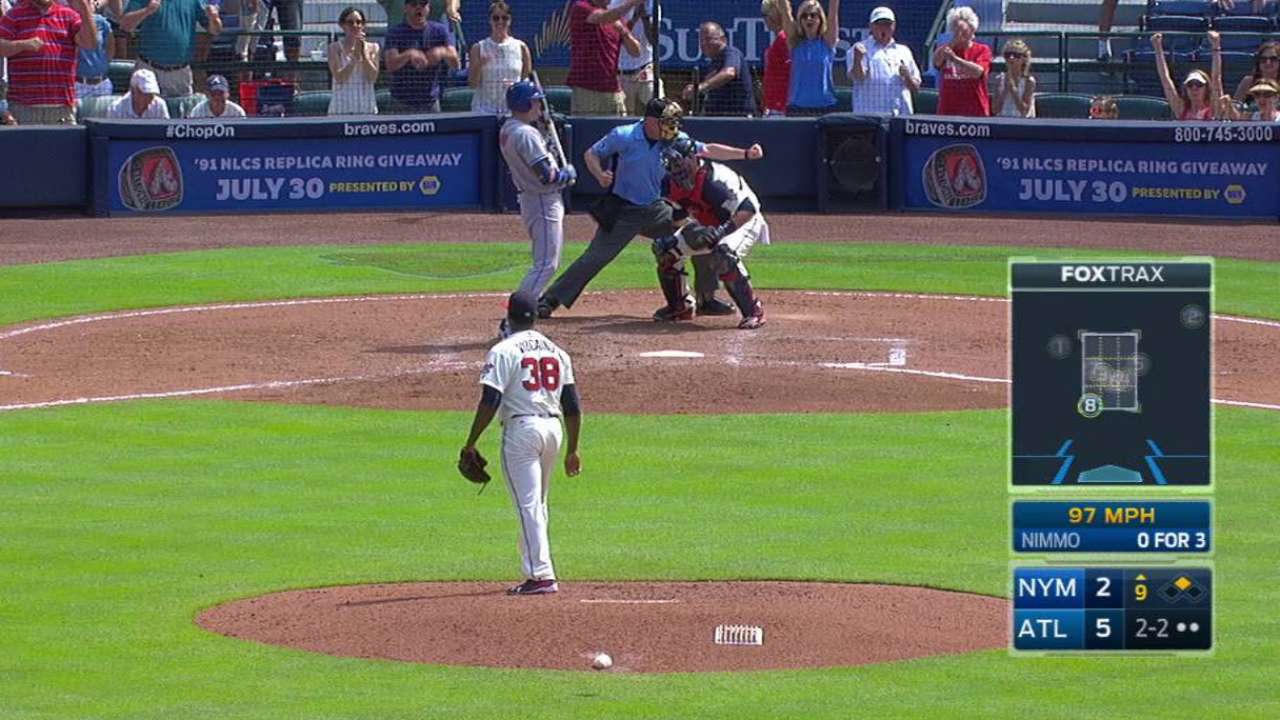 Vizcaino ascended to a level the Braves did not necessarily envision when they took a chance on him, opting to trade Tommy La Stella to the Cubs for him after the 2014 season. The hard-throwing right-hander served an 80-game PED suspension at the start of '15, then proceeded to post a 1.60 ERA in 36 appearances for the Braves, who employed him as their closer for the final two months.
Still in the closer role to start this season, Vizcaino compiled a 1.52 ERA and converted six of seven save opportunities through his first 23 2/3 innings. But a shaky outing in San Diego on June 7 marked the start of the decline for the 25-year-old reliever, who produced a 5.84 ERA and allowed opponents to compile a .444 on-base percentage over his next 12 1/3 innings before straining his right oblique muscle July 15.
The Braves might be regretting the decision to activate Vizcaino before he made what would have been the last of his three scheduled Minor League rehab appearances. The former closer surrendered four runs (three earned) while facing four Nationals on Thursday night and then retired just two of the seven batters faced during Monday's four-run seventh.
"This has been one of the worst struggles of my career," Vizcaino said. "Even going back to the Minor Leagues, I can't remember going through a time like this. Right now, I'm just trying to fight my way out of it, keep improving and get back to being the pitcher I was at the beginning of the season and last year."
Vizcaino's average fastball velocity Monday was 97.4 mph, which was in line with his season average (97.5). But his fastball command was spotty and his curveball, which has been a plus pitch all year, has not been effective in either of these past two outings.
"I feel good," Vizcaino said. "The velocity is there. I just need to finish strong."
Mark Bowman has covered the Braves for MLB.com since 2001. This story was not subject to the approval of Major League Baseball or its clubs.