Knuckler doesn't faze Buss on first homer
Rookie connects with Dickey's signature pitch for two-run shot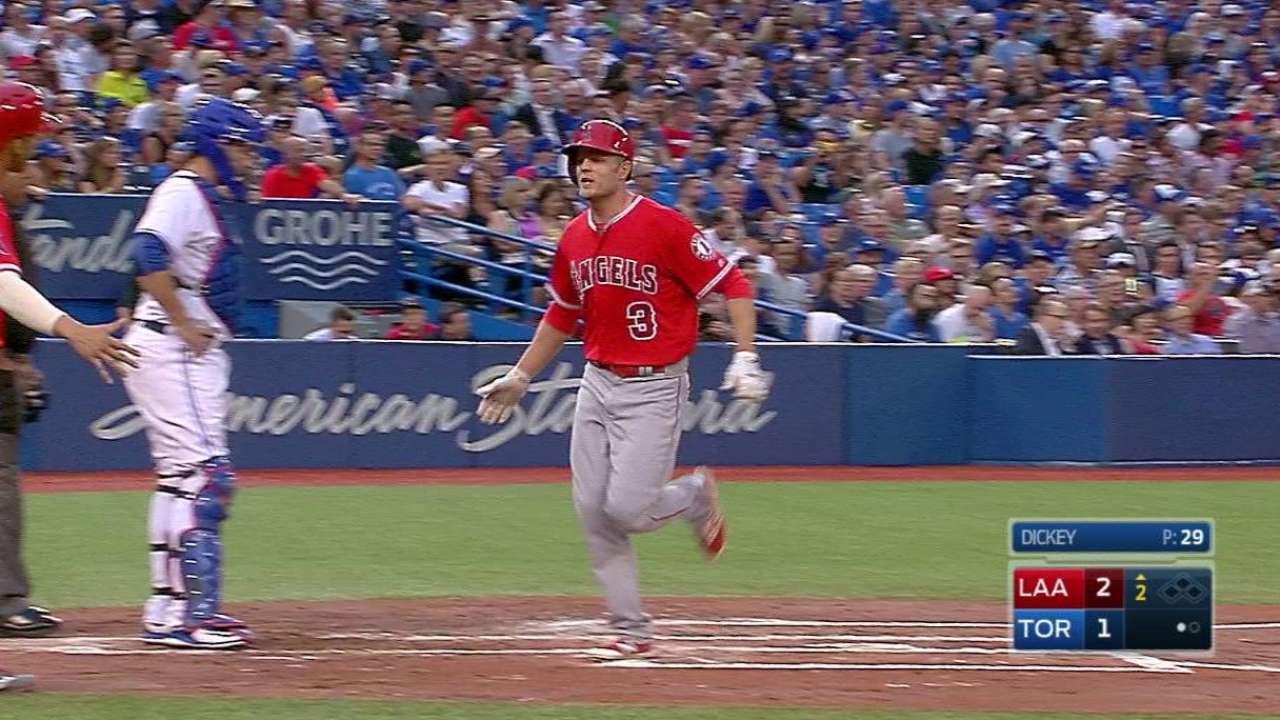 TORONTO -- Nick Buss had never faced a knuckleballer, so he watched attentively as teammate Mike Trout went through a 12-pitch at-bat against Blue Jays starter R.A. Dickey in the first inning.
When it was his turn to step to the plate, Buss had an idea of what to look for and took Dickey's 1-1 knuckleball over the wall in right field, briefly giving the Angels a 2-1 lead. However, that's all the offense Los Angeles would receive, as it fell 7-2 to the Blue Jays on Tuesday night.
"I feel like he had tougher ones to deal with 'cause it looked like he was mixing some heaters and curve balls to him too," Buss said of the Trout at-bat. "That was definitely helpful seeing what he had, seeing his total mix.
"It was great. It was fun to knock that out and get it done in my first at-bat."
Buss has six homers with Triple-A Salt Lake City this season, but in 17 career games split between the Dodgers and Angels, the 29-year-old had yet to go yard.
Prior to Tuesday's meeting with Dickey and the Blue Jays, Buss received plenty of advice on facing the knuckleball. Buss said he had teammates in college who were knuckleballers, but had never faced one at the pro level.
"Just to see it a little bit up, kind of at belt height, don't focus too much on seeing it up," he said. "I realized it's going to dip down a little bit, be ready to fire the entire time. If you've got to take at the last minute, take, but just got to be ready to hit every pitch."
Buss also reached base on a ninth-inning bunt single off reliever Scott Feldman to finish the night 2-for-4, boosting his batting average from .233 to .265.
"Nick has looked really comfortable at the plate, certainly not over-matched, he's hitting the ball hard and it looks like he belongs here," said Angels manager Mike Scioscia.
The second-inning homer also saw Buss' three-game drought at the plate (0-for-9) come to an end. Despite the inconsistencies, the Southfield, Mich., native is content with the progress he's made since his Aug. 13 recall.
"I've had some ups and downs, probably just adjusting to some of the pitchers here, but ultimately I'm happy with how it's going," he said.
Dhiren Mahiban is a contributor to MLB.com based in Toronto. This story was not subject to the approval of Major League Baseball or its clubs.