CC finds vintage form in win over Mariners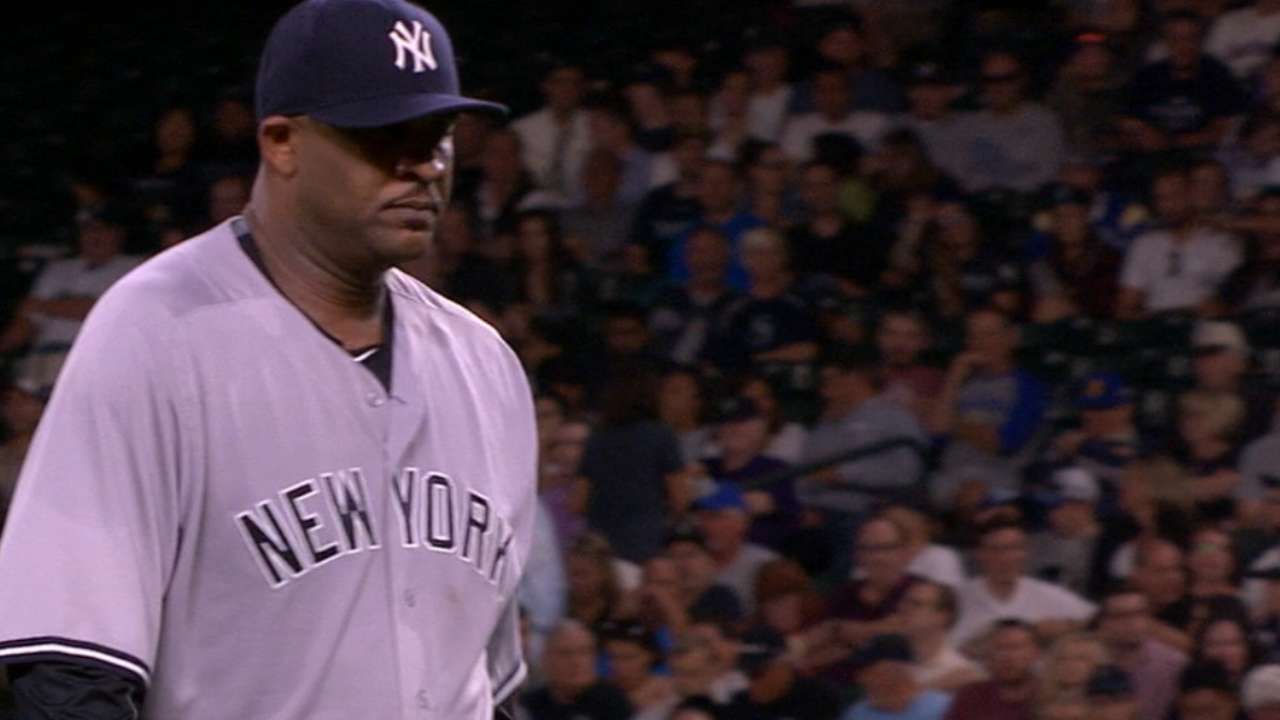 SEATTLE -- The nights are getting shorter, October is getting closer, and the big man was dealing again.
The Yankees might be a long shot to reach the postseason, but CC Sabathia, the man they acquired long ago to be their playoff horse, was back to vintage form in a 5-1 win over the Mariners on Tuesday night at Safeco Field.
And it can't come soon enough.
"He did whatever he wanted tonight," Yankees catcher Brian McCann said. "He started throwing the cutter away to lefties tonight, and he missed a lot of barrels. He kept them in between speeds and changed eye levels and made his pitches.
"We need it."
Sabathia had his best outing in nine weeks, bedeviling Seattle hitters all night en route to a seven-inning, three-hit, one-run masterpiece that brought back memories of the CC of old who helped New York to the 2009 World Series championship.
"He threw the ball really well," Mariners manager Scott Servais said. "Textbook, Pitching 101. Back and forth, changing speeds, on the edges, pitching inside. He was very effective against us tonight."
Every time the Mariners got a sniff of a rally, Sabathia was there to quickly extinguish any spark. He retired the first seven batters of the game before his first rough patch, when Leonys Martin tripled down the right-field line and was singled in by Ketel Marte, but that was about as tough as it got for him.
He struck out seven batters in all, including two in the fourth inning and two more in the fifth. Robinson Cano, who won a ring on that '09 Yankees team playing behind Sabathia every fifth day, singled in the fourth inning and that was the only other hit Sabathia gave up through seven.
"It feels good," Sabathia said. "We're trying to win every game, so to be able to be a part of that feels good."
After Sabathia departed with a hearty pitch count of 101, Tommy Layne (scoreless eighth inning) and Dellin Betances (scoreless ninth) did the rest of the work, completing the game in a relatively tidy two hours and 45 minutes. The Yankees improved to 64-61 and have won eight of their last 13 to stay within five games of Baltimore for the second American League Wild Card spot.
For Sabathia, it was a welcome return to form at the right time, although his teammates insist that he has been the victim of bad luck throughout the year and should have better numbers than his current record of 8-10 and ERA of 4.33.
"We know what a competitor CC is," Yankees manager Joe Girardi said. "And it's frustrating for him. There's been a lot of games, I've said, where he's pitched a lot better than the line.
"It's kind of been what he's gone through at times. At times we haven't played defense, and at times he's made mistakes, too. But it's frustrating for him, because he competes so hard."
That might have all changed on Tuesday. Not only did Sabathia compete and give the Yankees what they needed out of him, but he also got results. If New York is to make a push into October on the strength of its now-young roster, it wouldn't hurt to have a familiar old hand provide the go-to work of an ace every fifth day.
"I think it's really big, because he's the one guy in our rotation that has been through this a lot, and there has been a lot put on his shoulders," Girardi said.
"He can really help."
Doug Miller is a reporter for MLB.com based in Seattle and covered the Yankees on Tuesday. Follow him on Twitter @DougMillerMLB. This story was not subject to the approval of Major League Baseball or its clubs.