Castro, Gregorius providing pop up the middle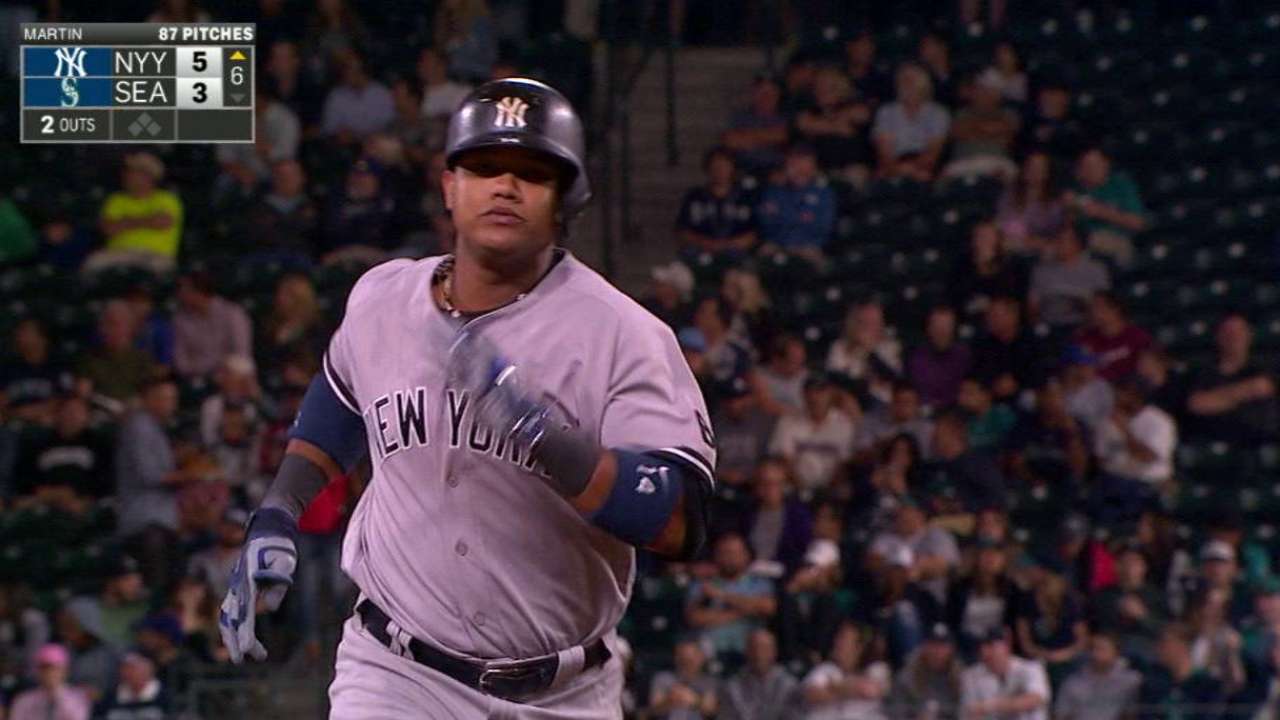 SEATTLE -- When the Yankees traded for Didi Gregorius to replace Derek Jeter at shortstop and later signed Starlin Castro to play second base, they knew what they were getting: solid defense and the potential to supplement those gloves with occasional offense.
They definitely weren't expecting the power surge they've seen of late.
Heading into Tuesday night's game against the Mariners at Safeco Field, both players had 17 home runs and 56 RBIs. Both are career highs.
"I think it's really nice," Yankees manager Joe Girardi said. "When you think about it, we might get 40 home runs from the middle of our infield this year. I think it's very realistic. That's really encouraging as we move forward. They're both 26 years old; they're still really young players. Castro, it seems like he's been playing forever, but they're still young players and that power is probably going to develop more."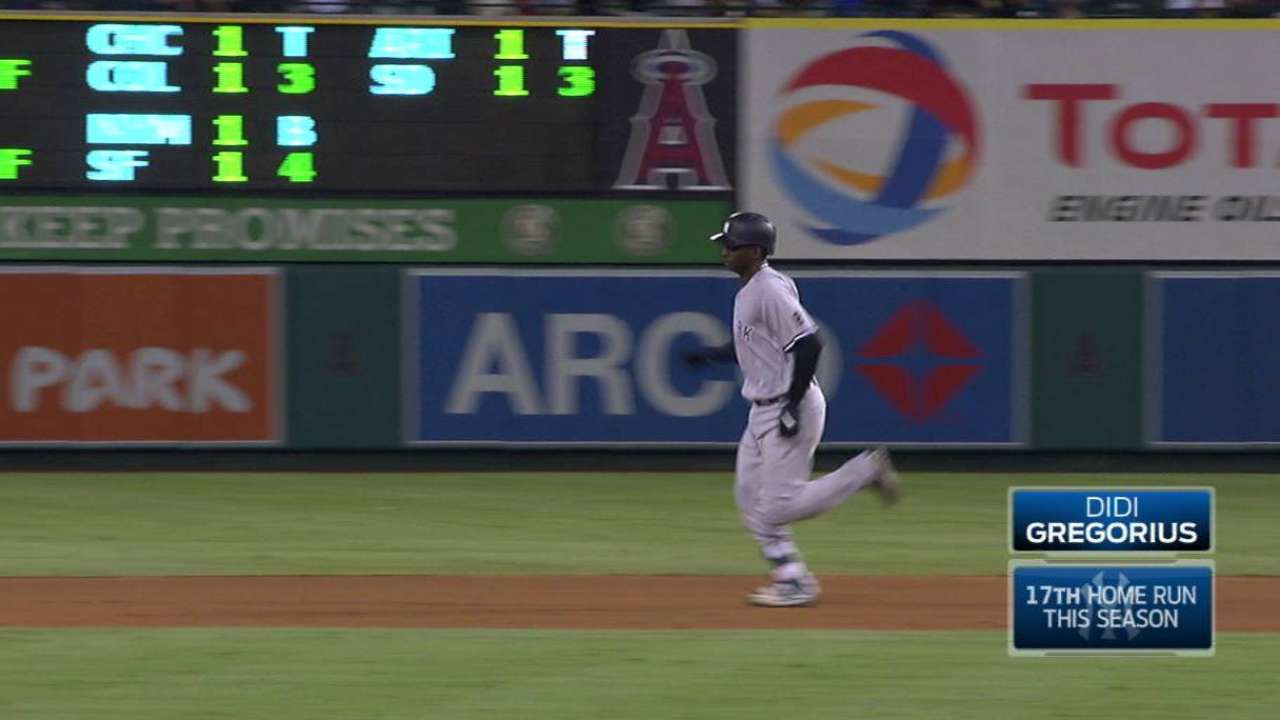 Castro's previous high in home runs for a season, 14, came with the Cubs in 2012 and '14.
"I think him maturing probably as a player is probably the best way to put it," Girardi said of Castro. "He's 26 now, he's been around for a while, and I think hitters start to evolve and they get stronger as time goes on. It's been nice to see."
Sanchez not just a hitter: The Gary Sanchez Era is alive and well, and the rookie catcher's absurd recent tear at the plate is getting its well-deserved share of the headlines. Sanchez hit two homers in Monday night's game and went deep eight times in his first 65 Major League at-bats.
But Sanchez also threw out a runner on Monday, and teammate Mark Teixeira compared Sanchez's arm strength to that of legendary catcher and possible future Hall of Famer Ivan Rodriguez.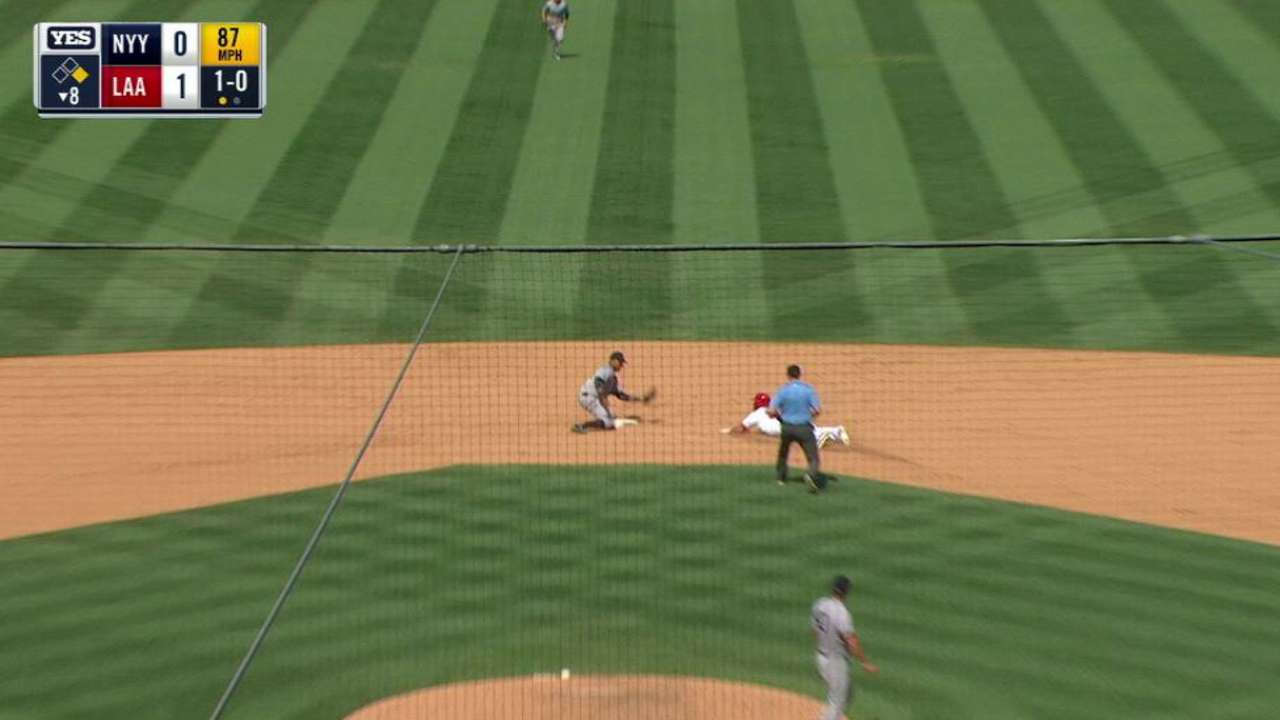 Girardi, a former big league catcher himself, didn't dispute it.
"[His arm is] really, really good," Girardi said. "This kid can really throw. He blocks, and defensively he's been just as good as offensively. [Teixeira's is] a pretty strong comparison. I remember another young catcher that was here that had tremendous arm strength, and that was Jorge [Posada]. Jorge had really, really good arm strength. It changes the way teams approach you.
"I think when you have an arm like that, unless the guy is really slow, it shuts down running games. They're not going to take that chance as maybe with a guy that doesn't throw as well. It knocks tenths of seconds off, but you're just not as willing to take that chance."
Swarzak to DL: The Yankees made a roster move Tuesday, placing right-handed reliever Anthony Swarzak on the 15-day disabled list with right rotator cuff inflammation and recalling right-hander Ben Heller from Triple-A Scranton/Wilkes-Barre.
Swarzak, 30, was 1-2 with a 5.90 ERA with the Yankees this year and gave up a three-run, go-ahead home run to Mariners catcher Mike Zunino in Monday's game. Girardi said Swarzak complained of shoulder pain after the game and will have an MRI on Thursday.
"I was a little bit concerned during the game, in that second inning when he was out there, but he said he was OK," Girardi said. "He was probably just trying to gut through it."
Heller, 25, was acquired with four other players from Cleveland in the Andrew Miller trade and called up by the Yankees from Triple-A on Aug. 11. But he didn't pitch and was optioned back to Wilkes-Barre two days later. He has a 1.69 ERA and 55 strikeouts in 48 innings in Triple-A this season.
"We really like his arm," Girardi said. "He's a guy that we hope can bridge to the seventh and eighth inning. He's got power stuff and a good breaking ball. We haven't gotten him in a game yet, so we'll try to put him in a situation where there's not too much pressure, but sometimes it doesn't work that way."
Doug Miller is a reporter for MLB.com based in Seattle and covered the Yankees on Tuesday. Follow him on Twitter @DougMillerMLB. This story was not subject to the approval of Major League Baseball or its clubs.