Adams closest of injured Cards to returning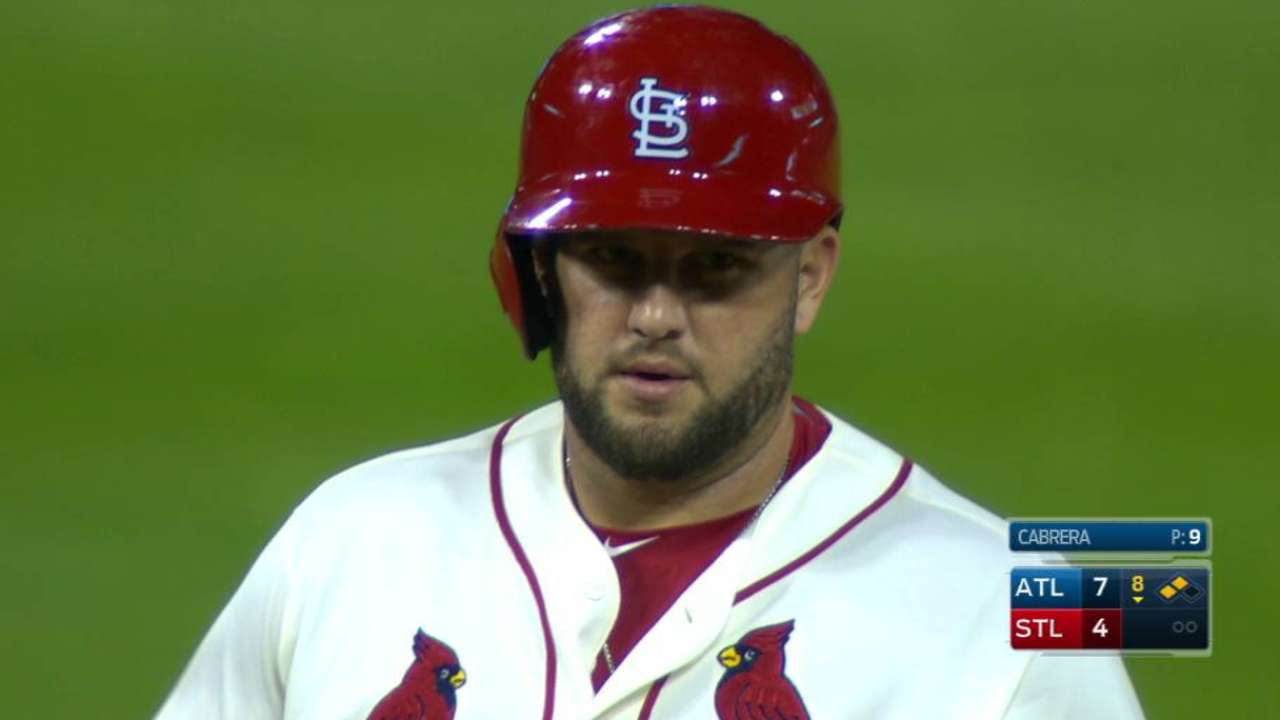 ST. LOUIS -- Eleven players still crowd the Cardinals' disabled list, though there are signs of progress that leave the club optimistic of several late returns.
Here is a rundown of injury updates offered by general manager John Mozeliak ahead of the Cardinals' six-game homestand:
• Shortstop Aledmys Diaz (right thumb fracture):
With his thumb in a splint, Diaz began taking ground balls on Tuesday for the first time since his thumb was fractured by a pitch on July 31. Diaz will continue to engage in light baseball activities this week before visiting with a hand specialist on Monday to determine if he can ramp up that work. The Cardinals are hopeful of a mid-September return for the rookie.
• First baseman Matt Adams (right shoulder inflammation):
Adams participated in pregame fielding work and batting practice with the Cardinals ahead of Tuesday's game, and he's expected to head out on a Minor League rehab assignment within the next two days. Though not finalized, the destination of that rehab assignment is expected to be Triple-A Memphis. Adams won't be ready to come off the DL when he's eligible on Thursday, but he is the closest injured Cardinal to returning.
• Reliever Trevor Rosenthal (right shoulder inflammation):
After resting for four weeks, Rosenthal began a throwing program on Tuesday. The right-hander will begin with flat-ground catch and then, two weeks from now, be re-evaluated to determine if he can be pushed further. Mozeliak said that he is "still having optimism there as well" as far as a late-season return is concerned.
• Outfielder Matt Holliday (right thumb fracture):
Holliday has relocated to Jupiter, Fla., where he has begun therapy on his surgically repaired thumb. Holliday had his cast removed on Tuesday and was fitted for a custom splint, which he's now wearing. The Cardinals will let Holliday heal and rehab over the next few weeks before determining how likely a late-season return may be.
• Starting pitcher Michael Wacha (right shoulder inflammation):
The medical staff expects to clear Wacha for a throwing program within the next week. Wacha will then have a follow-up MRI of his shoulder taken in early September to determine how hard he can push. If Wacha does return this season, it will almost certainly be in a relief role.
• Catcher Brayan Pena (left knee inflammation):
Pena began a rehab assignment on Friday and has gone 2-for-9 while serving as a designated hitter in three games. The Cardinals plan for him to begin catching later this week and will then push him as tolerated. Whether Pena will come off the DL on his Sept. 4 eligibility date will depend upon how comfortable the Cardinals are with his readiness behind the plate
• Reliever Jordan Walden (right shoulder strain):
Walden did not begin his rehab assignment as planned on Sunday due to renewed discomfort around his right shoulder. He remains in Jupiter for now, though the Cardinals don't have a clear plan for what the days ahead will look like. They will not have Walden begin a rehab assignment until he is pain-free. As for Walden possibly making a September return, Mozeliak characterized it as "a long shot."
Jenifer Langosch has covered the Cardinals for MLB.com since 2012, and previously covered the Pirates from 2007-11. Read her blog, follow her on Twitter, like her Facebook page and listen to her podcast. This story was not subject to the approval of Major League Baseball or its clubs.