Combating Miller's slider not an easy task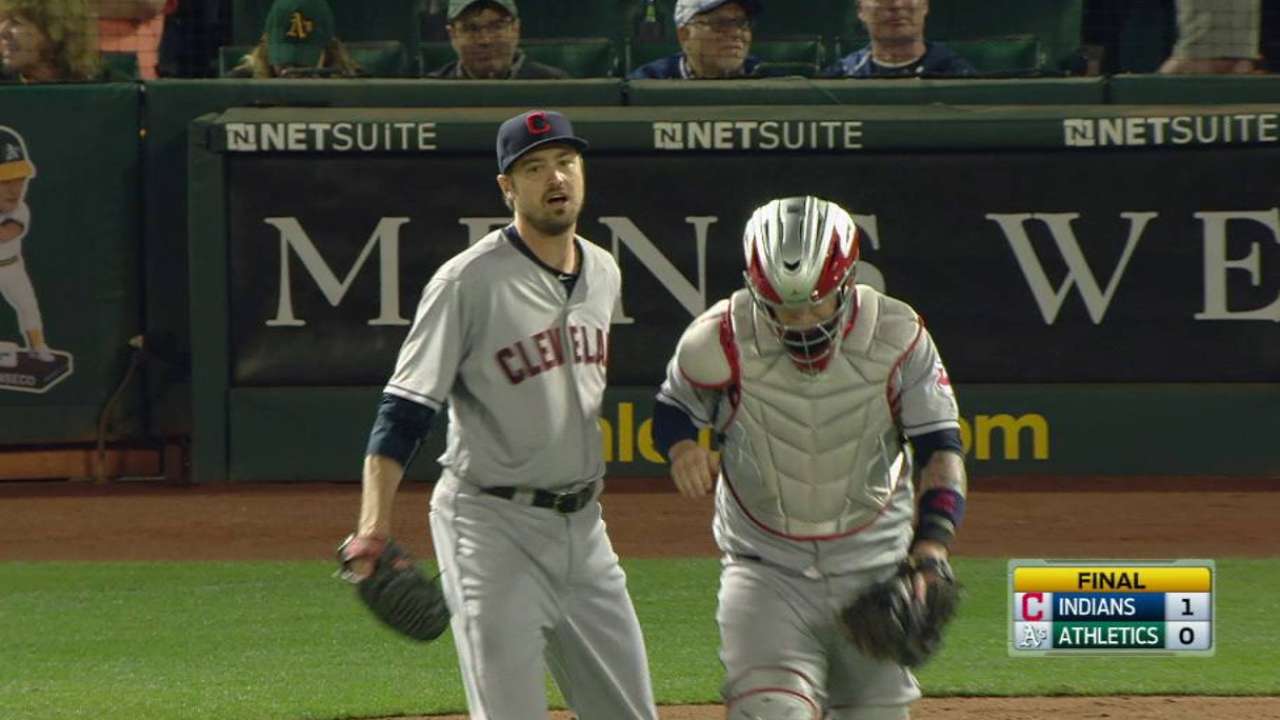 OAKLAND -- Rajai Davis called left-hander Andrew Miller's slider an untouchable pitch for a right-handed batter. Sitting at his locker inside the visitors' clubhouse at the Coliseum on Tuesday afternoon, the veteran Cleveland outfielder broke down what he feels is the best way to approach the ace reliever.
"I just think you prepare for the fastball," Davis said. "And then, if the slider is there, and it's in the path of your bat, you hit it. If not ..."
Davis stopped, shook his head and let out a slight laugh.
If not, batters might experience what Oakland's Khris Davis went through to end Monday's 1-0 Indians win. Catcher Roberto Perez headed out to the mound and told Miller that he felt the A's outfielder was sitting on the fastball, so they decided to go with a slider low, inside and in the dirt. The 2-2 offering sliced below the zone, towards Davis' back foot and caused him to fall down, as he unsuccessfully tried to check his swing.
The awkward swing put Miller's dominance on full display, and was still a topic of conversation a day later.
"You kind of laugh, but not at him," Indians second baseman Jason Kipnis said of Khris Davis' strikeout swing. "You laugh almost because I've faced him. I've done it, too. I've swung at like a pitch-out basically from him. So, it's literally not laughing at him. It's just such a tough at-bat."
Rajai Davis said Miller's slider is nearly "untouchable" for RH batter. Red dot is one that K'd Khris Davis Monday. pic.twitter.com/Da22Qs0NJg

— Jordan Bastian (@MLBastian) August 24, 2016
Through nine appearances for the Indians, who acquired Miller from the Yankees before the Aug. 1 non-waiver Trade Deadline, the lanky lefty has a 1.69 ERA with 16 strikeouts and one walk in 10 2/3 innings. Overall this year, Miller has fashioned a 1.45 ERA in 53 games, during which he has piled up 93 strikeouts against eight walks over 56 innings.
The book is out on Miller, and it just does not seem to matter. Hitters have a .169 average against his slider and a .172 mark against his fastball this season. Whether right-handed or left-handed, batters have a hard time balancing Miller's high-velocity heater with a slider that can come in more than 10 mph slower, and with sharp bite.
"His fastball comes in at 95 or 96," said Kipnis, who hits from the left side. "So, it's cutting down the time that you have to decide if it's a fastball or it's a slider. That makes it that much tougher. Not only is he doing it from closer by [for lefty hitters], but you're having trouble picking up where he's coming from, because he kind of tucks it in for a second. Sometimes he comes from out there, and sometimes he whips it right at you."
5.9% of Miller's pitches have been strikeout sliders to Zone 13 (The Miller Zone?). No pitcher has a higher rate. pic.twitter.com/70Q0xyzVXf

— Jordan Bastian (@MLBastian) August 23, 2016
For right-handed batters like Rajai Davis, trying to sit on the fastball is one way to go.
"It's just tough, because he slings 96 in there," Davis said. "That's tough enough to hit by itself. So, you've got 96 with movement, if he needs it. So, in the back of your mind, you know that. You try to gear up for that, and then he throws that slider, which is just as nasty as the fastball."
Miller said a key for him over the past few seasons has been attacking with strikes, which in turn has opened up the door for batters to chase offerings outside the zone. As August Fagerstrom of Fangraphs.com noted, Miller's minus-10 percent difference between swings at pitches inside the zone (51.5 percent) and those outside the zone (41.5) -- the largest gap in the Majors -- shows how he has confounded batters this year.
"I've got two pitches," Miller said. "So, I spend every pitch trying to figure out what he's looking for. Maybe some guys stay in-between and hit both. Some guys seem like theyre guessing one way or the other. So, I try to be as eduated as I can. I think we guessed right [against Khris Davis]."
Asked about Davis crumpling to the dirt on his swing attempt, Perez smiled.
"I was back there like, 'Wow, that's incredible,'" said the catcher. "When you see a guy like that falling down on his knees, that was a nasty pitch. What can you do as a hitter? It was awesome."
Jordan Bastian has covered the Indians for MLB.com since 2011, and previously covered the Blue Jays from 2006-10. Read his blog, Major League Bastian, follow him on Twitter @MLBastian and listen to his podcast. This story was not subject to the approval of Major League Baseball or its clubs.