Niese lands on DL; Gsellman to rotation?
After lefty exits start in first inning, righty delivers 3 2/3 scoreless in big league debut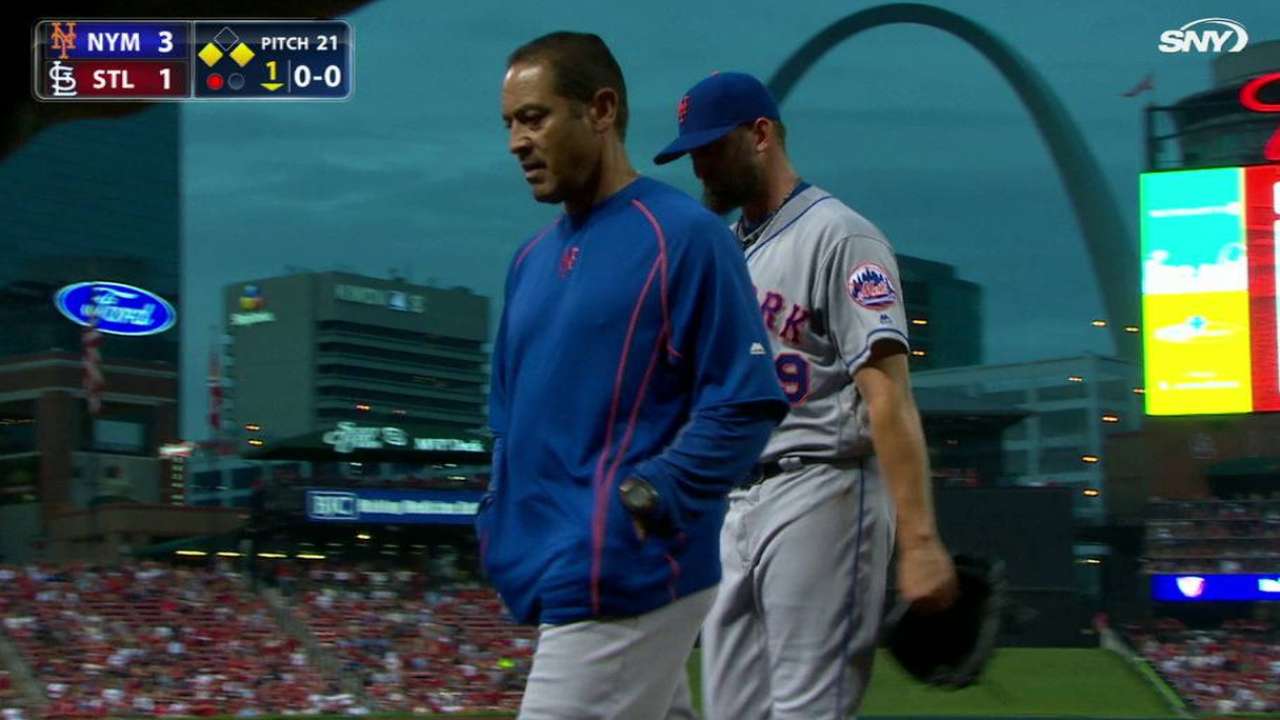 ST. LOUIS -- Jonathon Niese's night was as ineffective as it was brief. Robert Gsellman saved him and the Mets in his big league debut. In the process, Gsellman appears to have taken over Niese's job.
Shortly after their 7-4 win over the Cardinals on Tuesday, the Mets placed Niese on the disabled list with an undisclosed left knee injury, recalling reliever Erik Goeddel to take his roster spot. That opens the door for Gsellman, who delivered 3 2/3 shutout innings in relief of Niese, to supplant Niese in the rotation; although the team did not officially announce that last bit on Tuesday night, manager Terry Collins referred to it as the obvious decision.
"He's here. He's in that spot," Collins said of Gsellman potentially moving to the rotation. "So there's a good shot."
Joining the Mets earlier in the day from Triple-A Las Vegas, Gsellman earned his chance after Niese walked two batters in the first inning, recorded his only out on a sharp line drive and felt a "pop" in his knee while throwing a curveball to Brandon Moss. Moments later, Niese allowed an RBI single to Moss, before walking off the field alongside trainer Ray Ramirez as Gsellman jogged in from the bullpen.
The rookie's first few pitches, also, were inauspicious; Gsellman allowed a Yadier Molina RBI double on his first big league offering, and a Jhonny Peralta game-tying groundout on his seventh. But that was all Gsellman allowed. From there, he settled down, giving up just one hit the rest of the way.
"It did happen pretty fast," said Gsellman, who estimated that he warmed up for about five minutes in the bullpen before receiving additional time on the Busch Stadium mound. "But I slowed myself down by taking a couple breaths and that helped out a lot. I was a little nervous."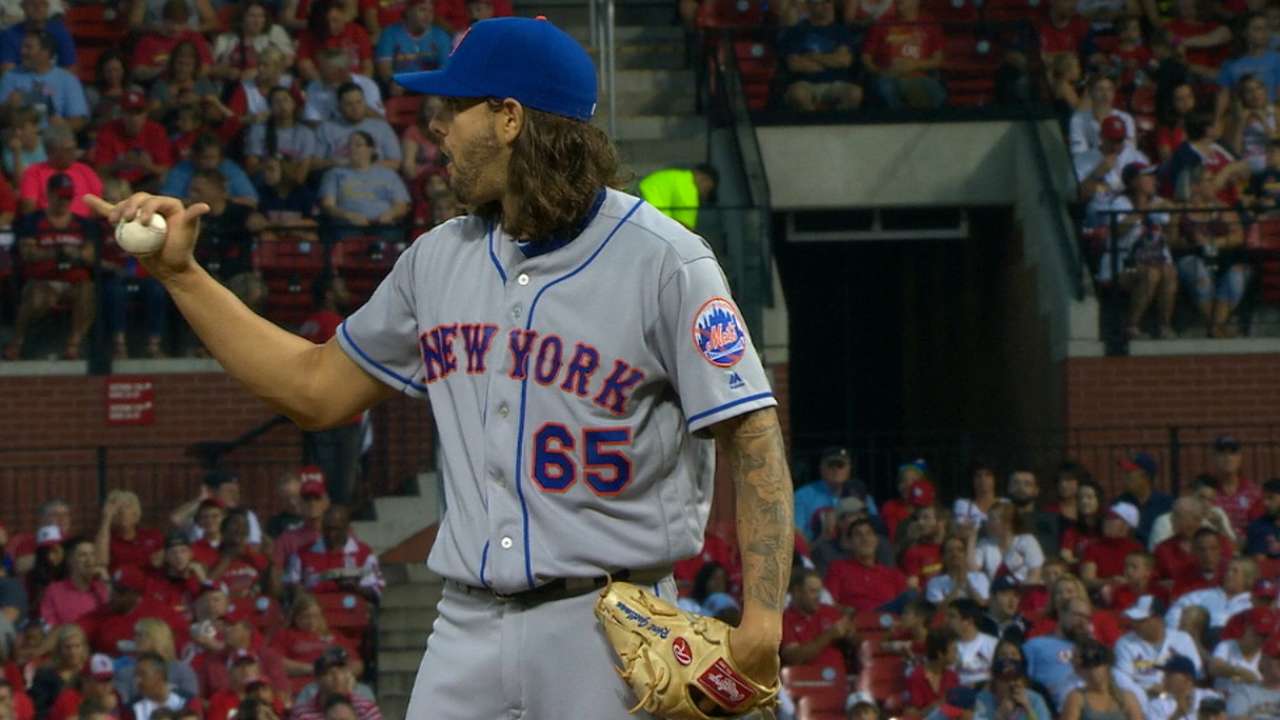 Gsellman's effort set a franchise record for scoreless relief innings in a big league debut, his takeaway from a bullpen life that should be short-lived. A Mets team infamous for its sometimes-plodding DL decisions wasted no time moving Niese there, immediately drawing up plans to send the left-hander back to New York for testing on his knee. That should clear room for Gsellman in the rotation.
Niese said he has experienced various levels of left knee discomfort since June, back when he was a Pirate, joking that he "leads the league in MRIs." Despite that, and despite Niese's discomfort in his last outing in Phoenix, the Mets scheduled him to start their series opener against the Cardinals. As he warmed up in the bullpen, Niese said, he felt no pain. But that changed almost immediately upon taking the mound.
"It progressively got worse and worse," Niese said. "Every pitch, there was just a sharp, shooting pain down my leg. … I've got to get it fixed. I can't keep going out there like that."
Anthony DiComo has covered the Mets for MLB.com since 2008. Follow him on Twitter @AnthonyDiComo and Facebook, and listen to his podcast. This story was not subject to the approval of Major League Baseball or its clubs.