Seager extends streak with multihit game vs. MadBum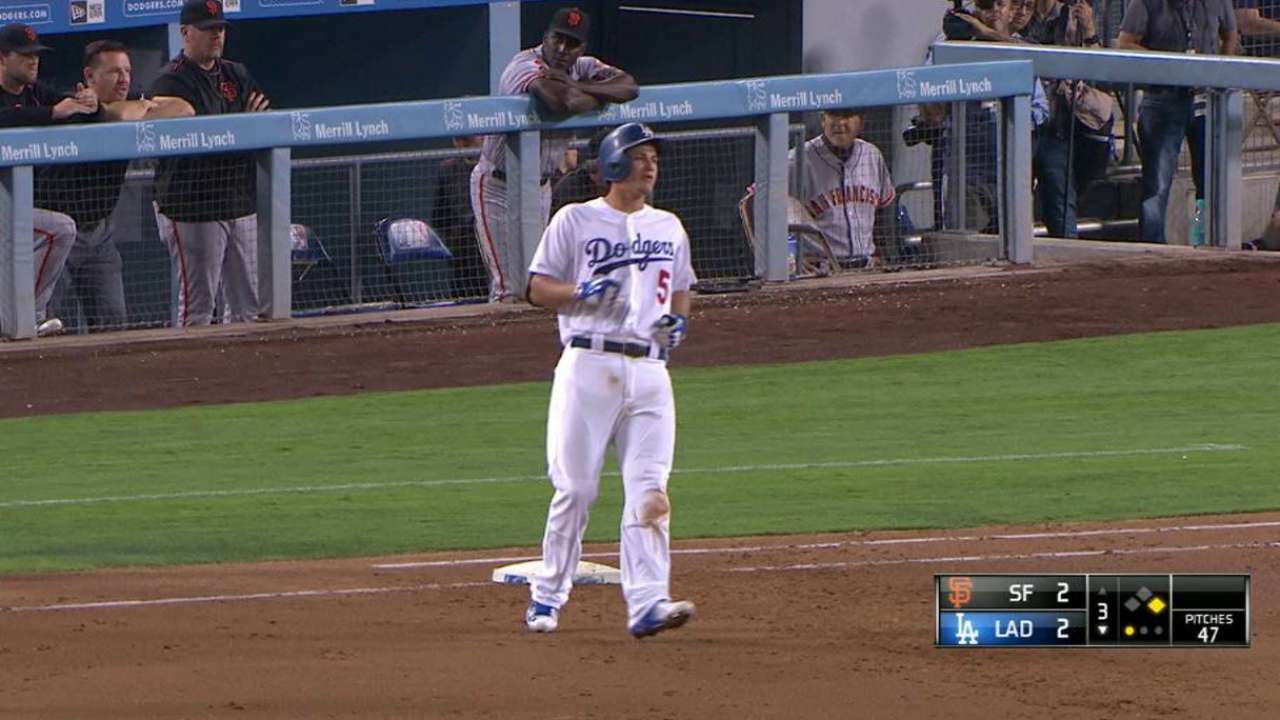 LOS ANGELES -- How would you build a player every team in baseball would kill to have? Let's start by making him a shortstop, and one that's pretty good with the glove at that.
Give him an on-base percentage exceeding that of Daniel Murphy, Miguel Cabrera and Buster Posey over the last calendar year. Do the same with slugging percentage, but with Josh Donaldson, Anthony Rizzo and Mark Trumbo.
And make him 22 years old. Do that, and you will have Corey Seager.
For the sixth time in seven games, the Dodgers' precocious shortstop had multiple hits as he keyed a 9-5 win over the Giants on Tuesday night. He is now on a 14-game hitting streak, 11 of those games being multihit efforts. During the streak, Seager is batting .509 (29-for-57) with four doubles and five home runs.
Tuesday should have been one of the greater challenges to the streak, considering the opposing starting pitcher, but it instead turned into another way to show how far Seager has advanced.
Through 26 starts this season, ace southpaw Madison Bumgarner had held left-handed batters like Seager to a .169/.214/.271 line. He had yielded just six extra-base hits and six walks to lefties. Seager registered the seventh for both stats, hitting a double in the first inning and working a walk after falling behind 0-2 in the fifth. Bumgarner walked away impressed.
"He's only going to get better," Bumgarner said. "There's no telling how good he can be. He's way ahead of schedule for a 22-year-old."
Seager is a career .326/.387/.547 hitter through his first 148 games. April 2016 is the only month of his career in which he hasn't recorded an OPS of at least .890. He already has four hitting streaks of at least 10 games.
The odds-on favorite to win the National League Rookie of the Year Award, the largest question remaining is how many MVP votes Seager will receive. While the sheer production could be the resume line that gets him the most votes, his manager is more impressed by his consistency.
"He's unfazed and regardless of the moment, he has a great pulse and a great head," manager Dave Roberts said. "For a young player like that to respond the way he does in big spots, you get to appreciate him even more, bigger than what he does and bigger than his skill set."
Jack Baer is a reporter for MLB.com based in Los Angeles. This story was not subject to the approval of Major League Baseball or its clubs.