Struggling Arcia, Santana make impact off bench
Pair of young players weren't in lineup Tuesday against Rockies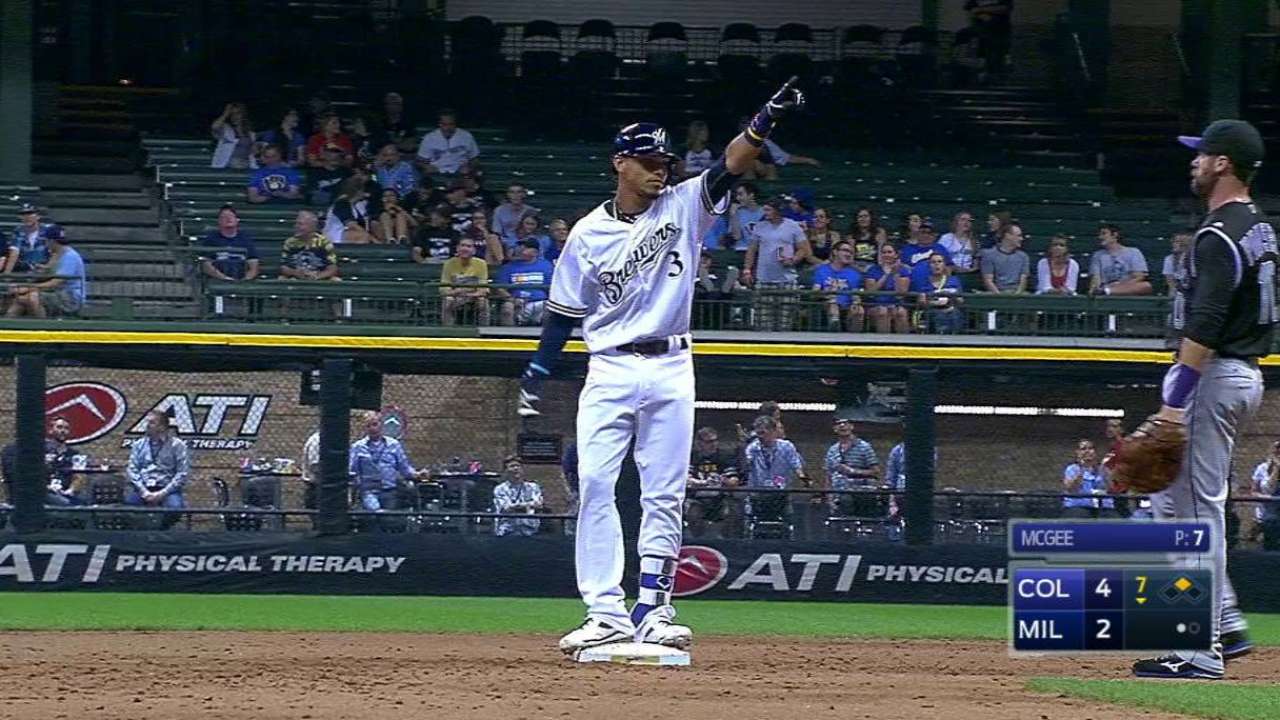 MILWAUKEE -- Orlando Arcia and Domingo Santana began Tuesday on the bench but ended the night with notable entries in the box score of the Brewers' 6-4 win over the Rockies at Miller Park.
Arcia's pinch-hit double sparked a go-ahead, three-run rally in the seventh inning, and Santana's sacrifice fly in the eighth provided a critical insurance run as the Brewers won for the third straight day. It was an especially rewarding outcome for Arcia, whose 2-for-34 funk over his previous 10 games produced his first outward signs of frustration, and led to a spot on the bench Tuesday as club officials warned against judging a prospect with fewer than 80 Major League plate appearances.
Arcia was 0-for-4 with two strikeouts in Monday's win over the Rockies, flinging his bat and helmet to the turf after chasing a slider to cap an eight-pitch strikeout with the bases loaded to end the fifth. The 22-year-old finished the night with a .143/.221/.186 in his first 70 at-bats.
"Clearly he's had his struggles at the plate," Brewers general manager David Stearns said. "Some of that, we anticipated. Making the adjustment to the big leagues is tough, and when you get off to a tough start, it can steamroll on you a little bit. … I imagine you can go back and look at a lot of really good players' first 90 or 100 plate appearances in the big leagues, and they have struggled.
"He's a really talented player. He's going to be a good offensive player. He's scuffling at this point, and that's OK. He'll learn from it, he'll get better, he'll fight through it. There's nothing wrong with fighting through adversity."
Was Arcia's helmet fling a red flag of any kind?
"That's not the reason [he was out of the lineup], no," manager Craig Counsell said. "I know he's frustrated. I would spike my helmet, too. I've done that before. Guys do that. That was a big spot, bases loaded. He battled in the at-bat, got back in it ... It's a frustrating at-bat. He's doing fine. He's a young player trying to get hits."
Said Stearns: "It doesn't worry me. Guys are allowed to get frustrated. I think as guys get older they do a better job of outwardly controlling their frustrations and maybe waiting to get out of camera view before they display them."
Also missing from Tuesday's starting lineup was Santana, his second straight absence after starting two of three games over the weekend in Seattle in his return from the disabled list.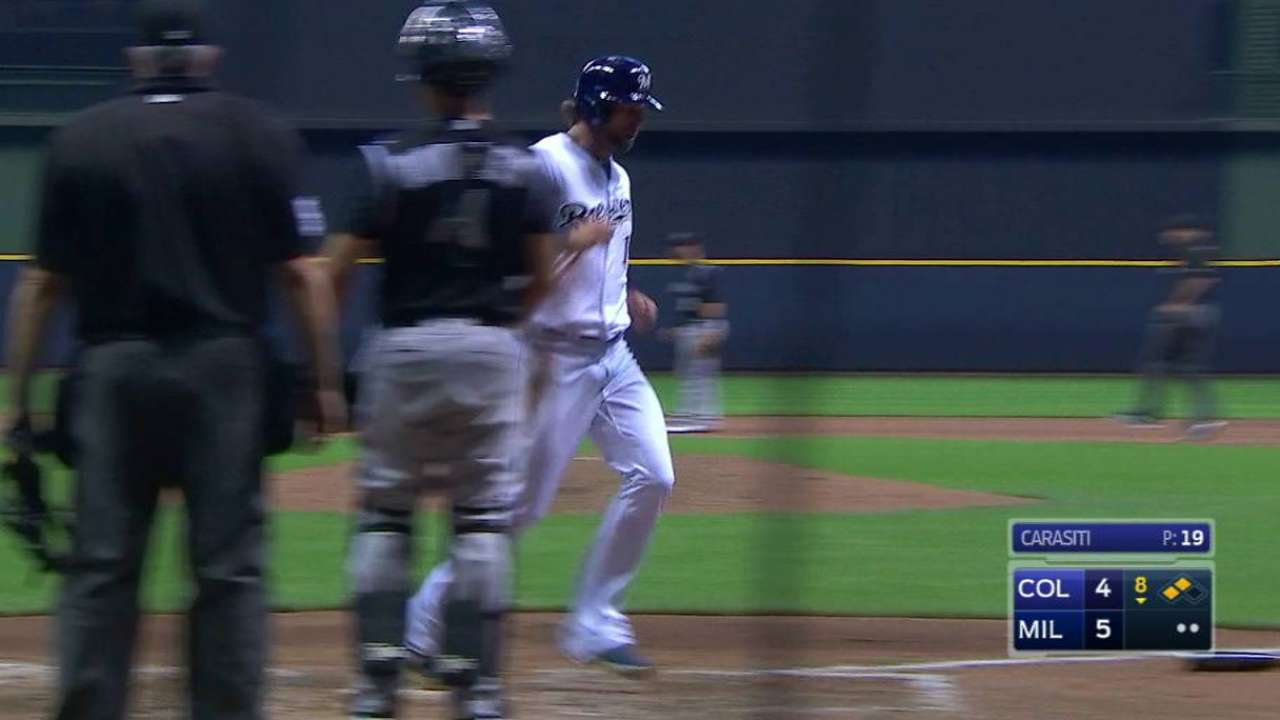 Santana, who'd missed time with a right elbow injury, is healthy. He is also 24 years old and was one of the prospects acquired in last summer's Carlos Gomez trade. He will finish the season with less than two years of Major League service. Tuesday's starting right fielder was 29-year-old Kirk Nieuwenhuis, who will be arbitration-eligible at season's end.
"We're at a spot now where we have some depth and we have some options, which is great. I like that," Counsell said. "I think coming back off the DL, I wasn't going to play [Santana] every single day, because we want to ease him in a little bit, but we have some competition for some spots right now and some options. That's great. That's a good thing. That's how it's going to be for the rest of the year. …
"[Santana] is going to play. I don't know if I can tell you how much. I don't know how much. We're going to put lineups out to win games. I know that much. That's the No. 1 objective, certainly."
For those wondering whether the Brewers were playing Nieuwenhuis with the intent to trade him before Aug. 31, the deadline for a player to be in an organization to be eligible for its postseason roster, Stearns indicated it was quiet on the trade front.
"That can change, but at this point I wouldn't anticipate anything," Stearns said.
Adam McCalvy has covered the Brewers for MLB.com since 2001. Follow him on Twitter @AdamMcCalvy, like him on Facebook and listen to his podcast. This story was not subject to the approval of Major League Baseball or its clubs.