Royals' bullpen spotless in setting club mark
Strahm, Soria, Herrera stretch scoreless relief streak to 32 innings
MIAMI -- It was a record-setting night for the Royals' bullpen as three relievers combined to close out a 1-0 win over the Marlins on Tuesday night in the series opener at Marlins Park.
Matt Strahm, Joakim Soria and Kelvin Herrera mowed down the Marlins in succession in the final three innings after starter Yordano Ventura went six stellar frames for his ninth straight start of yielding three runs or fewer. In doing so, the bullpen set a club record for consecutive scoreless relief innings at 32, surpassing the previous mark of 29 2/3 in 1969.
The streaking Royals have won nine straight games for the first time since June 7-18, 2014, and are 16-5 overall this month. The bullpen has played a huge role in the recent surge.
Over those 32 consecutive scoreless innings, the bullpen has given up just seven hits. Opponents are batting just .071 (7-for-99) against the American League's best 'pen.
Herrera worked a perfect ninth to pick up his eighth save. The Royals are 6-for-6 in save opportunities since Aug. 6.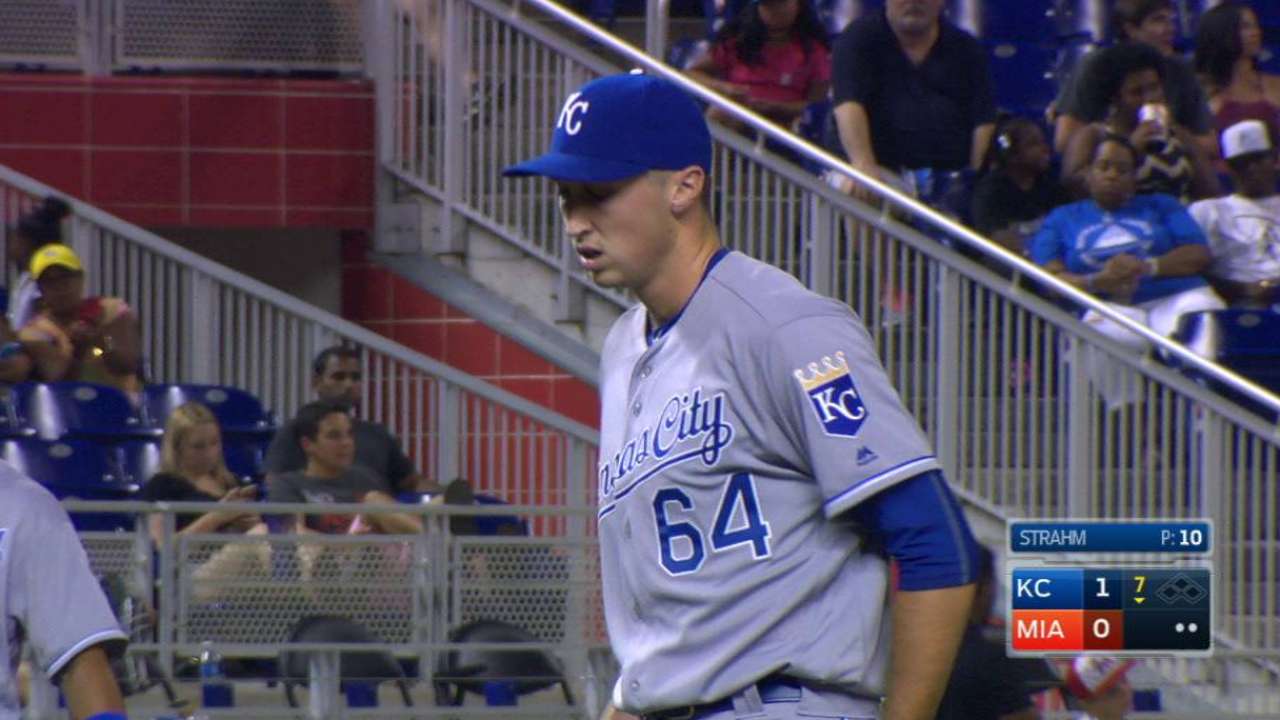 "Strahm, Soria and Herrera; boom, boom, boom," manager Ned Yost said. "We have to make sure that we're careful with Strahm, so we've got to mix and match. But on days when he's available, he's sure a nice option."
Soria has made nine straight scoreless appearances since Aug. 4. He hasn't allowed a hit since Aug. 10. Only two of the last 16 batters he's faced have reached base (error and a walk).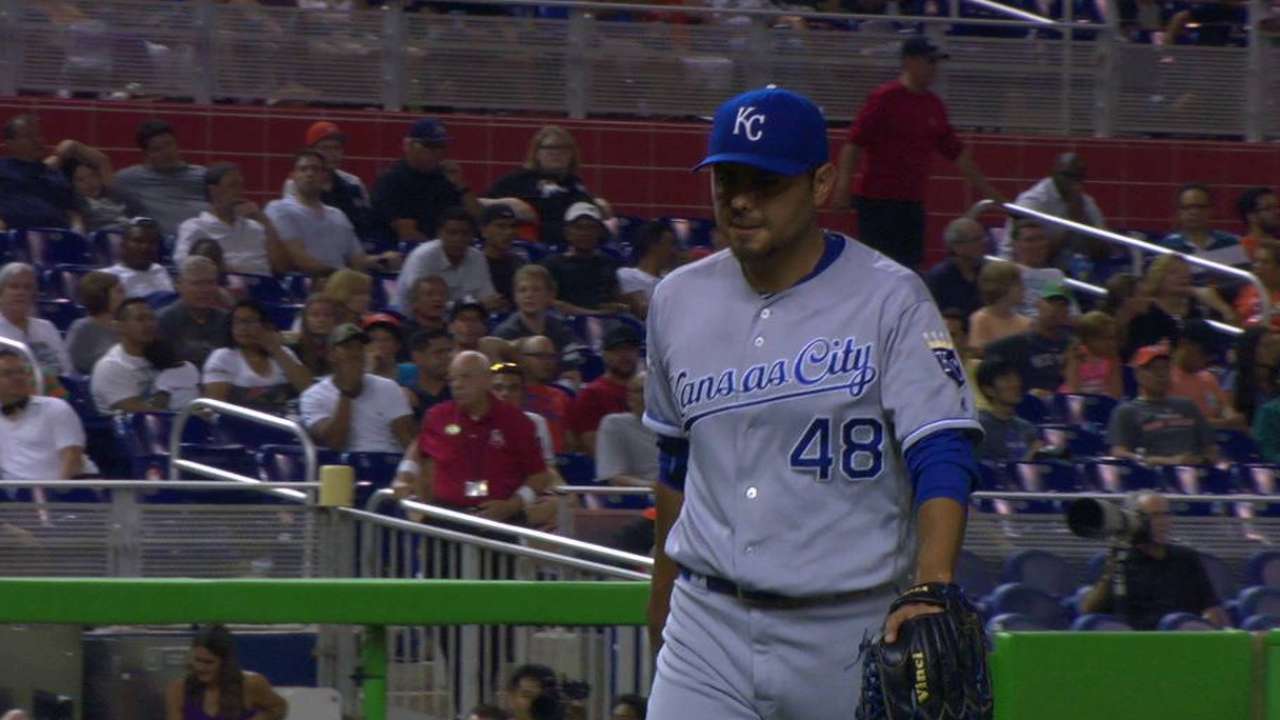 It was a stellar finish to what Ventura (9-9, 4.27 ERA) began. In his first career start against the Marlins, Ventura scattered six hits while striking out six and walking only one.
Ventura was consistently clocked in the upper-90s with his fastball -- even hitting 101 mph early on.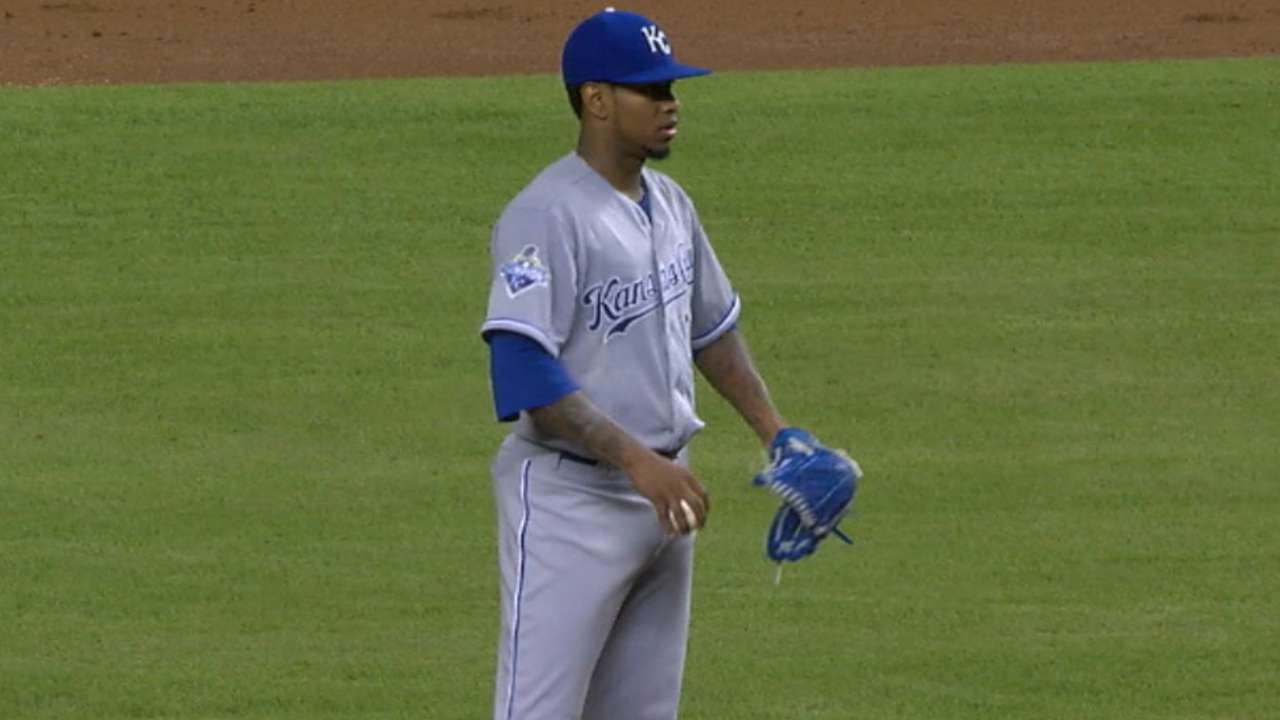 "I actually didn't feel that good in the bullpen [pregame]," Ventura said through interpreter Pedro Grifol. "But I did have a good feel for my breaking ball and my command. And all I wanted to do was just go out there and execute pitches.
"You've got to give a lot of credit to the bullpen, these guys continue to do their job."
Glenn Sattell is a contributor to MLB.com based in Miami. This story was not subject to the approval of Major League Baseball or its clubs.