Two-seamer has become Taillon's primary pitch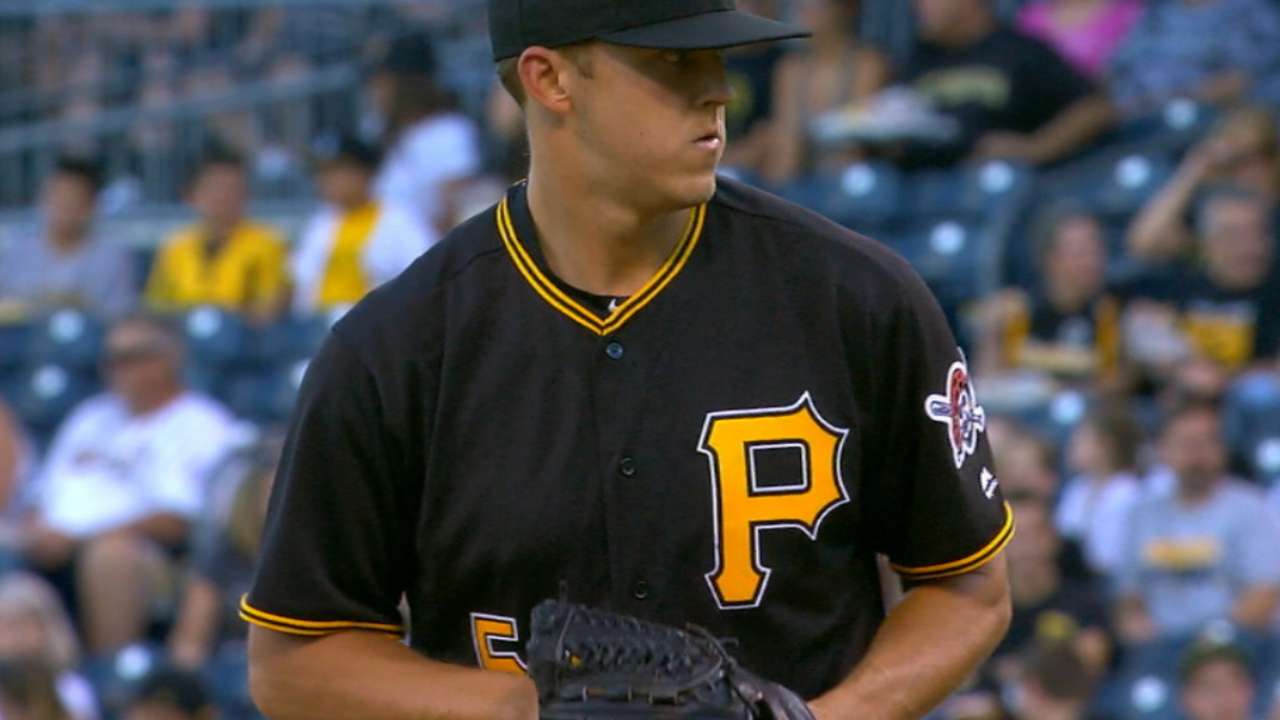 PITTSBURGH -- Jameson Taillon spent more than a year refining his mechanics, preparing himself to effortlessly pitch down in the zone. A little more than a week before his Major League debut, the Pirates made one more tweak to help turn Taillon into a ground-ball machine.
Before his second-to-last start in Triple-A, Taillon met with pitching coach Stan Kyles, pitching coordinator Scott Mitchell and assistant GM Kyle Stark to talk about his pitch selection. Primarily a four-seam fastball pitcher, Taillon always threw a two-seamer as a situational pitch, a weapon to be deployed in specific situations.
But the Pirates' pitching brain trust presented Taillon with the data. Hitters were missing his two-seamer more often; when they did make contact, they were more likely to hit a ground ball. The pitch made him more efficient.
"So they were like, 'Why don't you try it out and see how it works?'" Taillon said Monday night. "I kind of just ran with it."
Twelve starts into his promising Major League career, Taillon has made the two-seamer his primary pitch. He's thrown it 35.4 percent of the time, according to PITCHf/x data, compared to 27.87 percent for four-seamers. He threw 99 pitches Monday night, and 58 of them were two-seamers.
"Whenever it was down, it was really good. When I left it up, it wasn't as sharp," Taillon said. "That's pitching right there."
The sinking fastball has helped Taillon produce a team-high 54.9 percent ground-ball rate while averaging more than six innings per start. He threw eight strong innings in Monday night's 3-1 loss to the Astros, the third time in 12 starts he's completed eight innings.
Earlier this season, Taillon referred to the two-seamer as an "aggressive pitch," but he's commanded it well -- in part because he's not worried about doing so.
"I have pretty good command of my four-seam, so I really do try to treat my two-seam like that, not trying to manipulate it and make it do a crazy amount of movement," Taillon said. "I just kind of grip it and rip it, let it do what it does. If anything, I have a little better command of it because I'm not trying to be too fine with it."
Rehab report
Top prospect Tyler Glasnow made his second start for Double-A Altoona on Monday night, throwing 57 pitches (30 strikes) over three scoreless innings. Glasnow struck out six and walked three, including two in the first inning, while allowing two hits.
Relaying Altoona pitching coach Justin Meccage's report, Pirates manager Clint Hurdle said Glasnow, on the 15-day disabled list due to right shoulder discomfort, came out of the start healthy.
"As the outing went on, I think his command improved," Hurdle said.
Pirates catcher Chris Stewart, on the DL with a sore left knee, caught Glasnow's outing and played all nine innings, his sixth game for Altoona. Stewart has gone 2-for-14 with five walks during his rehab assignment.
Adam Berry has covered the Pirates for MLB.com since 2015. Follow him on Twitter at @adamdberry. This story was not subject to the approval of Major League Baseball or its clubs.