MLB.com Columnist
Phil Rogers
Heyward's defense has made Cubs even stronger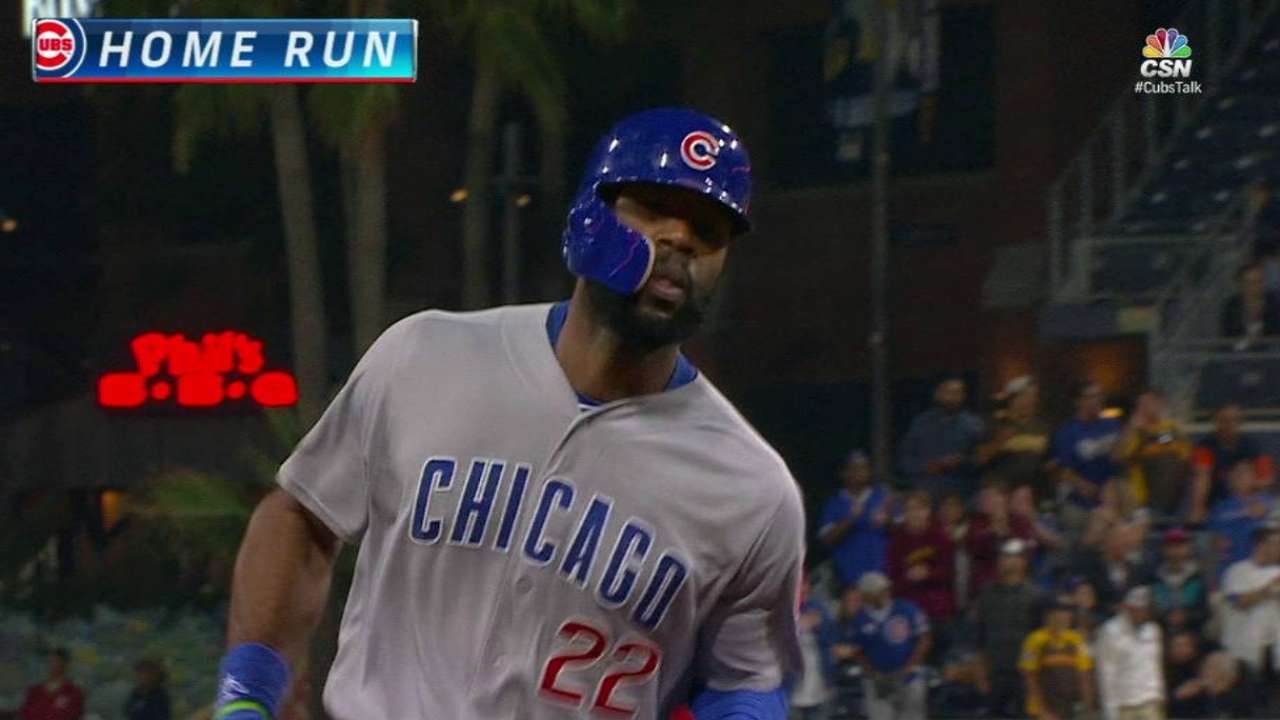 Jason Heyward's first season with the Cubs has been a challenge, as his batting average shows. But don't label it a disappointment before it's over.
While Heyward is hitting .225 with only six home runs, his play in right field has contributed greatly to the Cubs being the best defensive team in the Major Leagues, as measured by Baseball Prospectus' defensive efficiency rankings. His avoidance of pouting and other forms of self-indulgence in the clubhouse has kept the air clean, not polluted, for a team that is on pace to win 103 games.
And who knows? Maybe the four-game break Heyward received from manager Joe Maddon over the weekend will help him hit like the guy he was for six seasons in Atlanta and St. Louis -- a .268 hitter who gets on base 35 percent of the time and moves the needle with a .431 slugging percentage.
Heyward's at-bat in the fifth inning against the Padres' Edwin Jackson on Monday suggests he may have found something with his timing, if not his confidence. He lined the 1-1 pitch foul by inches down the right-field line and then followed with a two-run homer to right two pitches later.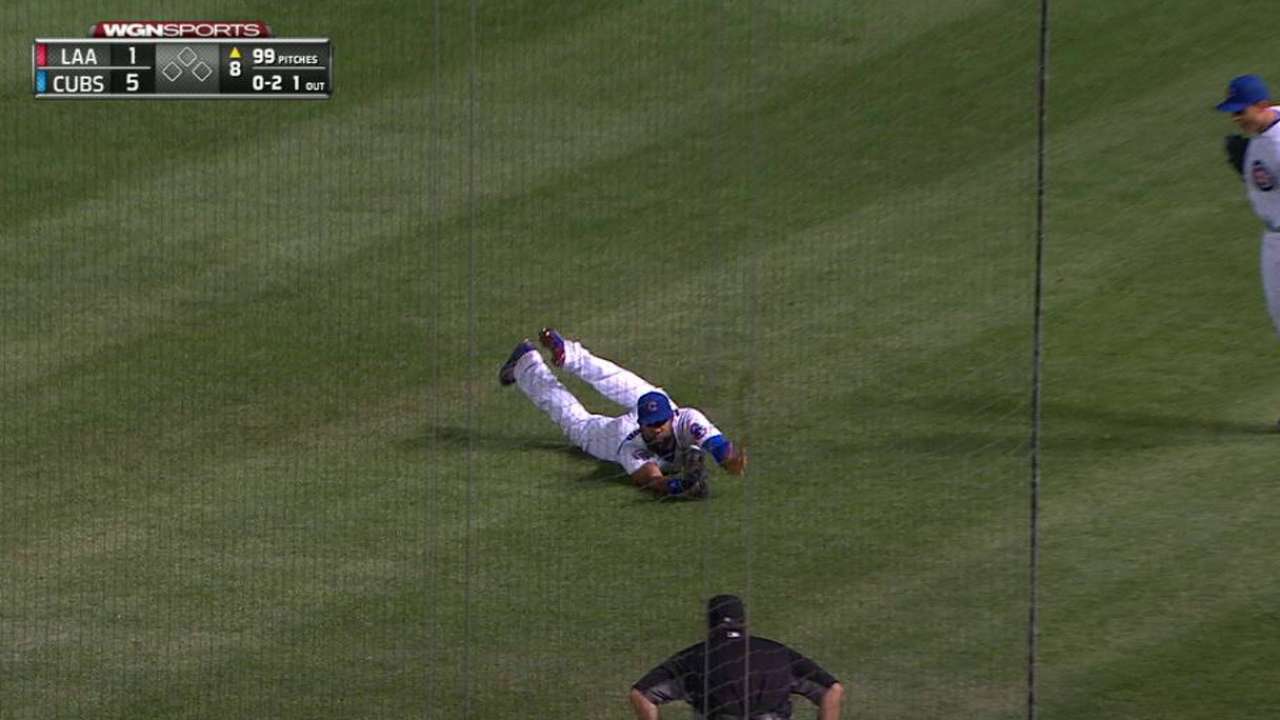 Watching Heyward's teammates react on the bench, it was clear how much respect they have for him.
"He's going to be there for us at the end, man,'' Maddon said Tuesday on his weekly show on WSCR-AM. "He's a winner. I've said that a hundred times. This guy is a winner. I believe in him. I trust him. I trust him on the baseball field. The hits are going to start coming.''
Heyward had his batting average up to .247 on July 9, but he went into a 2-for-32 slump that contributed to him hitting only .217 in July. He's been even worse (.192) so far in August, which is why he declared he's no longer worried about his stats. Heyward says all he cares about is doing whatever he can to help his teammates "and if we get a [win].''
Heyward's eight-year, $184 million contract has been criticized in some circles since last December, when he turned down the Cardinals and Nationals to sign with the Cubs. It was the kind of deal that usually goes to run-producers and the powerfully built Heyward averaged only 55 RBIs in his first six seasons.
But Cubs president of baseball operations Theo Epstein wasn't looking for a thumper when he signed Heyward -- a move he had actually targeted a year earlier when he was pursuing Jon Lester.
A part of Epstein's recruiting pitch to Lester was that in future seasons he planned to bring in as many well-rounded, complete ballplayers as possible. Heyward epitomizes that model, and his play in the outfield has helped Lester and the Cubs' rotation compile a 2.88 ERA, the best in the Major Leagues.
According to FanGraphs, Heyward has been worth 14 Defensive Runs Saved this season, second only to the Pirates' Starling Marte (+15) among National League outfielders. He joins center fielder Dexter Fowler and a cast of left fielders (the best of whom is Kris Bryant) to give the Cubs an outfield that can go get balls like the best in the game, including the Pirates' Marte, Andrew McCutchen and Gregory Polanco.
While Epstein allowed himself to daydream about Heyward developing mid-career power like former Red Sox icon Dwight Evans, it was Heyward's defense he was most counting on when he signed him. He also loved that Heyward, at 27, was the same age as first baseman Anthony Rizzo and not much older than the Cubs' young core, feeling he'd fit right in.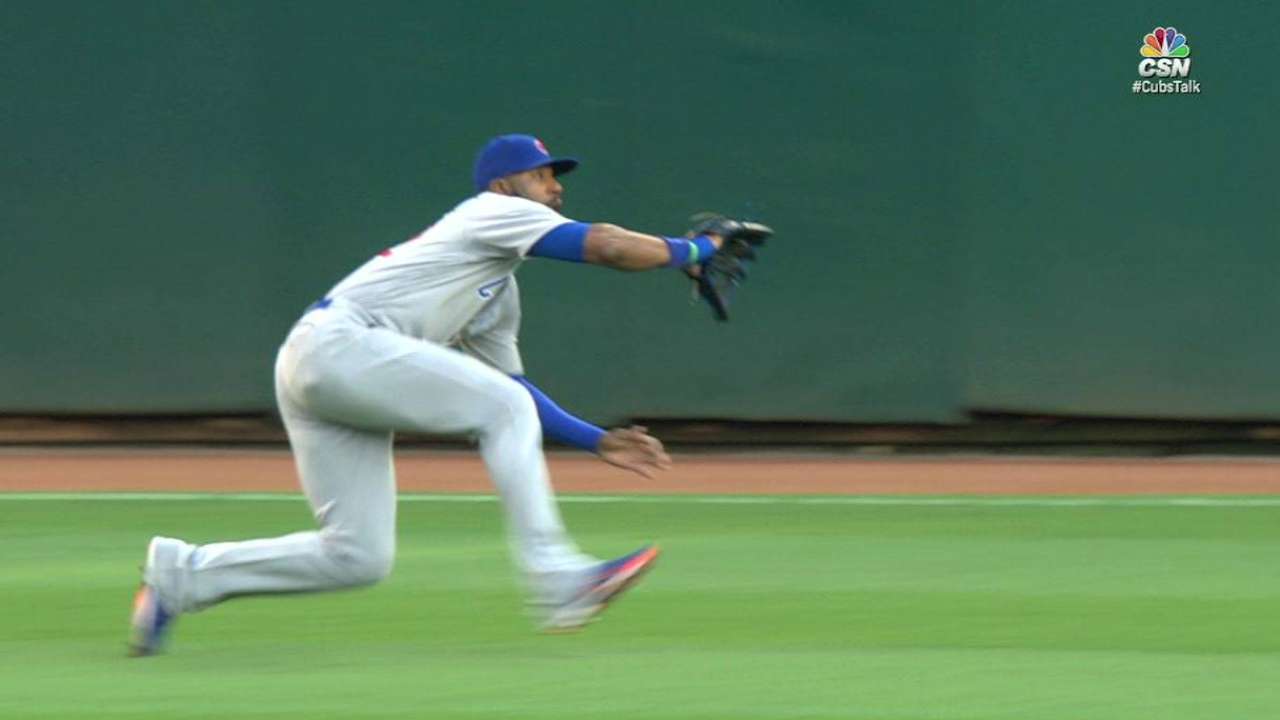 Epstein always felt Heyward would be a solid investment without developing the power he flashed in 2012, when he hit 27 home runs, because he'd win games other ways. That's what happened even though Heyward has seemingly hit rock bottom as a hitter.
The Cubs are paying Heyward $15 million this season (but his salary jumps to $21.5 million next year). FanGraphs' value calculator says his play this season has been worth $10.2 million in salary, putting him in the same range as Hanley Ramirez, Yadier Molina, Maikel Franco and Jacoby Ellsbury.
Last season, when Heyward hit .293 with 13 home runs and a .797 OPS for the Cardinals, FanGraphs ranked him 11th in the Majors in WAR (6.0) and concluded he contributed enough to justify a salary of $48.4 million.
Of course, Heyward can't be worth anything sitting on the bench, and that's the concern for Epstein, general manager Jed Hoyer and Maddon as October approaches. They've got options, but they don't want to use them.
They want Heyward to finish fast so they can keep him on the field. He'll be worth every penny of his contract if he makes a running catch or scores from first to help them win the World Series.
Phil Rogers is a national columnist for MLB.com. This story was not subject to the approval of Major League Baseball or its clubs.