Gomez expected to join Rangers on Thursday
Outfielder's arrival likely to cause DeShields-Mazara platoon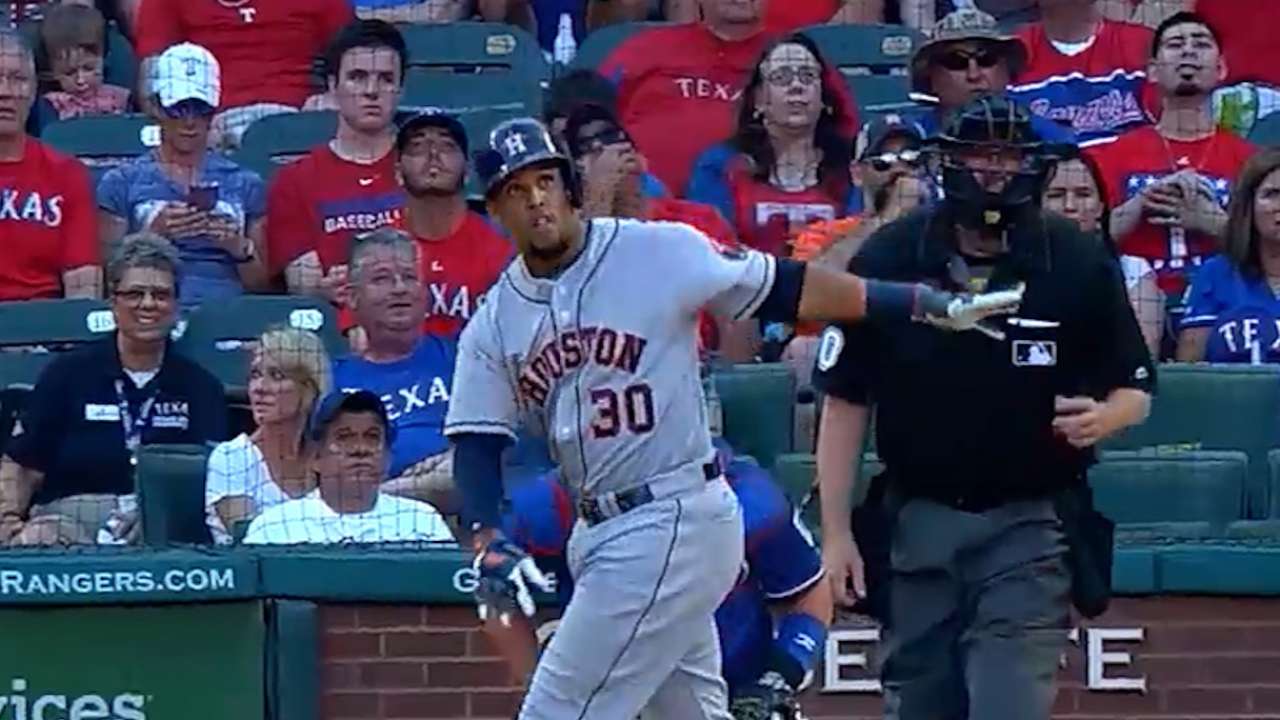 CINCINNATI -- Outfielder Carlos Gomez went 4-for-13 with a double and a triple in three games with Triple-A Round Rock, and will likely join the Rangers on Thursday in Arlington.
Gomez, who was released by the Astros earlier this month and signed by the Rangers, played Tuesday night in what is expected to be his final game for Round Rock and went 0-for-4 with two strikeouts. Gomez batted leadoff and played both left and right field on Tuesday.
"Three solid days of at-bats and a travel day, possibly be ready," manager Jeff Banister said. "We'll take all indications, how he looks, how he feels, how his legs are."
Banister said the initial reports have been good since Gomez was signed to a Minor League contract on Saturday night and played his first game with Round Rock.
"The first night, he was a little rusty, two strikeouts early and later found his rhythm," Banister said. "[Monday] night he really drove the baseball. Last night the at-bats were a lot calmer, he's staying on the baseball and using his hands. Playing the outfield is fine. Very positive."
Gomez's arrival will have ripples:
• Gomez will likely play every day, which means Delino DeShields and Nomar Mazara are headed for a platoon. DeShields would play against left-handers and Mazara against right-handers.
"Mazara versus right-handers has been a good player for us, and DeShields against left-handers has been a good player for us," Banister said.
• DeShields will still play left field and Mazara will stay in right. Gomez will likely play both positions for the Rangers, depending on who else is in the lineup.
"I've got to believe he can play all three outfield positions," Banister said.
• DeShields will still bat leadoff against left-handers, but the Rangers will need a leadoff hitter for right-handers. Ian Desmond batted leadoff on Tuesday against the Reds for the second time this season, and he could fill that role down the stretch. Jurickson Profar had been filling that role while playing left, but he is back to being a utility player.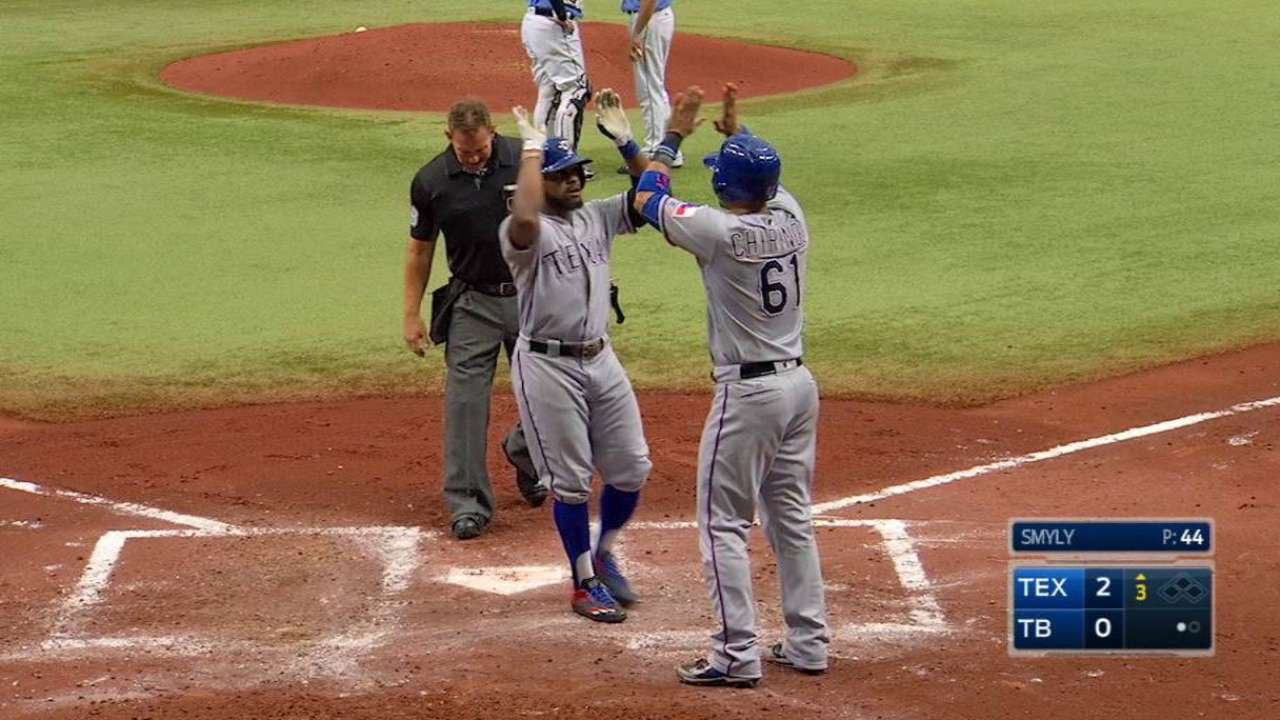 • The Rangers will have to bump somebody from the Major League roster, and it's down to Drew Stubbs and Ryan Rua. Stubbs has been used mainly as a pinch-runner and defensive replacement, which may be a luxury the Rangers can no longer fit on their roster. Rua gives the Rangers a right-handed-hitting alternative to Mitch Moreland at first base. The one caveat is Rua has options, while Stubbs has to go through outright waivers.
Rangers beat
• Rangers third base coach Tony Beasley underwent surgery on Monday in Houston to clean up the remaining tumor in his rectum. Beasley has been dealing with rectal cancer since the beginning of Spring Training and has been undergoing chemotherapy and radiation all season.
The hope is this surgery will be the final procedure needed to finish the job.
"Everything went well," Banister said. "That through the healing process … the quality of life, everything will be good."
• Colby Lewis, who is on the disabled list because of a torn muscle in the back of his right shoulder, is scheduled to throw three innings and approximately 45 pitches for Double-A Frisco on Wednesday against San Antonio. It's the first of at least two rehab starts for Lewis, who hasn't pitched for the Rangers since June 21. He may throw additional 15-20 pitches in the bullpen after the outing.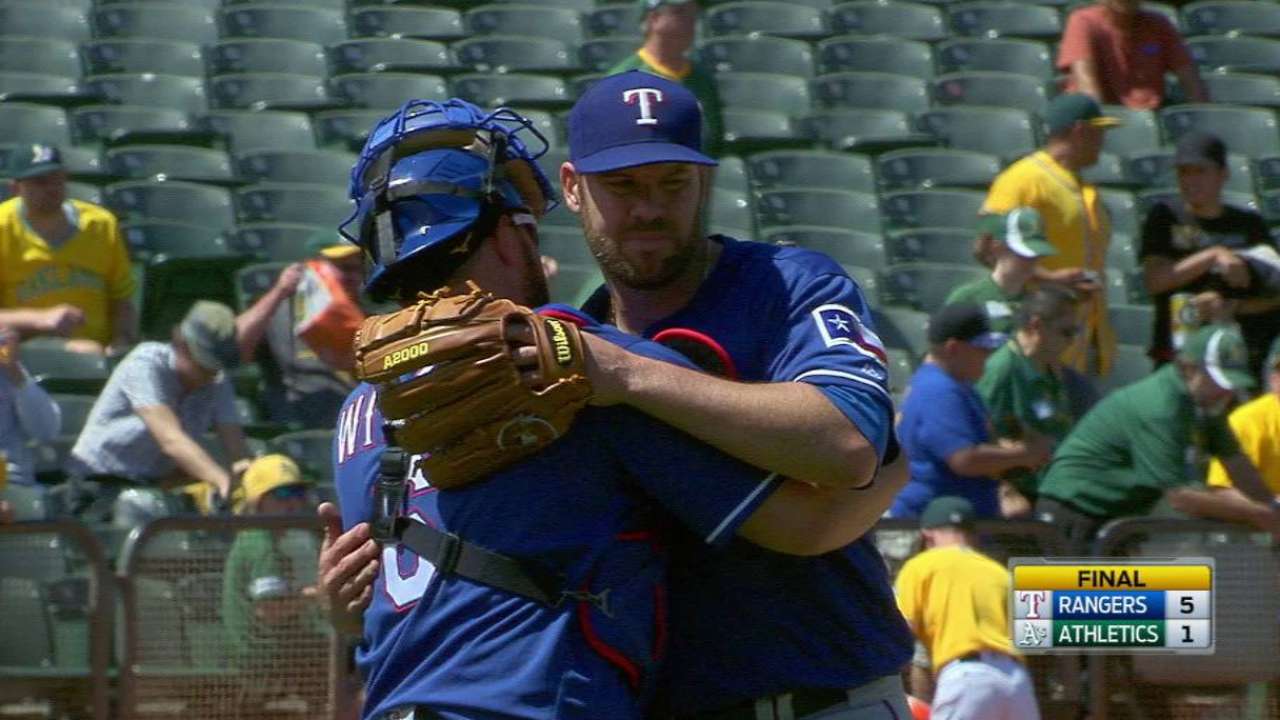 • DeShields spent Monday's off-day in Louisville, where his dad works as the Reds' Triple-A manager. DeShields watched Louisville lose to Toledo, but it was significant in that it's the first time he was able watch his dad manage a Minor League game. Delino DeShields, a former Major League second baseman, has been managing in the Reds' system for six years.
"It was great to see Pops manage for the first time," DeShields said. "I don't get to see him that often after Spring Training. I didn't realize [Louisville] was that close [to Cincinnati] until we got here. I saw they were playing at home and no way I wasn't going down there."
• The Rangers also recalled pitcher Shawn Tolleson from Triple-A Round Rock and placed him on the 60-day disabled list. He is currently sidelined with a strained lower back. Tolleson was optioned to Round Rock on July 29 and placed on the disabled list on Aug. 12. Tolleson had back surgery in 2013, while with the Dodgers. The Rangers don't expect Tolleson to have surgery, but the injury is severe enough to keep him from pitching for an extended period of time.
T.R. Sullivan has covered the Rangers since 1989, and for MLB.com since 2006. Follow him on Twitter @Sullivan_Ranger and listen to his podcast. This story was not subject to the approval of Major League Baseball or its clubs.