Pennington reminisces on Blue Jays career
Angels infielder recalls thrill of 2015 pennant race in return to Toronto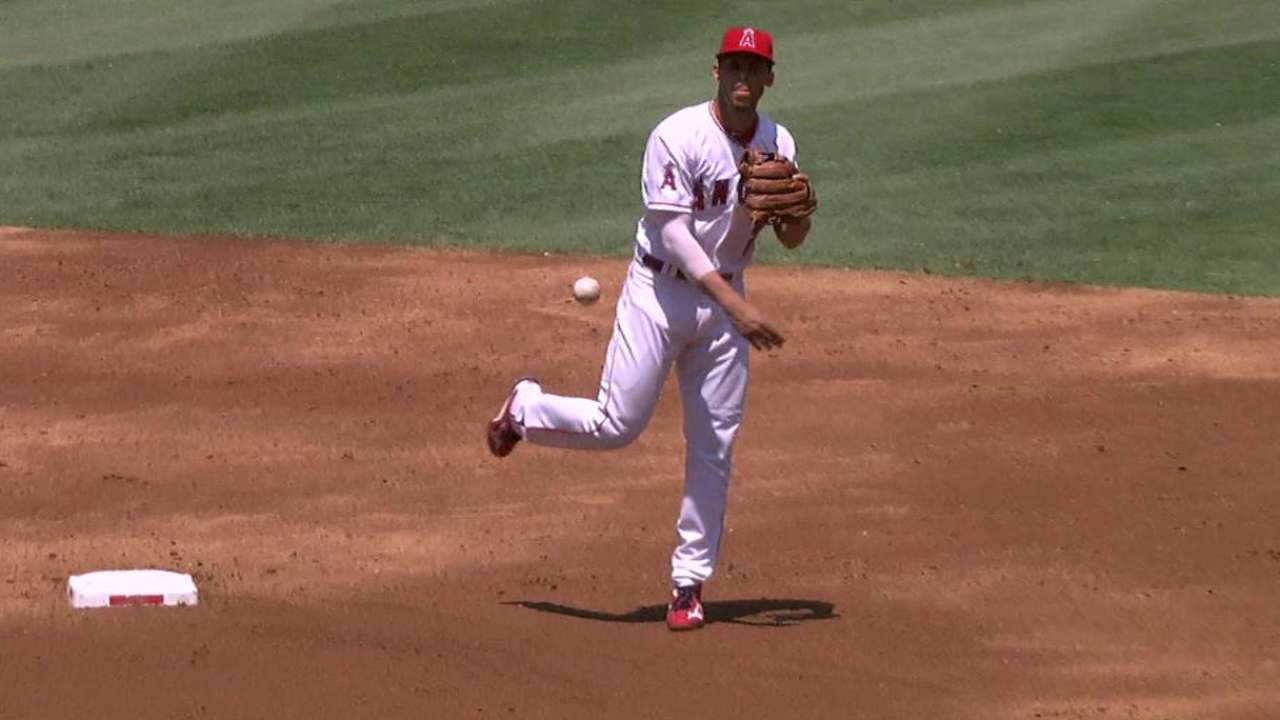 TORONTO -- Cliff Pennington may have been a Blue Jay for parts of just three months, but the experience left him with a lifetime of memories.
The Angels' infielder was back at the Rogers Centre for the first time as a member of the opposition since signing a two-year deal with Los Angeles last November.
The 32-year-old appeared in 33 games with the Blue Jays over the final two months of the 2015 regular season, hitting .160 with three doubles, two home runs and 11 RBIs.
Despite the short stay, winning the American League East crown and being a part of the postseason run in Toronto will remain amongst career highlights for the nine-year veteran.
"It was an amazing three months I spent here playing at the Rogers Centre. Those last three months was one of the coolest experiences I've had as a player," Pennington said on Tuesday ahead of a three-game series against the Blue Jays. "It's going to be fun to come back.
"Obviously winning a lot of ballgames, but the atmosphere here in the Rogers Centre was one of the coolest things I've experienced."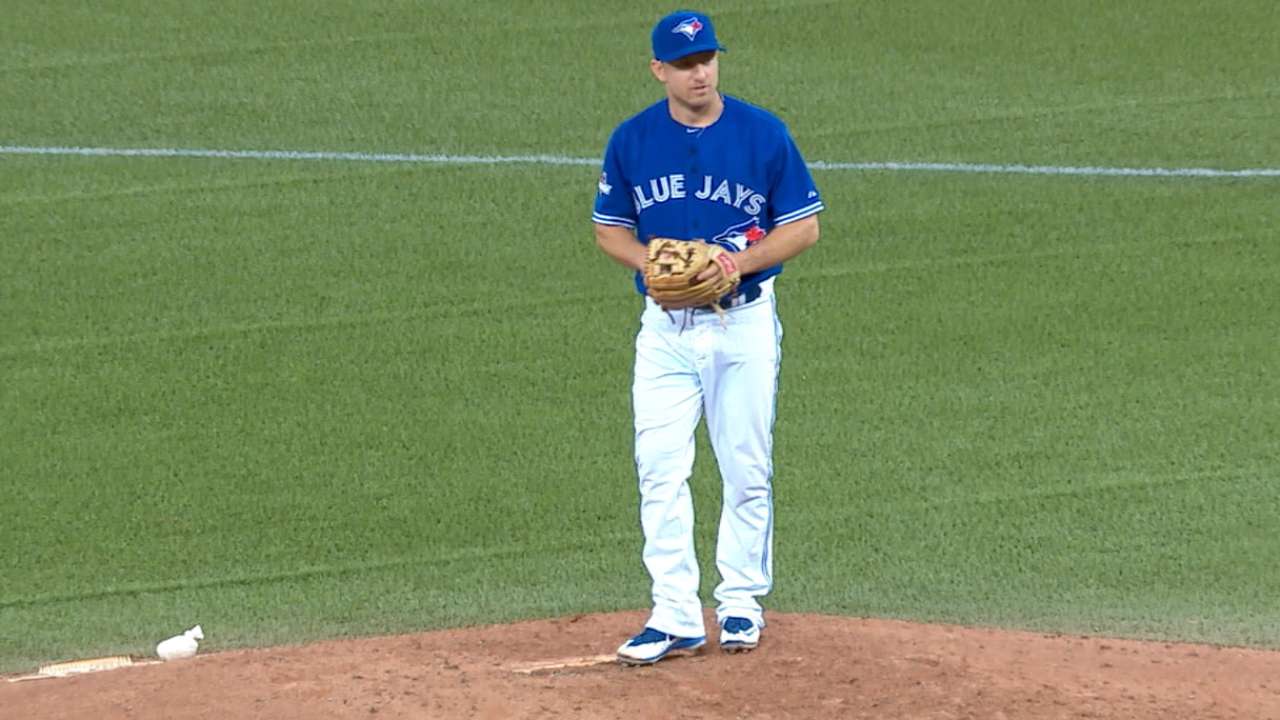 Prior to hitting the cages on Tuesday afternoon, Pennington spent time on the field chatting with former teammates, including Blue Jays infielder Ryan Goins. Pennington's time in Toronto even saw the Texas native enter a game as a reliever, pitching a third of an inning and facing three batters during the ALCS against the Kansas City Royals -- something Goins remembered well.
"It was cool to see him pitch in that playoff game, I mean not really that cool, we were getting our teeth kicked in," Goins recalled. "But he was a great teammate, defender, brought good at-bats to the plate. I can remember a home run he hit against the Yankees at Yankee Stadium that was huge for our team.
"He was great, honestly. With Devon [Travis] going down, we needed somebody else, and he was the guy."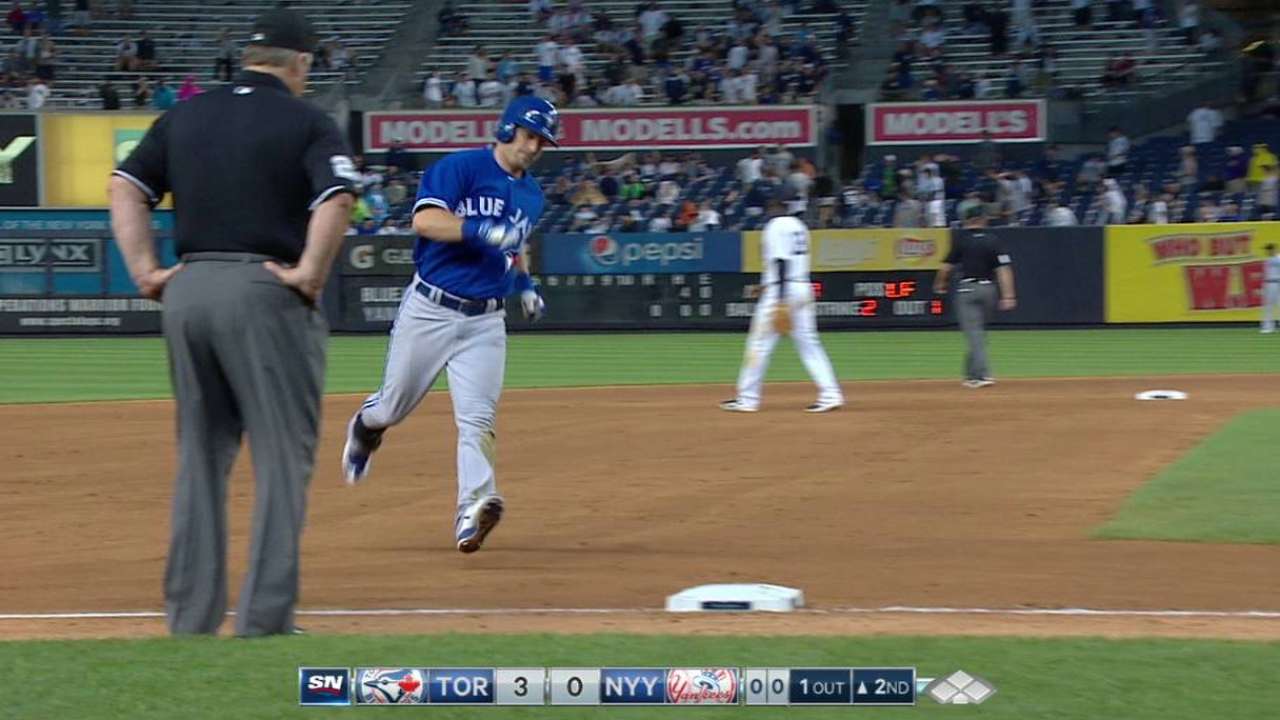 Hamstring injuries have limited Pennington to just 43 games this season, in which the former first-round pick of the Oakland Athletics is hitting .231 with three doubles, three home runs and nine RBIs.
When available, he's been an asset to Mike Scioscia's ballclub.
"When he's in there and healthy, you just see a difference in his ability to play three positions on the infield," said Scioscia. "Actually, he can play the outfield and first base also, and he's given good at-bats. His versatility is important to us, when it wasn't there, we could definitely see a void."
Pennington still keeps in touch with his former teammates including Josh Donaldson and Chris Colabello -- a product of the closeness of the Blue Jays' clubhouse.
"It was [a tight group], confident group and came out and knew they were going to win, knew they were going to hit homers and pound the baseball everyday," he said.
Dhiren Mahiban is a contributor to MLB.com based in Toronto. This story was not subject to the approval of Major League Baseball or its clubs.