May, Boshers, Milone take steps forward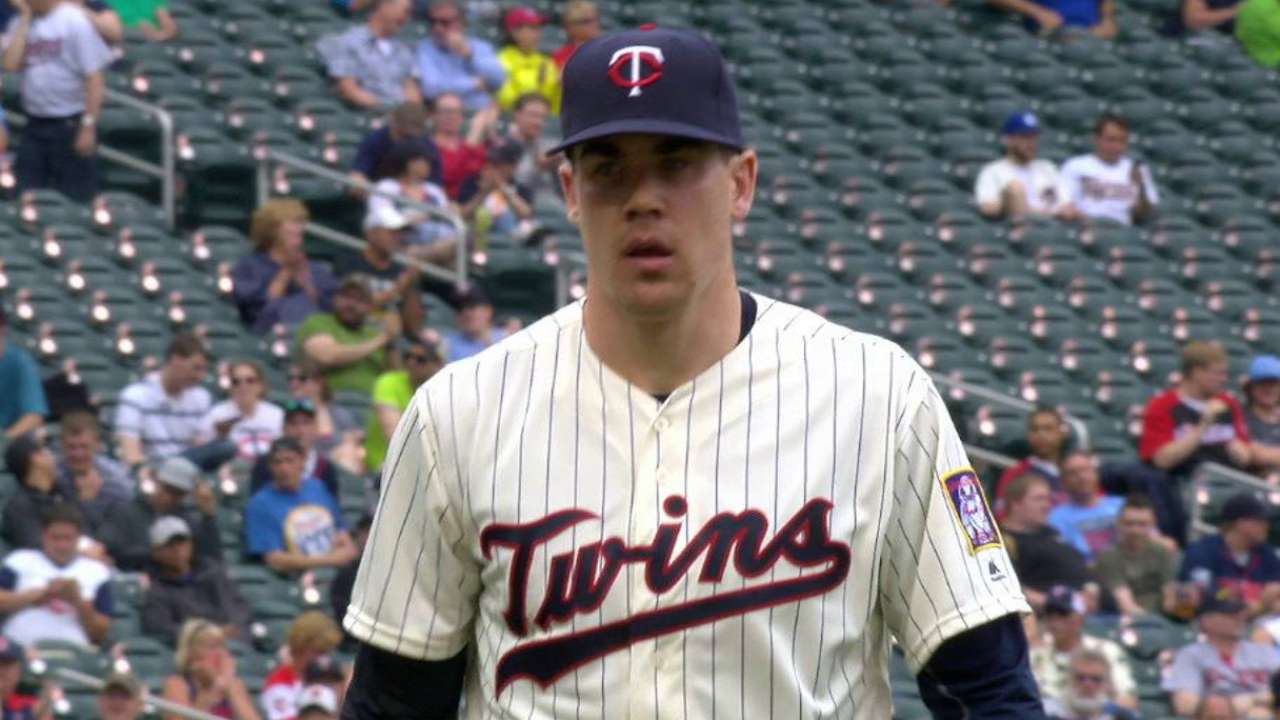 MINNEAPOLIS -- Injured pitchers Trevor May, Buddy Boshers and Tommy Milone all started throwing programs while the Twins were on the road in Atlanta and Kansas City last week.
May, who has been out since Aug. 7 with a strained lower back, played catch at 90 feet on Monday, and he's been pain-free. He hopes to throw off a mound in early September, and said that his goal is to finish the season healthy in the bullpen.
"It went good," May said. "I didn't feel anything. I'm just trying to stick with the mechanical changes. I think the extended rest and taking it slower has helped a lot. I haven't felt anything in more than a week."
May, who visited the Mayo Clinic to undergo testing, including a bone scan that came back negative, said the issue came because he lengthened his stride and threw harder and more often as a reliever. He's been on the DL three times over the last two seasons with back issues, and these occurred after he was moved to the bullpen after coming up as a starter.
But he's worked hard to strengthen the muscles around the problem area in his back, and said that with a shorter stride and better mechanics, he should be able to avoid this problem going forward.
"Judging from what I've heard from several doctors looking at me, the pain is coming from inflammation in the joints in my back," said May, who only felt pain while throwing. "We discovered it's not the cause, it's a symptom. I think going into the bullpen and throwing harder and not knowing how [that] would change my body changed my point of torque from where the energy goes from my lower body to my upper body. It moved it up my back a little bit."
Boshers, on the 15-day disabled list since Aug. 11 with inflammation in his left elbow, is further along than May and is scheduled to throw his first bullpen session on Thursday. He's already been playing catch off flat ground, including long toss on Monday.
"I'm just going to keep going with the rehab program and hopefully get back out there soon," Boshers said. "It's feeling better. I threw long toss yesterday from 120 feet at probably 60 percent. Hopefully, in the next couple days, I'll see more improvement, and a good bullpen will lead to good next week or so."
Milone, on the 15-day DL since Aug. 12 with tendinitis in his left biceps, has also been playing catch without any issues. He could throw a bullpen session by the end of the week. He's expected to return as a reliever.
Rhett Bollinger has covered the Twins for MLB.com since 2011. Read his blog, Bollinger Beat, follow him on Twitter @RhettBollinger and listen to his podcast. This story was not subject to the approval of Major League Baseball or its clubs.