Shoulder injury sending Tillman to disabled list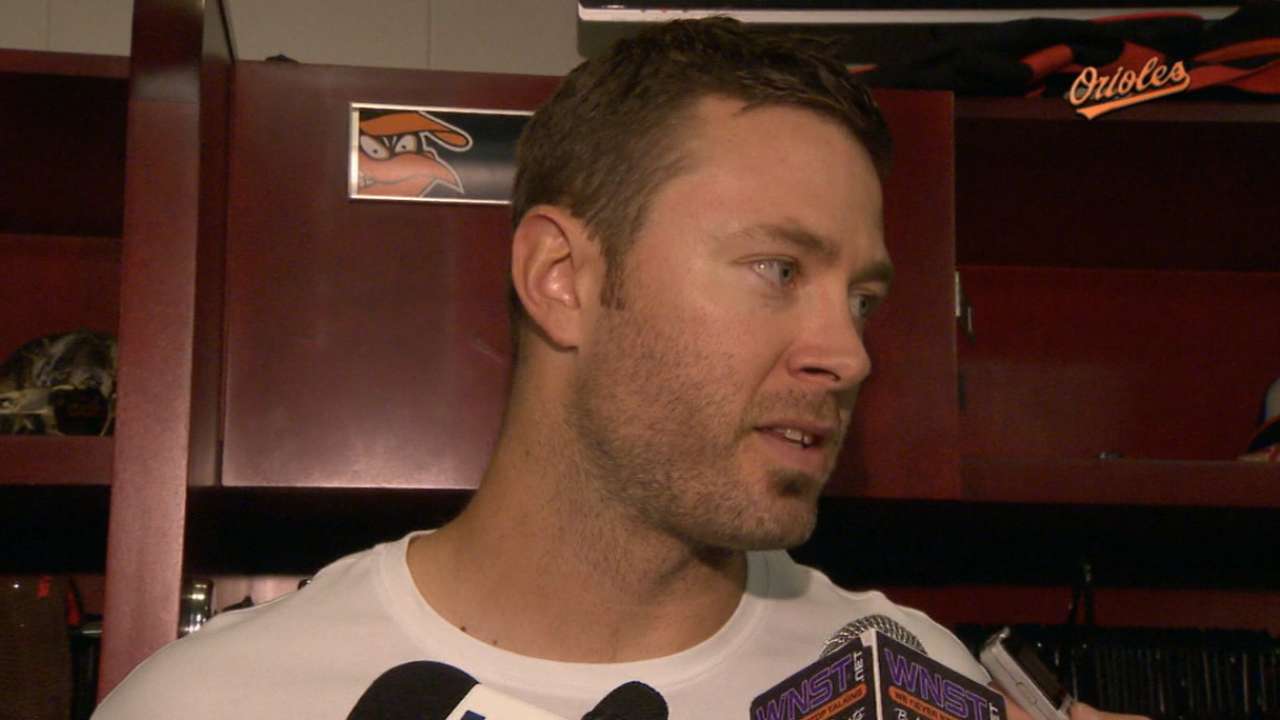 BALTIMORE -- Orioles ace Chris Tillman is headed to the 15-day disabled list with right shoulder inflammation after receiving a cortisone shot Tuesday. Tillman was scheduled to pitch Thursday at Washington, but he felt pain in his shoulder while throwing his bullpen session Tuesday, and he was examined by Dr. Leigh Ann Curl.
"I thought once it got loose it would really go away, but it never really did, and that was my first time actually experiencing it while throwing," Tillman said after the Orioles' 8-1 win over the Nationals. "Last time, I was pretty sore right after my start, but after feeling it today, I'd much rather just get this behind us and get out in front of it so that way we're not worried about it for the rest of the year."
The Orioles announced late Tuesday night that Ubaldo Jimenez would start in Tillman's place on Thursday.
After making a start Aug. 11, Tillman woke up with shoulder pain and had his next start scratched. While he avoided the DL and started Saturday against the Astros, the righty couldn't get an out in the third inning. Tillman matched season highs with five walks and six runs in the two-plus-inning start.
Tillman said his shoulder felt fine after that 12-2 loss, but the pain has come back, this time while throwing. He does think he'll be ready to return when he would be eligible Sept. 5, but the plan is to take it day by day.
"We have three back dates and an off-day, so you're talking about 11 days to try to resolve some of the things he's feeling, hopefully," manager Buck Showalter said. "Of course we felt that way about Darren [O'Day], too. So we'll take it one step at a time."
In the meantime, the Orioles will miss Tillman, who's gone 15-5 with a 3.76 ERA this season. They are 20-6 in games he's pitched, while 49-50 in games started by any other pitcher. The rest of the rotation will need to step up in his absence, as the Orioles are locked in a tight American League East race and AL Wild Card race.
"It's going to be huge, especially this time of year," Kevin Gausman said of losing Tillman. "Every game matters from here on out, especially in a tight race in the East."
Worth nothing
• Showalter said O'Day is making progress from his right rotator cuff strain, but he won't be ready to be activated when he's first eligible to return from the DL on Saturday.
• Lefty T.J. McFarland, who's been on the DL with left knee inflammation since June 30, made his third rehab appearance Monday. He allowed three runs (one earned) in two innings for Double-A Bowie.
"If you cut through the statistical part of it, they were encouraged last night," Showalter said. "I think he's made some strides. I'm not exactly sure what they are going to do with him next."
Ryan Baillargeon is a reporter for MLB.com based in Baltimore. This story was not subject to the approval of Major League Baseball or its clubs.