Marlins place Dietrich on DL with knee bruise
Outfielder Arcia claimed off waivers from Tampa Bay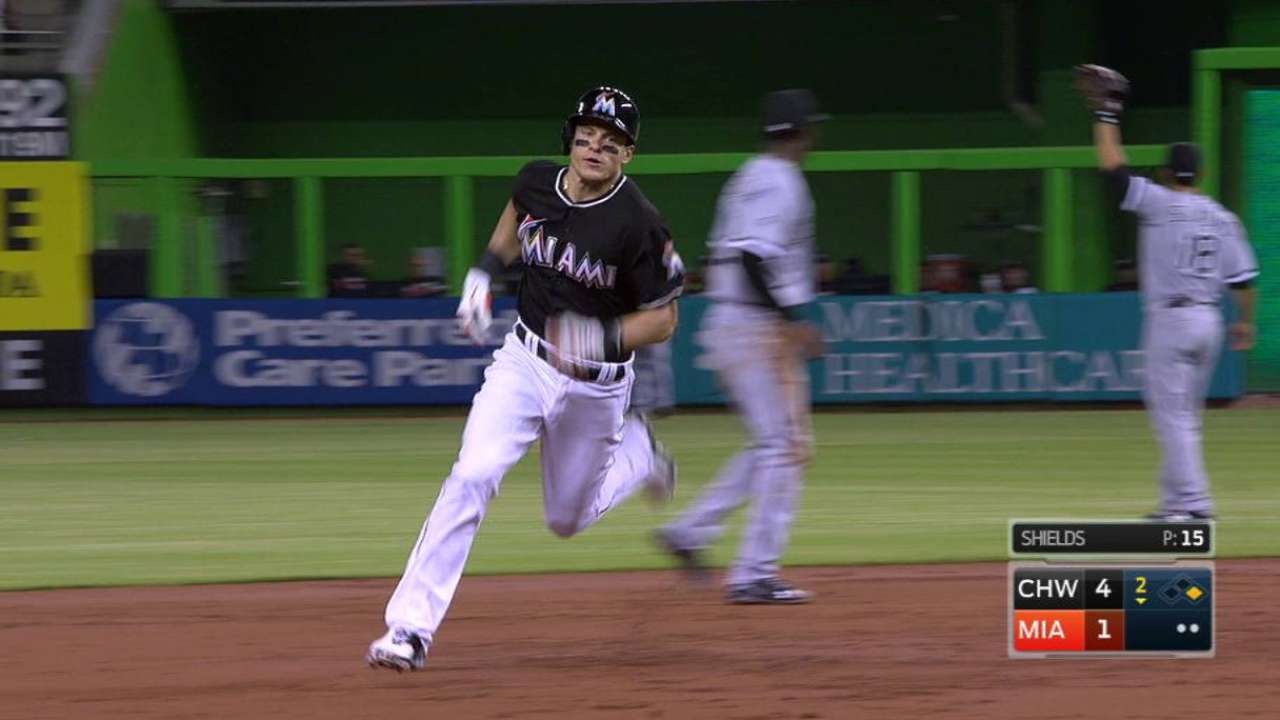 MIAMI -- The Marlins added another name to their growing list of injured players on Tuesday when they placed infielder Derek Dietrich on the 15-day disabled list with a right knee contusion that he sustained during the last road trip.
The club also transferred first baseman Justin Bour (right ankle sprain) to the 60-day DL prior to the start of its three-game series against the Royals at Marlins Park.
Marlins manager Don Mattingly said Dietrich's knee has been bothering him "a bit longer than we wanted" and that after having a discussion with president of baseball operations Michael Hill, the team decided to place Dietrich on the DL, retroactive to Friday.
"He was struggling a little bit, so we just kind of said, 'Let's bite the bullet,' because we know we're going to need him," Mattingly said of Dietrich, who last played on Thursday at Cincinnati.
The Marlins want to be sure Dietrich is 100 percent healthy because he will replace Dee Gordon, who is ineligible for the postseason, should they make the playoffs. Miami entered Tuesday 1 1/2 games out in the National League Wild Card standings.
"Michael and I talked and we kind of thought it was best, talking about our situation as far as getting in the playoffs, and if we get there, [Dietrich is] going to be our second baseman," Mattingly said. "So we got to get this thing healthy, get him right."
Dietrich becomes the sixth player on the Marlins' disabled list, joining Bour, Giancarlo Stanton and three pitchers, Wei-Yin Chen, Adam Conley and Bryan Morris. All of them could potentially be back sometime next month.
"I think every team out there has gone through a number of injuries [this season]," Mattingly said. "You can't leave yourself an excuse. We're going to get some guys back. We've had our share [of injuries] but we're like everybody else."
ARCIA CLAIMED OFF WAIVERS
The Marlins claimed outfielder Oswaldo Arcia off waivers from Tampa Bay on Tuesday. Arcia mostly will be used as a left-handed bat off the bench. He hit .259 with two home runs and seven RBIs for the Rays, who acquired him on June 24 after he was designated for assignment by Minnesota. He recently completed an injury rehab assignment because of a right elbow strain.
Steve Dorsey is a contributor to MLB.com based in Miami. This story was not subject to the approval of Major League Baseball or its clubs.