With goal to pitch in, Friedrich plays soccer
Padres left-hander leans on foot-based sport to warm up for day job
SAN DIEGO -- If only for a few minutes during gameday afternoons, Christian Friedrich has turned various Major League outfields into his own personal soccer fields.
It's not uncommon to see the Padres left-hander chasing after his soccer ball on the outfield grass, four or five hours before first pitch. Sometimes he's alone -- surrounded only by the grounds crew -- kicking his ball 50 yards away and chasing it down. Sometimes, his teammates join in.
Friedrich is happy to share his love of soccer. He's played for as long as he's played baseball. And now he uses it as part of his between-starts conditioning routine.
"It's really just to get the blood going," said Friedrich, who grew up as a central defender in Wilmette, Ill. "Other than running sprints and feeling like a robot, it kind of gets your agility in a little bit. I don't want to say it helps me off the mound, but it can't hurt."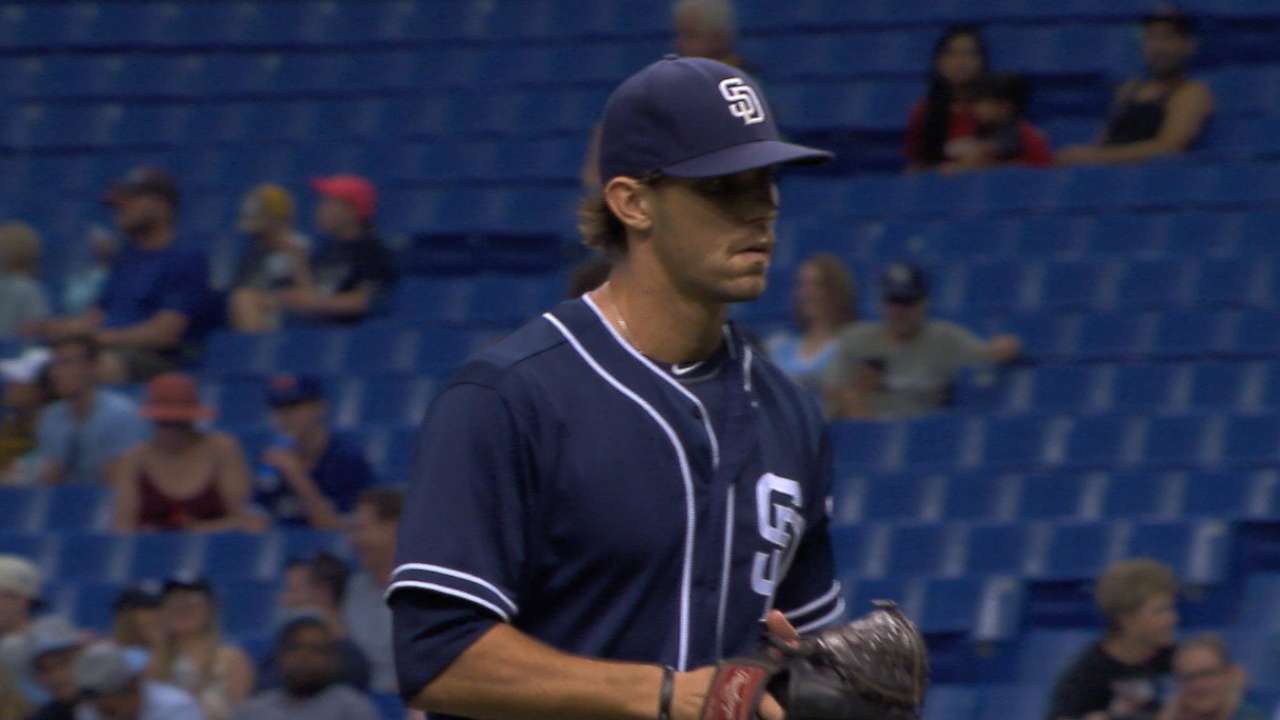 A few days every week, Friedrich runs long distance through downtown San Diego. Seaport Village is his favorite spot. But to break up the monotony -- and to add some agility to his training -- he adds a couple soccer-based workouts into his regimen.
There's nuance to those workouts as well. When Friedrich is finished chasing down soccer balls, he doesn't take a breather. Instead, he'll juggle his soccer ball for as long as he can. To him, it's an exercise in maintaining intense focus while working through fatigue -- a trait required of every starting pitcher.
"It trains you to focus when you're really beat down," Friedrich said. "Obviously, juggling's not very difficult, but it's one of those things where it trains you to focus on what you're doing when you're physically exhausted."
The Padres' clubhouse has embraced Friedrich's love of soccer, mainly because he isn't alone.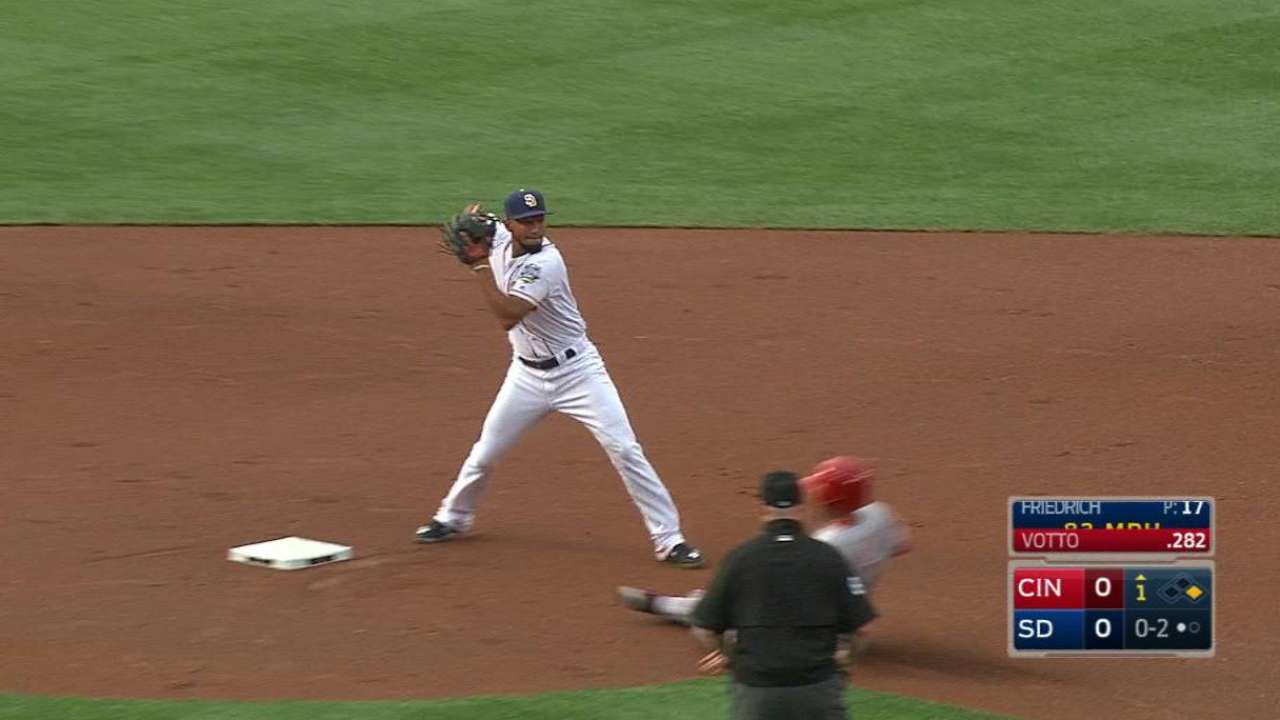 "Every day, growing up, baseball and soccer in the backyard, with my neighbors and friends and cousins," said backup catcher Christian Bethancourt, who joins Friedrich on occasion. "Soccer is something that will always mean something to me. It's fun. I'm at the Major League level in one sport, but I get to stay active and practice the other sport at the same time. You're running, you're getting conditioning, you're getting loose."
Friedrich extends his soccer-based workouts into the offseason as well. He bought a gym membership with the sole purpose of using its basketball courts as a place to juggle.
Of course, this offseason, Friedrich won't be playing for as long as he did last offseason, when he was released by Colorado and didn't sign with San Diego until early March.
Aside from his baseball-related workouts, how did Friedrich kill time in Arizona before he signed? He headed to local parks and kicked the ball around with strangers.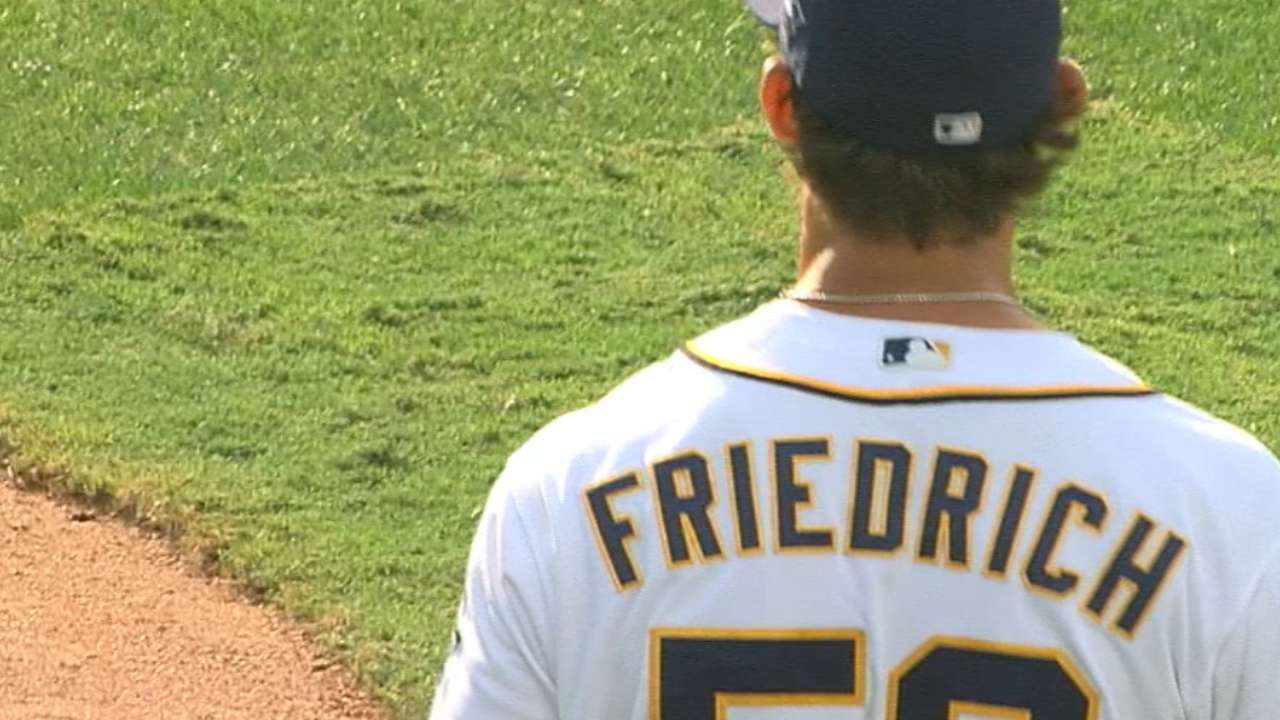 "While I was in Arizona, I was kind of getting bored of not having a team to go to," Friedrich said. "I got there like 2 1/2 weeks before Spring Training started, and ... I was in limbo for probably about a month, so I had a lot of down time."
In touch with his German roots, Friedrich is a fan of the Bundesliga -- Germany's top division. He supports Borussia Dortmund -- in part because Dortmund is halfway between Hanover and Luxembourg, where his ancestors are from.
Friedrich has a customized Germany jersey in his locker, courtesy of former Rockies teammate Adam Ottavino. He also has a pair of soccer cleats, courtesy of current teammate Jon Jay.
Friedrich considers himself privileged to be able to combine one of his favorite hobbies into his profession. And he's able to do that, because ultimately, it can only help him when he takes the mound every fifth day.
"Mostly, it's just to trick myself into doing some of the everyday work that leads up to the next start," Friedrich said. "It makes it a little bit more fun to run. And it can't hurt to have those reactive skills to a soccer ball, while running, than to just run poles."
AJ Cassavell covers the Padres for MLB.com. Follow him on Twitter @ajcassavell. This story was not subject to the approval of Major League Baseball or its clubs.