E-Rod, Wright nearing return to rotation
Koji throws bullpen session, but not ready to join 'pen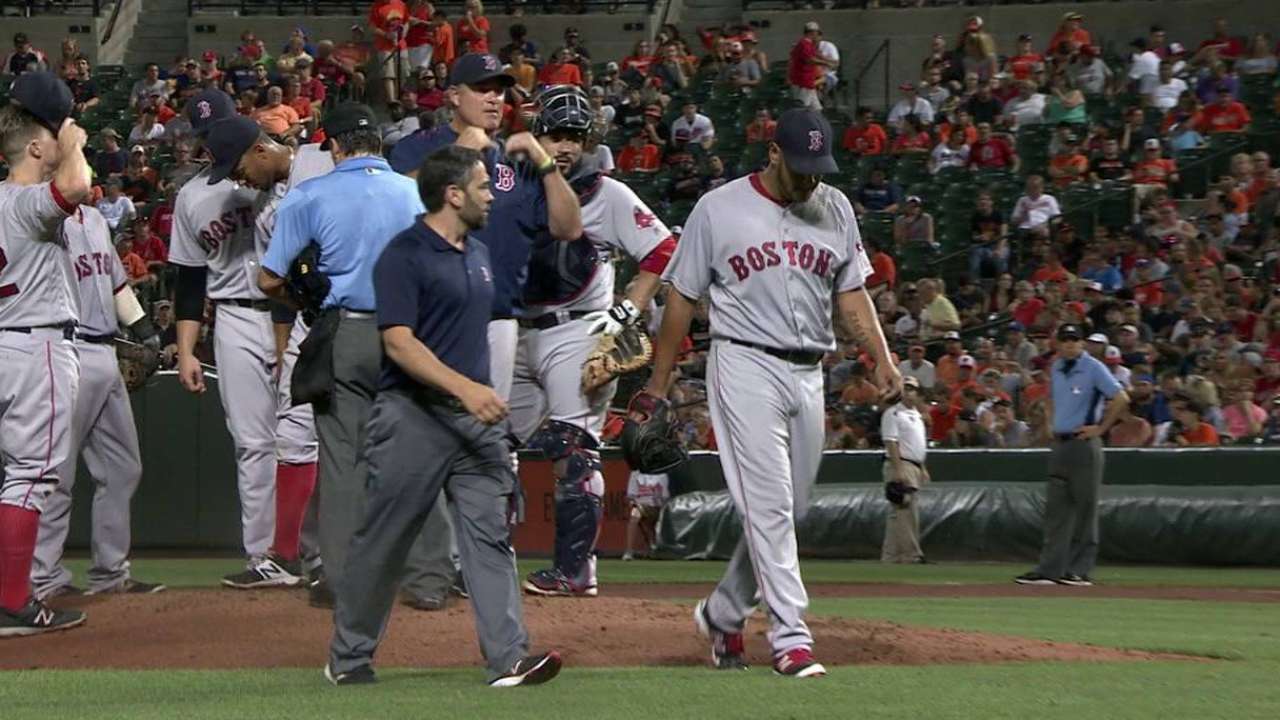 ST. PETERSBURG -- Three injured Red Sox pitchers -- all in different stages of the recovery process -- took one step closer to returning in their rehabilitation on Tuesday afternoon.
Eduardo Rodriguez threw three innings and 59 pitches in a simulated game prior to the Sox's game against the Rays. Knuckleballer Steven Wright threw a bullpen session and is still on track to start on Friday against the Royals. Koji Uehara threw a 32-pitch bullpen session, one that manager John Farrell said was more "intense" than expected.
"All the throwing that went on today was very positive," Farrell said.
Rodriguez, who was forced to leave this Aug. 16 start due to left hamstring tightness, was scratched from his scheduled start last Sunday vs. the Tigers. After Rodriguez's outing on Tuesday, Farrell said it's unlikely that the left-hander will be placed on the DL, but he'll wait to see how Rodriguez feels on Wednesday before making a determination about his next start. He's currently on track to throw a bullpen session at Tropicana Field on Thursday. Rodriguez has a 2.47 ERA since the All-Star break.
"The way he threw the baseball today was strong, was powerful," Farrell said. "There was no kind of hesitation on his part. It's important to see hitters."
Wright got up and down twice during his bullpen session to help simulate in-game action. Wright (13-5, 3.01 ERA) hasn't pitched since Aug. 5 and hurt his right shoulder while diving back to second base as a pinch-runner on Aug. 7 vs. the Dodgers.
Uehara's bullpen session on Tuesday was the first of what will likely be three bullpen session before the 41-year-old reliever takes his next step in returning from the disabled list. The right-hander has been out since July 20 with a right pectoral strain, and he looked good in his bullpen session after doing a 200-foot long toss. His next bullpen session will be on Friday.
"He really stuck with, I don't want to say game-like intensity," Farrell said, "but it was much more than anticipated."
Worth noting
• Clay Buchholz, who started Tuesday, will likely shift back to the bullpen when Wright returns, said Farrell, who also ruled out the possibility of a six-man rotation going forward.
• According to reports, the Red Sox will be one of several teams to attend a workout by Tim Tebow in Los Angeles on Aug. 30. The former NFL quarterback is hoping to make a comeback as a baseball player after starring in the sport as a high-schooler in Florida.
Sam Blum is a reporter for MLB.com based in St. Petersburg and covered the Red Sox on Tuesday. This story was not subject to the approval of Major League Baseball or its clubs.