Mookie's missile nabs speedy Kiermaier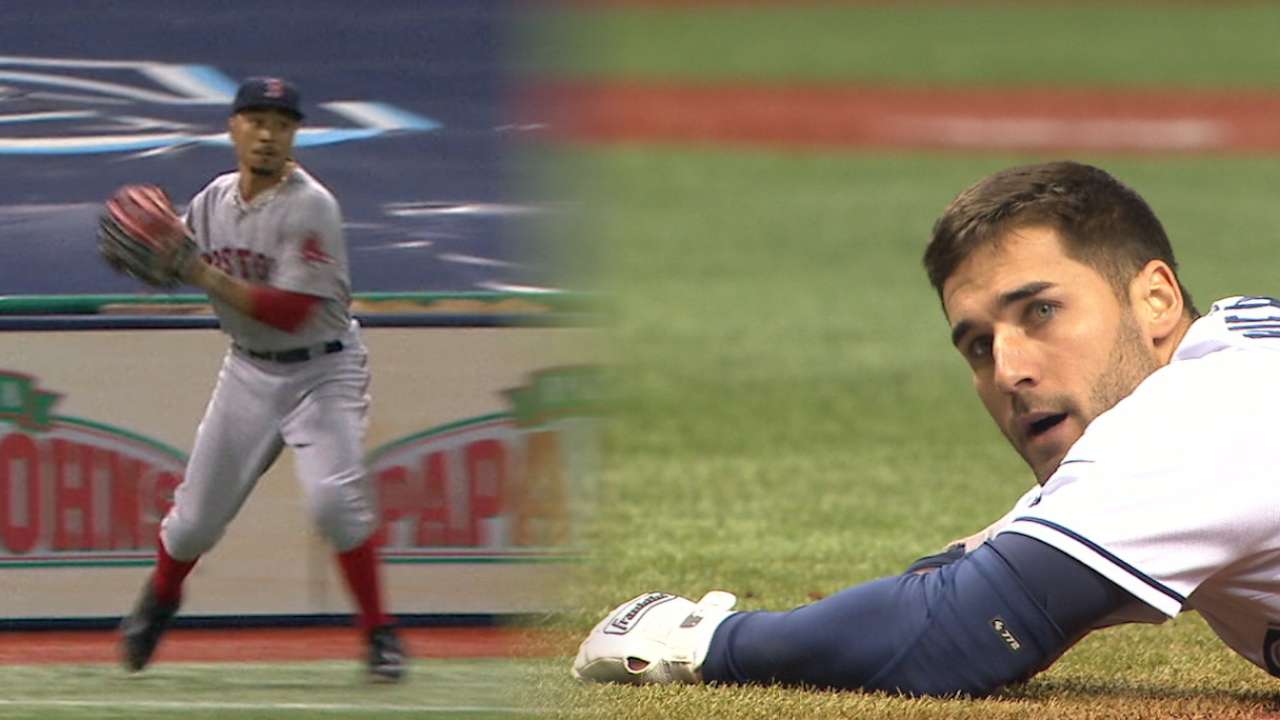 ST. PETERSBURG -- It wasn't the accuracy that surprised Mookie Betts. He'd been an infielder and knew how to make pinpoint throws. What surprised him, and what even he didn't know he could do, was throw the ball as far as he did.
When Kevin Kiermaier laced a ball down the right-field line and into the Rays' bullpen, Betts fished it out and fired a strike to third base to throw the speedy runner out for the second out of the inning. It preserved the slim lead in Boston's 2-1 win at Tropicana Field.
"I didn't know I could really do that," Betts said. "I think we were all kind of surprised there."
For the second straight night, the Red Sox used an eighth-inning defensive play to preserve its advantage in a crucial game. With the Blue Jays beating the Angels on Tuesday, the Red Sox needed -- and got -- a win to stay tied with the Blue Jays atop the American League East.
Betts said he knows his arm has gotten stronger in the outfield, and he's been able to get more backspin on his throws. It all showed in a tangible way as Kiermaier planted his face on the ground in frustration after his tying run was wiped off the bases just as soon as he got the hit.
"Just kind of in shock there at third base how I got thrown out," Kiermaier said. "I watched the video after the game and saw he made an absolutely perfect throw. I always want to put the pressure on the defense, and it's going to take a perfect throw to throw me out. In this moment, he made an absolutely perfect throw."
Red Sox manager John Farrell estimated Betts' throw was about 250 feet and said it was one of the best throws that you'll see in that situation.
On Monday, it was Andrew Benintendi robbing Steven Souza Jr. of a two-run homer in the eighth inning. On Tuesday, it was Betts. When asked what to expect on Wednesday, Betts, with a smile on his face said, "I can't tell you my secrets."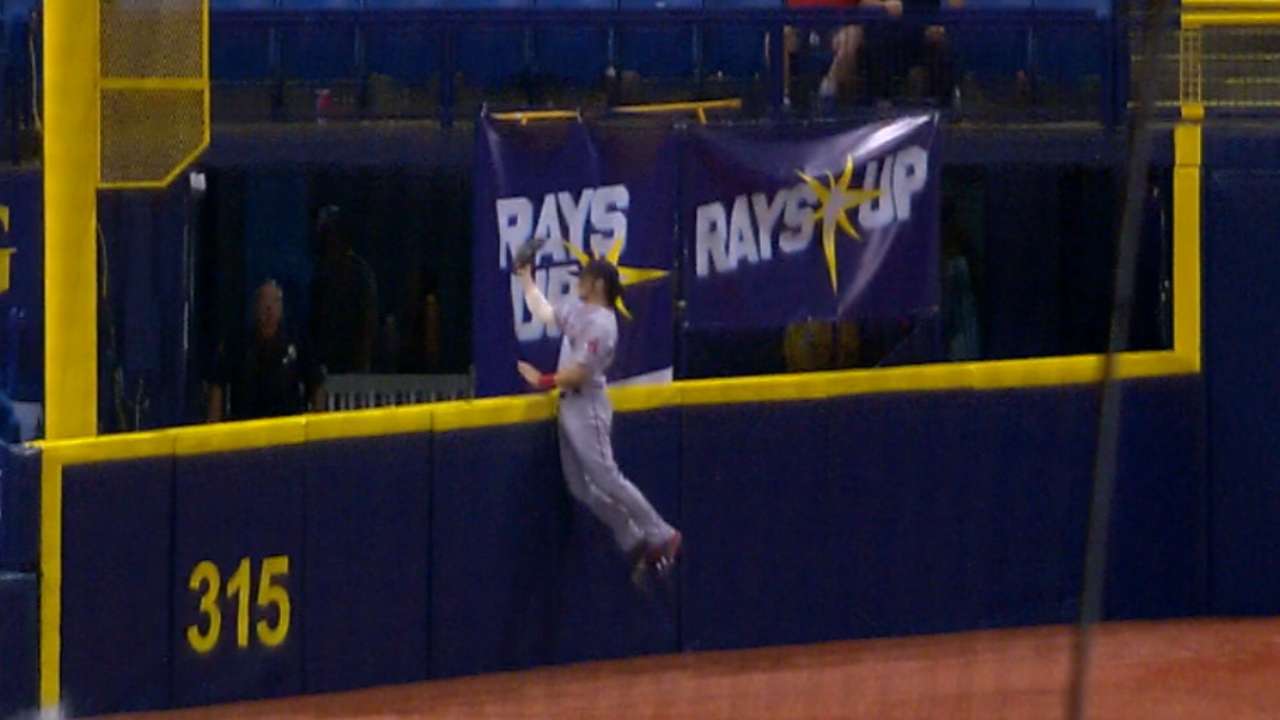 • Beninten-D! Boston LF robs Ray of HR
According to Statcast™, the exit velocity of Kiermaier's double was 109.8 mph, which is his third-hardest hit of the year. He maxed out running the bases at 21.4 mph. With the play unfolding fast in every which way in front of him, Betts still kept his cool.
"Once I got the ball and got up and took a look, I knew I had to try and get rid of it," Betts said. "Try to get the best accuracy."
Sam Blum is a reporter for MLB.com based in St. Petersburg and covered the Red Sox on Tuesday. This story was not subject to the approval of Major League Baseball or its clubs.