Wild throw, baserunning gaffes costly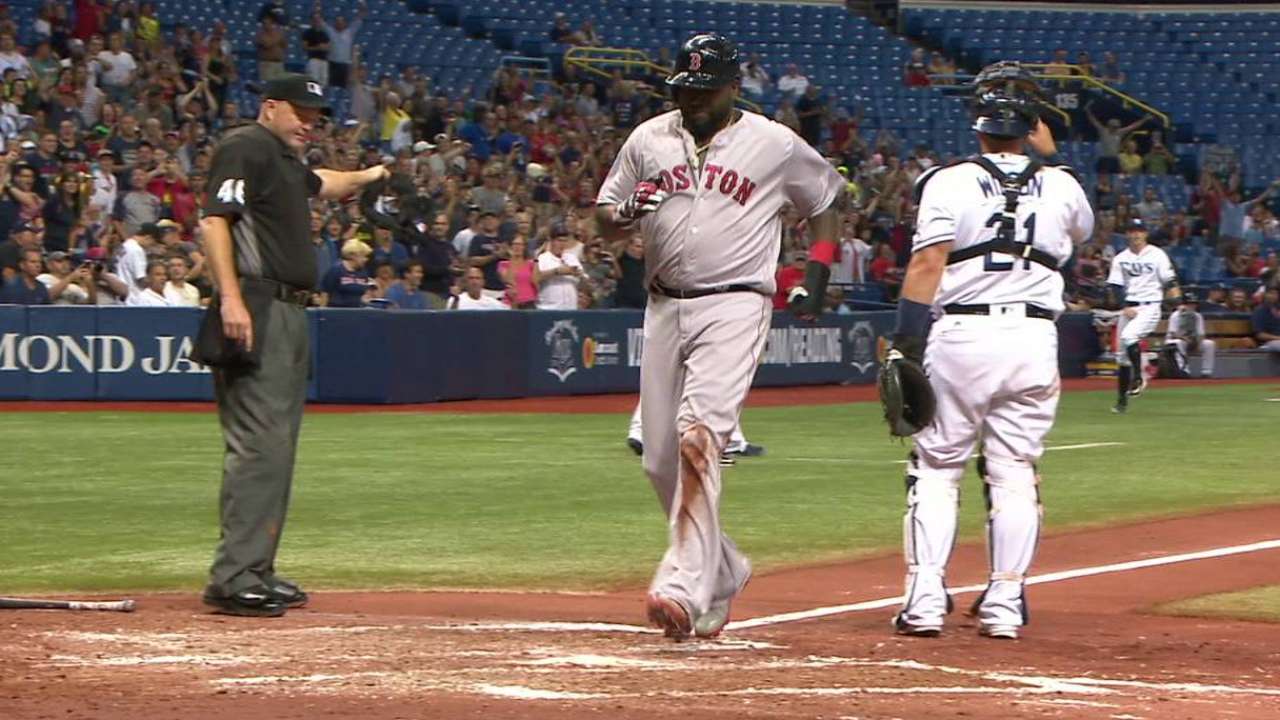 ST. PETERSBURG -- Mistakes were plentiful for the Rays on Tuesday night, and those miscues proved to be the difference in a 2-1 loss to the first-place Red Sox.
"Tight ballgames, we always talk about tight ballgames, and the separator is how you limit mistakes," Rays manager Kevin Cash said. "We made just a couple of mistakes today that seemed to cost us."
The first of those came in the third when Mookie Betts singled to right with two outs. Steven Souza Jr. grabbed the ball and threw wildly to third base to try to nab David Ortiz, who was trying to go first to third. The ball sailed into Boston's dugout and Ortiz trotted home with what turned out to be the game-winning run.
Souza noted that Ortiz served as the bait for him to make a throw he might otherwise have not made.
"Playing it in my head as the play was going, I knew the ball wasn't hit very hard, but I knew David Ortiz wasn't a very good runner and I thought I could sneak one in there," Souza said.
Souza was his biggest critic regarding his throw, of which the aftermath was a 2-0 Red Sox lead.
"It was a bad throw," Souza said. "It wasn't near the base. [Rays third baseman Evan Longoria] tried to make a play to save me and it ended up costing us a big run right there. It could be 1-1 and we'd still be playing."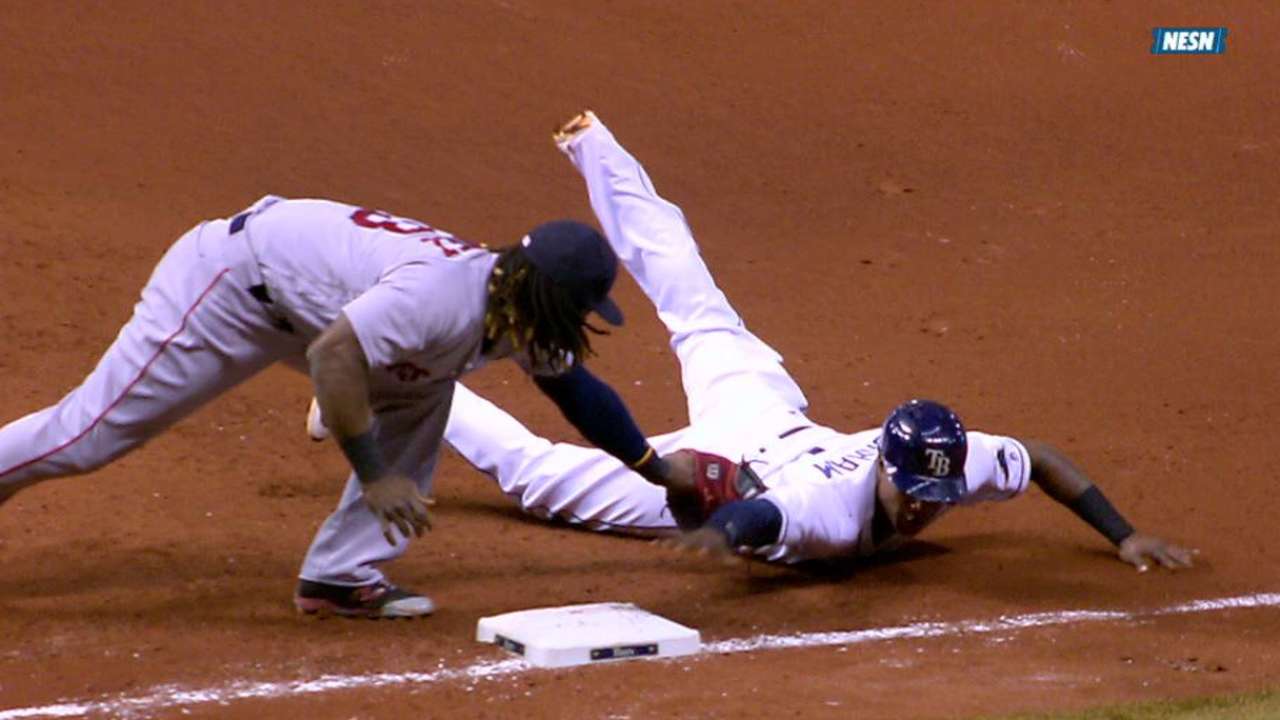 The next miscue came after Tim Beckham singled to start the fourth. Logan Morrison attempted to bunt, but he missed and Red Sox catcher Sandy Leon picked off Beckham at first on a play where Beckham originally was called safe. That call was overturned, leaving the Rays with one out and nobody on base.
"[Clay Buchholz is] hard to hit, harder to bunt," Morrison said. "I just saw the shift, they were back. The first one I went to square around on was a ball. And the next one, I saw [Red Sox third baseman Travis Shaw] out of the corner of my eye moving back, so I said to myself, 'Try it again.' And he threw a pretty good cutter."
Beckham said, "I just broke."
"I saw Logan square around and he poked at it," Beckham said. "For some reason, I thought he got it down. Mistake on my end."
Initially, Beckham thought he got under the tag of Red Sox first baseman Hanley Ramirez.
"I thought I did," Beckham said, "but after the replay, looked like he got my jersey a little bit."
Cash allowed that Beckham "got a little over-aggressive."
"But look, at that point in the game, it was early and we'd given them a run and taken an out away from us," Cash said. "It makes it difficult to win in those really tight ballgames, which that was today."
Finally, Kevin Kiermaier doubled with one out in the eighth, but the hustling center fielder tried to stretch the hit into a triple. Betts, playing right for the Red Sox, made Kiermaier pay by throwing a strike to Shaw at third to kill a potential rally.
"Just kind of in shock there at third base how I got thrown out," Kiermaier said. "I watched the video after the game and saw he made an absolutely perfect throw."
Betts sounded equally amazed by his throw.
"I didn't know I could really do that," Betts said. "I think we were all kind of surprised there."
Kiermaier said he always wants "to put the pressure on defense."
"And it's going to take a perfect throw to throw me out," Kiermaier said. In this moment, he made an absolutely perfect throw. I would not change anything. I'd do it again. I tip my hat to him."
Bill Chastain has covered the Rays for MLB.com since 2005. This story was not subject to the approval of Major League Baseball or its clubs.