Cubs 'ecstatic' as Heyward homers in return
'There's not a more professional guy,' Lester says of struggling RF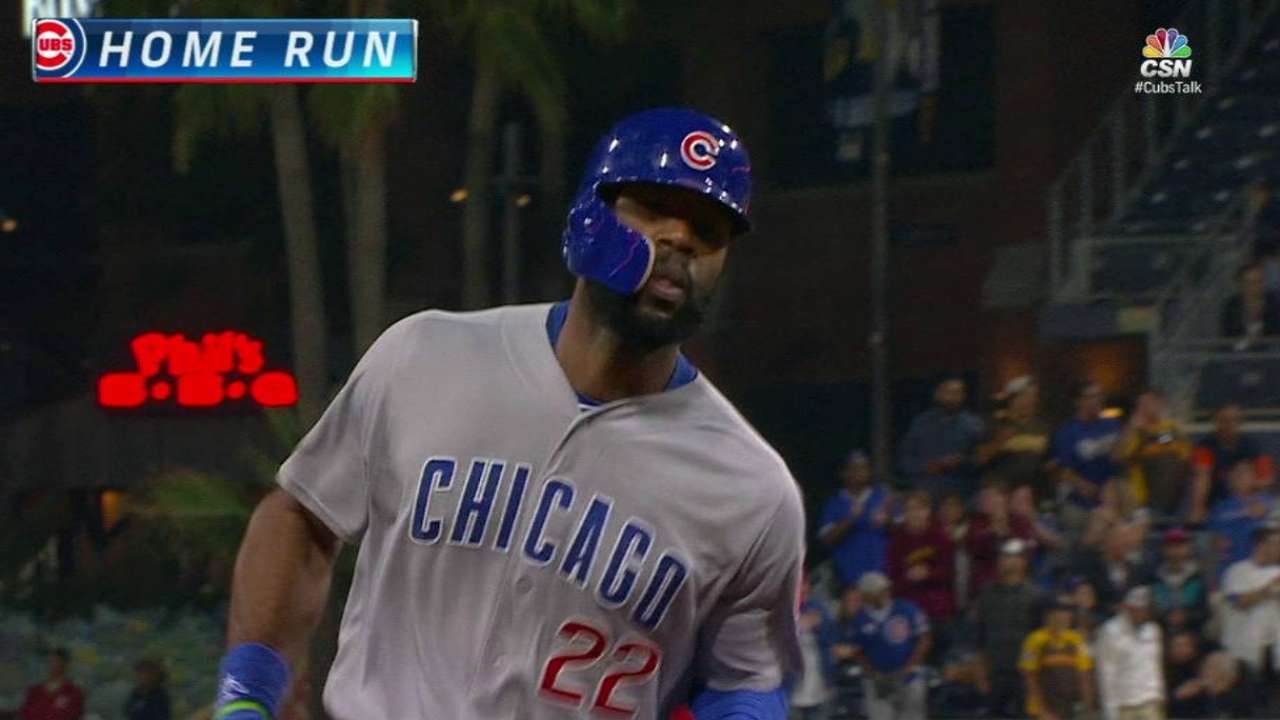 SAN DIEGO -- After sitting for three games, Joe Maddon had a simple message for outfielder Jason Heyward, who was back in the Cubs' lineup on Monday night.
"'Go play -- just go play,'" Maddon said. "I want to see a smile on his face, just play hard like he always does. I'd rather see him cut back on his work and just play the game. I want him fresh mentally and physically because there are so many ways he can help you win a baseball game. I just want him to go play and I mean that, sincerely. He can't do any more work, he can't try anything differently, he can't work any harder. It's impossible. Just go play."
Heyward did just that on Monday night, hitting a two-run homer, his first since July 29, in the Cubs' 5-1 win over the Padres.
Did the time off help?
"I've probably felt better but not had much to show for it," Heyward said. "It doesn't matter. I just keep going, take it one at-bat at a time, and keep pushing, keep trying to get in good counts, lay off the bad pitches, swing at the good ones and go from there and be at peace with it."
After signing an eight-year, $184 million contract, Cubs fans expected more from Heyward than a .225 batting average. So did Heyward. But he's contributed to the team defensively and on the bases. There has been no helmet slamming or bashing of water coolers.
"He's endured a lot in the sense that he hasn't hit like he wanted to but he's played a really good game of baseball," Maddon said. "The free-agent signing, honestly, that has to weigh on you. I've been really impressed how he's been able to maneuver through all of this, not hitting to the level he expected. He's just playing good baseball."
When Heyward launched his home run in the fifth inning, the Cubs' dugout erupted in cheers.
"Everybody's cheering their butts off for him," Cubs pitcher Jon Lester said of Heyward. "We know how important he is to this team, not only offensively but in other areas. We know how hard he's working and how he's grinding and how he's going about his business. There's not a more professional guy who I've been around than him. ... That dugout was more than ecstatic for him to make that good swing."
Maddon has been asked about whether he's considering who will be on his playoff roster and the Cubs manager dismisses such talk. The team hasn't clinched anything. Does Heyward have to prove anything in the next few weeks?
"I'm not worried about six weeks, I'm worried about tomorrow," Heyward said. "Playoff-wise, my teammates know I can help this team win, my manager and my coaches know I can help this team win, I know I can help this team win and that's the bottom line. We've done this collectively, it's not about one person. We've all showed each other that we want to do something every night."
Carrie Muskat has covered the Cubs since 1987, and for MLB.com since 2001. She writes a blog, Muskat Ramblings. You can follow her on Twitter @CarrieMuskat and listen to her podcast. This story was not subject to the approval of Major League Baseball or its clubs.