Nomadic Triggs finding footing in A's rotation
OAKLAND -- On a day two players were fined for their roles in a clubhouse fight, Billy Butler was placed on the 7-day concussion disabled list after being injured in the altercation and the A's were shutout, 1-0, by the Indians to lose for the eighth time in nine games, there weren't many silver linings.
In fact, there was really just one: Andrew Triggs.
Making his fourth career start, the converted A's long reliever finished six scoreless innings in a no-decision, setting a career-high in innings and pitches (89), while matching his season high with six strikeouts. Triggs was as efficient as he was crafty, running into trouble just once in the sixth inning. He escaped, getting Francisco Lindor to fly out with runners on second and third.
"Sometimes you find, based on need, somebody that can do something for you," A's manager Bob Melvin said. "Now, you want to see him sustain it, but he has the ability to do both now, as we're finding out, and he's pitched really well the last couple times out, so he will stay in the rotation."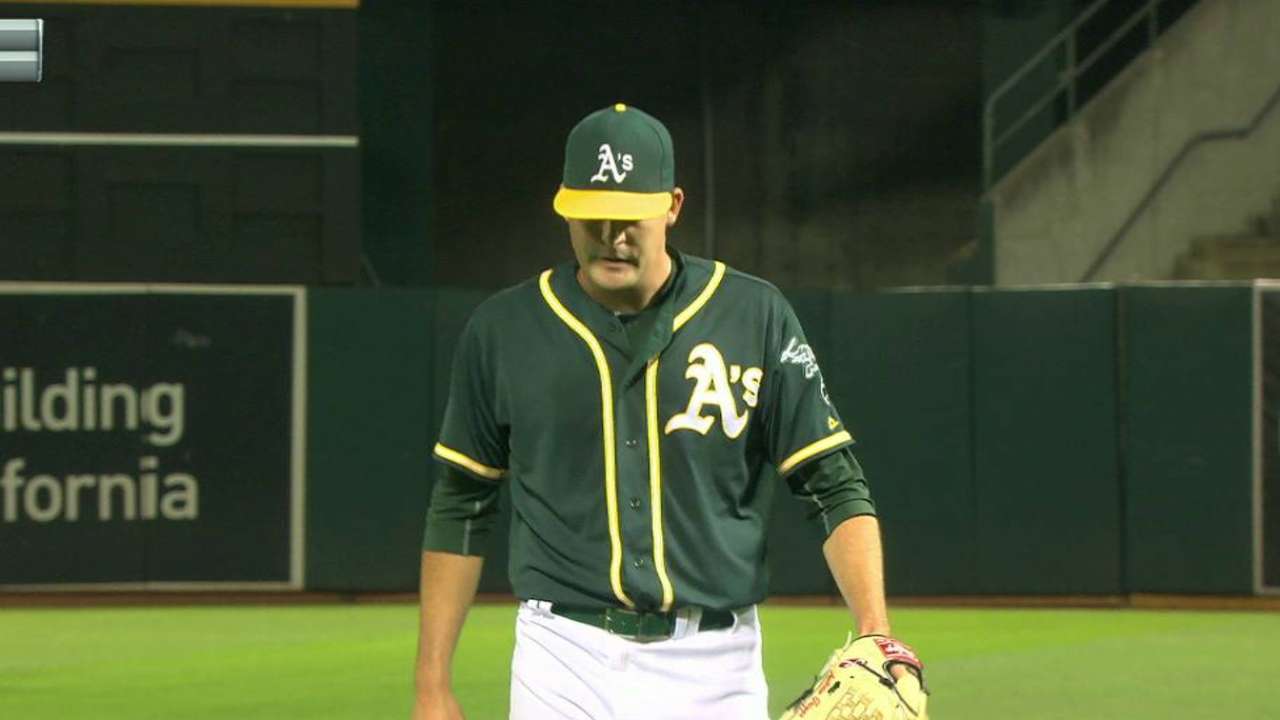 Triggs is on his eighth stint in Oakland this year, believed to be a team record. He's become well-versed in shuttling toTriple-A Nashville -- a movable piece for an organization often in need of fresh arms in the bullpen. He's maintained a positive attitude throughout, something Melvin's often commended.
"You feel good for him, because he's such a good soldier about going up and down, and he appreciates the opportunities that he gets," Melvin said.
"I was 27 years old when I got called up," Triggs said. "I spent a lot of years toiling in the minors. So I 100 percent embraced it. I knew a lot of times I'd only be up for a few days. Any opportunity to pitch in the big leagues is a big one."
Injuries to a decimated A's rotation presented Triggs a starting opportunity against the Orioles Aug.11. He's set a new innings high in three consecutive starts since. Along the way, he said he's "dusted off a changeup" for the first time this season after not featuring one as a reliever, using it more against Cleveland than in any prior start.
It's worked. He's mixing four pitches - a fastball, cutter, curveball and now a changeup - -from a funky three-quarters arm slot. He's deceptive, and the Indians noticed, as A's catcher Stephen Vogt said Cleveland hitters communicated they were having difficulty picking up his arm slot.
Triggs credited Vogt with helping him learn when to use his secondary pitches as a starter. Vogt, in turn, praised Triggs' ability to adapt despite minimal starting experience.
"Starting off this year you just want opportunities," Triggs said. "Whether it's here or shuffling back … I'm happy with whatever the opportunity is. It's been a lot of fun to go out there and pitch at the beginning of games."
Mark Chiarelli is a reporter for MLB.com based in the Bay Area. This story was not subject to the approval of Major League Baseball or its clubs.